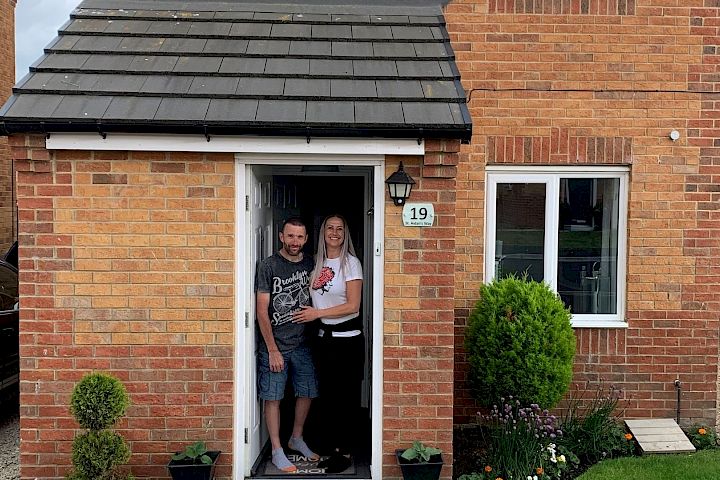 Lisa and Andy's unconventional home buying journey
Lisa and Andy, both 42, have been together for 12 years, seven of which were spent long distance, with Andrew in Chilton, County Durham and Lisa living in Lancaster, Lancashire. Five years ago, Lisa made the move to Durham to live with Andrew permanently in his home of 15 years.
 
Soon after Lisa moved into Andy's home, they realised they wanted to buy somewhere together, due to noisy neighbours and the desire to buy a new build. When a Gleeson development began construction nearby, they knew right away that it was ideal for them.
The couple viewed the show homes and fell in love with the Kilkenny house type, loving the fact it's detached with a garage, which was ideal for storing keen cyclist, Andy's bicycles. With an eye for interior design, Lisa pictured herself cooking in the spacious kitchen-diner and lounging in the living area, as well as envisioning how she would style the bedrooms.
Soon afterwards, the couple reserved their perfect plot, a 3 bedroom detached Kilkenny with a south facing garden, driveway and a garage, they were ecstatic.
However, disaster struck when just two weeks later Andy came home with the news that his place of work was shutting down, making him redundant. This subsequently meant that due to affordability the couple had to back out of purchasing their dream Gleeson home, leaving them gutted.
Deciding to stay put, the couple remained in their house for another couple of years, browsing online every now and again for a home, in the hope that they'd spot something they liked. Until one day in early 2020, the couple saw that a Kilkenny on the Gleeson development was up for sale. The owners, a retired couple were relocating to be closer to family, so Lisa and Andy immediately booked a viewing.
Upon turning up at the development, Lisa and Andy were delighted to find it was the exact Kilkenny they had viewed three years previous.  Knowing it was meant to be, Lisa and Andy offered the asking price, and the rest is history. They moved into their new home in May 2020 and haven't looked back since.
Lisa said: "We were heartbroken when we couldn't buy our Kilkenny back in 2017, we knew that it was our perfect home and no other house would suffice. When it came up for sale just three years later, we felt like it was fate. This really is our forever home, the only way we'll ever move again is if we can retire abroad! We are so settled here and we feel very house proud."
Since moving in, Lisa has made a home Instagram account, @kilkennydreamatno19, where she has amassed almost 8,500 followers. Lisa, who works in sales and marketing for a vinyl wrapping company has a keen eye for interior design and has designed her home in chic grey and white shades, styling everything the way she originally pictured. The couple have created a dressing room and have totally transformed the garden, adding a planter area, decking and a hot tub. 
Lisa continued: "During the in between period, we went and viewed new build developments by other developers, but every time we couldn't believe how expensive they were compared to our dream Kilkenny. We're so glad we waited it out and ended up in our dream home.