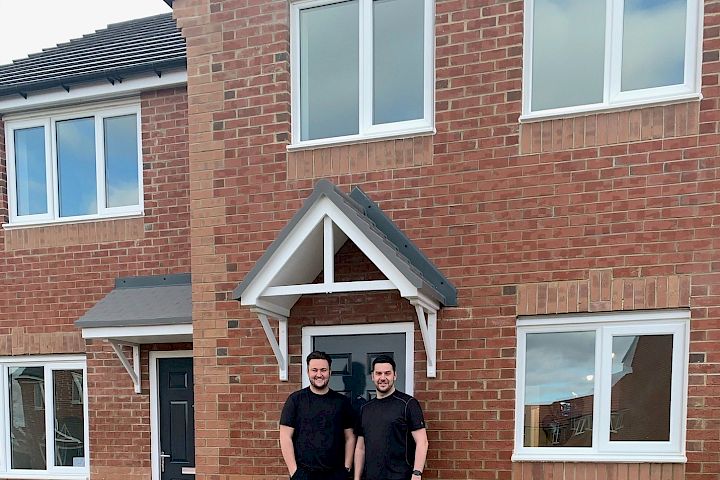 Tom and Kaine's homeownership story
Tom, 30 and Kaine, 29 had been living with Kaine's parents for four years and had been desperate for their own space. On spotting their new local Gleeson development the couple realised that homeownership was much more achievable than they had thought, especially as renting a house in the local area worked out more than a monthly mortgage cost.

Just five months after reserving the couple found themselves moving into their dream 3 bedroom home. Now happily settled and busy making plans to add a dog to the family, the couple are personalising their home with super chic grey and chrome furnishings and documenting it on their Instagram, @our_tyrone_23.

Intrigued by this boujee couple, we spoke to Kaine and Tom to learn more about their home buying experience.
 
The interview:
When did you reserve your home? September 2020.
When did you move in? February 2021.
Which home type did you buy? Tyrone, 3 bedroom semi-detached home
Is this your first home? Yes, before buying our new home we were living with Kaine's parents which was great, however, we needed our own space. Living at Kaine's mum and dad's meant we were in a good position to save the money we needed but naturally not ideal at times, especially as we have been together almost five years and were living out of one bedroom. We're so grateful for the time we've had living there spent and to his parents for all their support and putting up with us….. without them we wouldn't have had the opportunity to put aside a good deposit.
Why a new home? A new home is a blank canvas, which was ideal for us. We wanted a home that didn't need any major changes, just decorating and making homely. With our home we also have the peace of mind knowing that we are covered by the NHBC ten year warranty and the two year Gleeson warranty. We were also delighted to be able to use the Government's Help to Buy: Equity Loan, which is available to those buying a new build home. With the Help to Buy: Equity Loan scheme we received a 20% loan from the Government towards our home to make it even easier to purchase.
Why a Gleeson home? We wanted to find an affordable home in a good location yet we didn't really want to leave the area where we already lived as it's ideal for us. The area our development is located in has lots of amenities and our families are close by. When we visited our development for the first time, we viewed the Tyrone house type and absolutely fell in love. We were so excited by the kitchen-diner open-plan living space, this was the decision maker when we were choosing our house type. We wanted a space where we can host and entertain where we wouldn't feel on top of each other when friends are around.
The layout of the Tyrone itself is perfect for us, we really like the double windows in the master bedroom, and bedroom two makes such a great walk in wardrobe space. Also, having a private driveway and garden is a real bonus.
How was the process of buying your home? It was great, from the first time we met our Sales Executive right up until the end when we completed, we felt supported; we were able ask any questions that came to mind. We were fully informed throughout the buying process and received frequent updates on build stages and any other developments with our plot. We were initially planning to complete in April 2021 and were over the moon to be told on our first site visit that we were heading for a February completion – two months early! The only delay we encountered was out of Gleeson's control and this was with our mortgage provider due to Covid-19.  In short, the whole process with Gleeson was seamless and enjoyable!
Due to us both working for the NHS, Tom as a Practice Manager in a local GP surgery and myself as a Pre-Registration Pharmacy Technician in a pharmacy, we were able to make use of Gleeson's brilliant Key Worker Priority Scheme. With our £1,000 Options voucher included as part of the scheme, we chose to have our garden turfed and fenced, as well as our kitchen upgraded. We also then chose a few additional extras including a couple of extra plug sockets.
How has life changed for you since moving into your Gleeson home? We finally have our own space and it's amazing! The first month or so following us moving in felt like we were on holiday and we should've been preparing for a journey home but we soon got settled and have loved every second of being in our own place. We've really enjoyed planning the rooms, the layout of the furniture and interior and watching the changes come together. We've got some great ideas for the garden and work will hopefully be starting in the coming months, then we'll be making a start on jazzing up the bathroom.
We have a great relationship with our Site Manager who has been extremely helpful, seeing to any minor problems we have encountered; nothing has been too much trouble.
Since moving in, Tom has turned into quite the handyman, and we've done panelling on the wall in our living room, which has made it look so homely.  We've also had blinds fitted and have bought lots of beautiful furnishings like rugs, prints, and cushions.
We would recommend Gleeson to anyone looking for their first home, the knowledge and expertise Gleeson have when dealing with those making their first step onto the property ladder really does make a difference.
Fancy sharing your Gleeson home buying story with us? Just email marketing@mjgleeson.com and you could feature on our blog. Inspired by Tom and Kaine's story? We have over 70 developments to choose from, so why not find your Gleeson home today, with prices from £96,995 and homes located across the North and the Midlands, what are you waiting for?