Personalise your home
There are so many ways that you can personalise your new home from the moment it starts being built. With a huge combination of styles, you can tailor your home to your taste with choices and upgrades, making it truly your home, your way.
 
You can choose from a stunning selection of kitchen and bathroom upgrades, appliances, flooring, wall tiles, wardrobes and everything in between, all carefully selected from trusted manufacturers.
From interior design features to more practical options such as alarm systems, garden fencing and additional power points, get creative and put your stamp on your own blank canvas.
After you have reserved your home, you'll be invited to an options meeting. As options depend on the build stage of your home*, your Sales Executive will outline everything that's available to you and offer any advice or additional information you may need. However, it's worth noting that if you reserve your home after the roof has been added, kitchen choices will have already been made.

To secure your options, all you'll need to do is pay a 25% deposit** at the time of your order with the balance payable on legal completion.
Kitchen
We work with trusted UK kitchen suppliers to offer a stunning range of kitchen units, worktops, and appliances for your new home. The kitchen is the heart of the home and is a room where you can really make your space unique. Choose your cupboard doors and worktops and upgrade items such as your hob, cooker hood, tiles and much more to create your perfect space.

All Gleeson kitchens come with an upstand and splashback as standard with upgrades and tiling available.
Every Gleeson home will have a kitchen from our Signature range as standard, so, subject to build stage you can select your choice which is included with the price of your home.
If you want to upgrade your kitchen then there's a further choice of more styles. These are the Inline and Heritage ranges, which include door upgrades with matching side panels, premium square edge worktop upgrades and soft close doors.
Not only can you design your dream kitchen with a range of units and worktops, you can also add those final finishing touches*. Choose to upgrade to an induction hob giving you sleek styling and precise heat at the touch of a button or a stainless steel cooker hood to  create a feature.
You can omit a cupboard to create space for that all important dishwasher (we'll include plumbing and a power point too).
In addition to this you can upgrade your kitchen tap, and sink.
*Speak to your Sales Executives to learn more about the standard specification on each development, as it may differ. Upgrades and choices dependant on house style and build stage.
If you're looking to personalise your kitchen that bit further, integrated appliances are available in our Heritage and Inline kitchen ranges. These include fridge/freezers, washing machines and/or dishwashers.

Please note, this upgrade is not available for all house styles. Please speak to your Sales Executive for more information.
Bathroom
Our bathroom options allow you to add finishing touches to make your bathroom or en-suite as beautiful as it is practical.

 
All our homes come with Porcelanosa tiles and depending on build stage you will be able to make a choice. In addition, you can also upgrade to an even wider range which will include:
Half-height tiling to the full bathroom or en-suite
Full-height tiling to the full bathroom or en-suite
If not already included as standard in your home, you can upgrade and add a convenient shower over your bath. This will either be wall mounted electric or a thermostatic shower dependant on house style. You'll also receive full height tiling to the shower wall that extends the full length of the bath plus a shower screen.
In the majority of our house styles you can upgrade and add a chrome towel warmer  to your bathroom to keep your towels toasty for when you step out of the bath or shower.
*Speak to your Sales Executives to learn more about the standard specification on each development, as it may differ. Upgrades and choices dependant on house style and build stage.
Flooring
Finish your home perfectly with our exclusive range of high quality floor options, in a variety of styles and colour choices.
 
If you want to create a luxurious, plush finish in your home then you can choose between our premium carpet ranges in a variety of colours.
Standard range
Ultimate range
With these ranges, in certain house styles, you will also receive a durable entrance mat in either a brown or black colour way.  
We have a wide selection of ceramic flooring choices available to match your interior style. You can choose to have ceramic tiling laid to your kitchen-diner and utility rooms and your downstairs WC. Ceramic tiling has an array of benefits, it's affordable, durable, and low maintenance, whilst being sleek and stylish too.
If vinyl is the choice for you, we've got you covered. You can choose from a wide variety of vinyl flooring options ideal for your bathroom, kitchen-diner, utility room and downstairs WC spaces. Vinyl is a long lasting flooring choice that's easy to maintain and versatile in its design.
We also have a variety of hardflooring types available for you to choose from. With an array of wooden and stone looking designs for you to choose between, you'll easily be able to tailor your home to your style, whether that be contemporary or classic.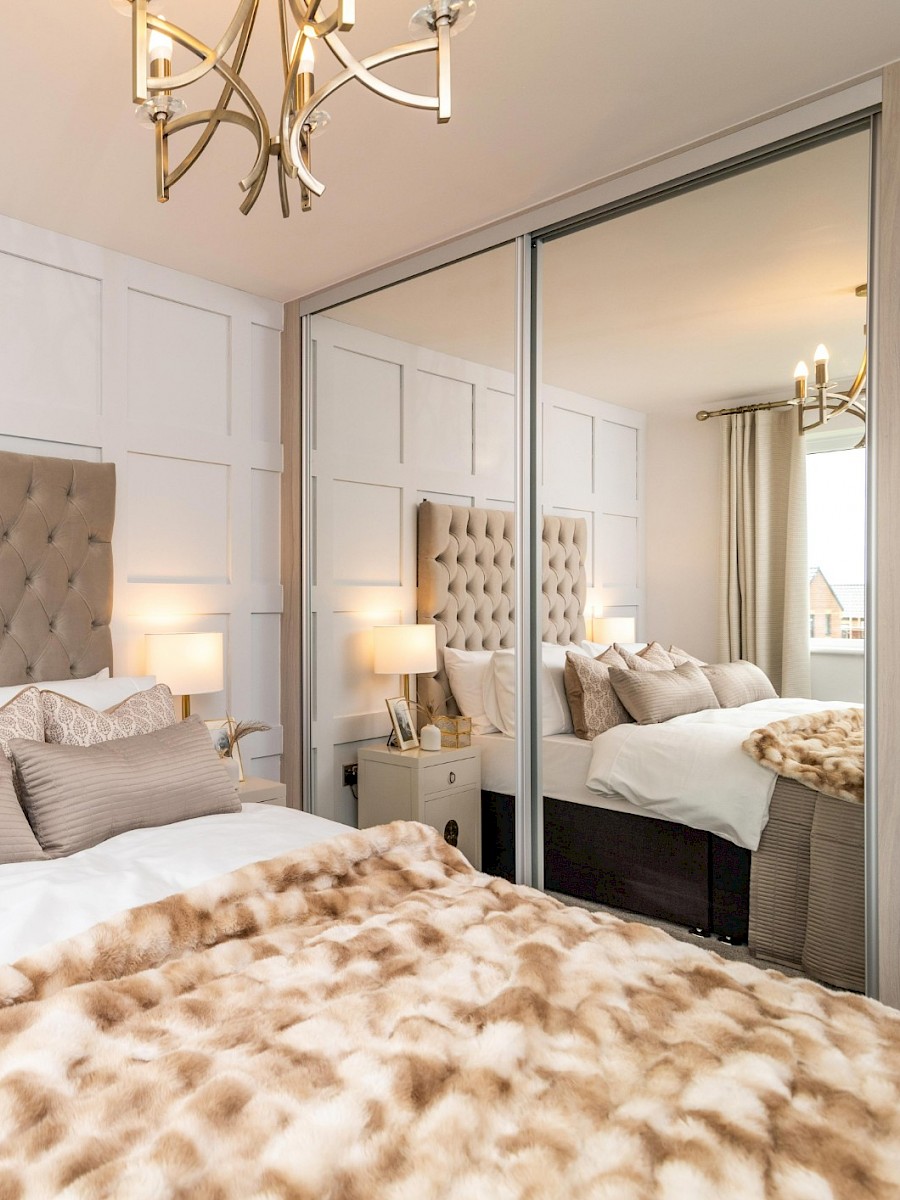 Wardrobes
Our homes are perfectly designed to give you optimal storage space, so why not enhance your bedroom with some stylish fitted wardrobes?
 
Fitted wardrobes are an efficient way to optimise the storage space within your home.
With our fitted wardrobes, you can tailor the design to your needs both internally and with the external finish too. Our options offer traditional hinged doors, modern sling doors with a selection of finishes.
Plus, since our fitted wardrobes are designed to optimise space and reach your ceiling, there is no dusting to the top of this space needed!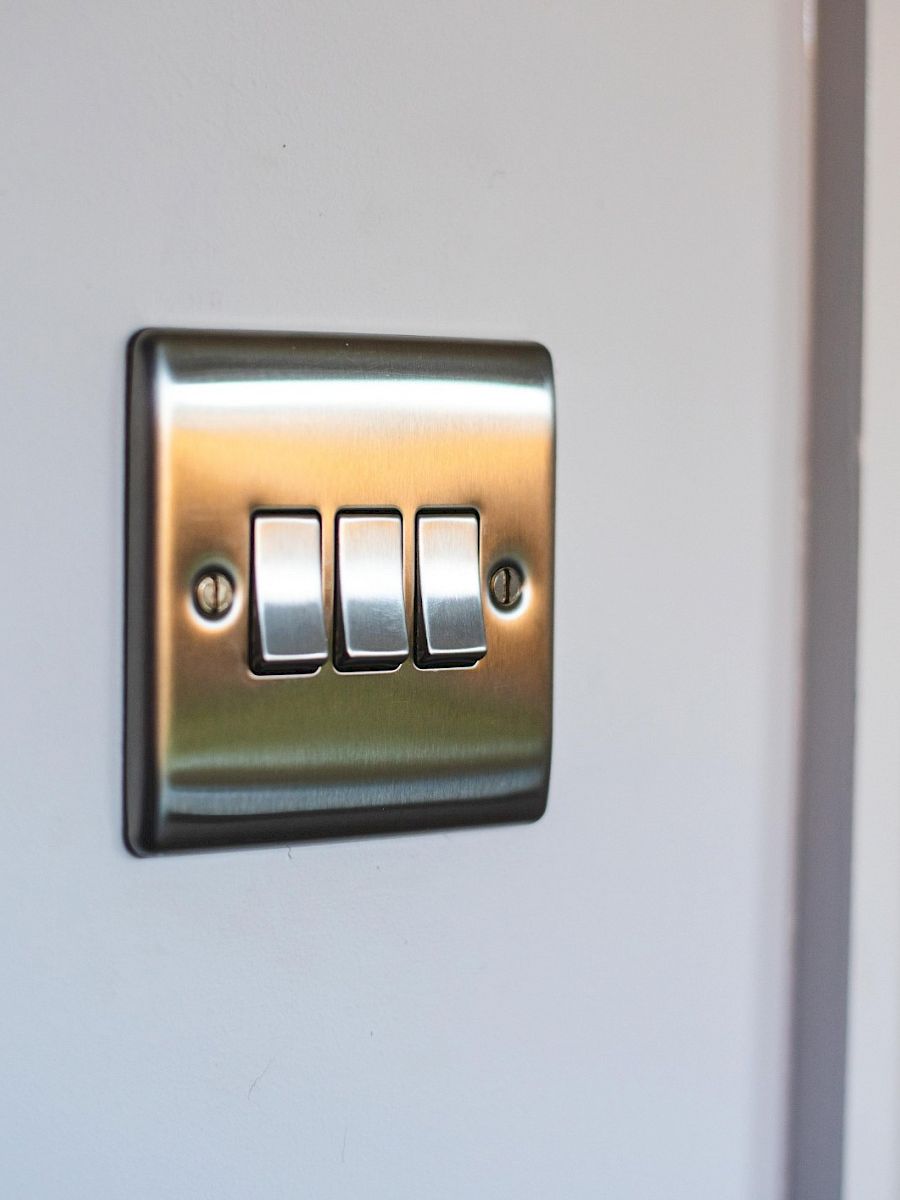 Lighting and electrical
Set the mood with stylish lighting and electrical upgrades throughout and to the exterior of your home.
 
You can set the mood in your new home with stylish lighting upgrades throughout your interior. Upgrade and choose energy efficient downlights in a white or brushed chrome finish throughout your kitchen, bathroom, en-suite or downstairs WC and create the ultimate modern and sleek interior design.
Upgrade the security of your home or  set the scene for those summer evening garden parties buy choosing a rear security light with a PIR (passive infrared sensor) that will typically be located underneath a first floor window. A PIR is an electronic sensor that switches on when it senses movement.
If not already included as standard, you can upgrade and choose to light the front of your home with a contemporary up/down light fitted to the front door area, in a brushed chrome finish. Or choose a more traditional style and pick a coach lantern to create a classic looking exterior style.
To suit your lifestyle, you can add additional sockets to your home, (both single and double) and can you upgrade the socket plates and your switches to be brushed chrome. We offer the ability to upgrade to sockets with useful USB charging ports too.
You can add an additional BT point (but please note this will incur an additional charge of connection from BT directly) or opt for a media pack which includes a BT connection, TV and additional double socket. We do offer additional TV points but don't forget that you may need an additional adjacent socket too, just for complete ease.
Keep your home super safe and choose one of our security upgrades.
Option one, a security alarm with a keypad, 2 PIRs and door contact to the front door
Option two, a security alarm with a keypad, 3 PIRs and two door contacts
You can also upgrade by adding additional electronic sensors (PIRs) and a security alarm with an additional door contact should you wish.
Garden
Don't forget that the garden is an extension of your home; so, why wouldn't you style it up and create a gorgeous space with our extensive optional extras, just like you would your interior?
Your garden comes as the perfect blank canvas, just waiting to be personalised to suit your style. You can choose from a range of fencing options, for your rear garden, plus a handy gate if you wish. For additional privacy you can upgrade to a 1.8 metre high fence (please note the fence posts will be placed on the your side of the garden and the fence will face outwards).
We can extend your patio with paving slabs so that you can make the most of your outdoor space and we can turf your garden too. We'll also be able to fit you an outdoor tap to make maintaining your new lawn that little bit easier.
If you've opted for a home with an attached or integral garage then we can supply power to it, with one light point, one switch and one double weather resistant socket. We can also do the same to detached garages but the price may differ slightly so check in with your Sales Executive on this.
We hope you love personalising your home with our fabulous range of options and upgrades. Register your interest now and begin your home buying journey!
 
*Gleeson's standard specification varies on each development. Upgrades and additional options are also available subject to house style, build stage and availability. For more information on the standard specification and the available optional upgrades at your chosen development, please speak to one of our dedicated Sales Executives who will be happy to assist. Some upgrades and choices may vary if your home features an Air Source Heat Pump.

**Deposit non-refundable.