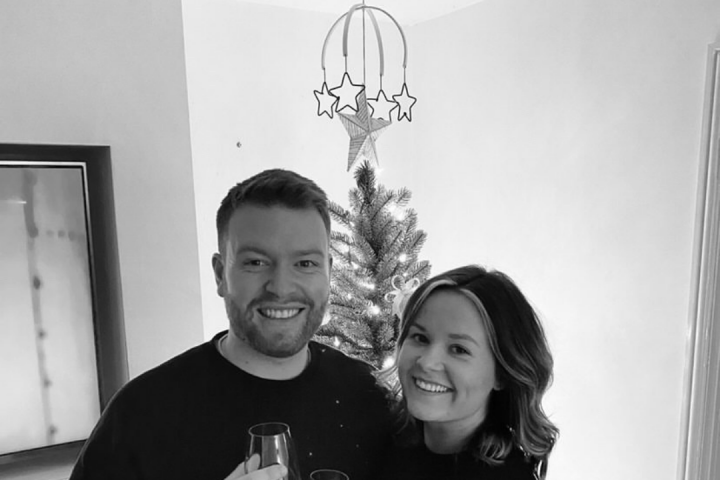 Paris and Daniel's homebuying journey
If calming neutral tones with navy accents sounds like your ideal interior style then look no further than the Instagram feed of Paris and Daniel, the owners of the Tyrone documented on their profile @thehappeningsofthehadfields. A simply stunning three bedroom home, with handmade accessories made (and sold!) by Paris, their décor is a dream.

Besides their beautiful home, the couple have a great home buying story to tell. Originally anticipating they would need a huge deposit to buy their home, Paris was pleased to find that with Gleeson that wasn't the case at all, especially with the Help to Buy: Equity Loan available to first time buyers. Enjoying every second of the buying process and with an affordable mortgage (just £389 per month) the couple have grown with their home as they've made it their own. We spoke to Paris to learn more about their story.

 
The interview:
When did you reserve your home? August 2016.
When did you move in? March 2017.
Which home type did you buy? Tyrone, 3 bedroom semi-detached home
Is this your first home? Yes, we were both living with our parents before we bought our beautiful Tyrone. We knew we wanted to live together but I was self-employed at the time so we thought we'd have to save up a huge deposit. We knew there was a Gleeson development nearby, so I popped down to speak to them and see the show homes. When I got to the development the Sales Executive talked me through our options and showed us the last three bedroom home left on the development. I fell in love and reserved it straight away without even speaking to Dan. It was so affordable and with the Help to Buy: Equity Loan scheme we didn't need the deposit we expected. Plus, when we heard our mortgage was only going to be £389 a month I nearly fell off my chair. Reserving that day was the best decision I ever made.
Why a new home? We really wanted to own a new home, as we both loved the idea of being the first people to own the house and wanted to be able to choose the kitchen, flooring and tiles. With a new home you can personalise throughout the process, it's great knowing the house is completely to our taste and doesn't have anything left over from a previous owner. We love that owning such a blank canvas has allowed us to put our stamp on the house to really make it our own.
Why a Gleeson home? We could not believe how well priced Gleeson homes were. Our home is so affordable, our mortgage is less than £400 per month, meaning we've been able to enjoy getting married, lovely holiday's and career changes without ever worrying about the financial side of things. Our bills are super affordable too, our home is so energy efficient, it's good to know we're doing our bit for the environment!
Plus, house type wise the Tyrone is perfect. When I saw that our plot was the last Tyrone on the development I knew it was meant to be. The Tyrone layout is ideal for us and the way we live, we spend a lot of time in the kitchen so having a kitchen dining space together is great. I also loved how the home was painted white throughout giving me the perfect stepping stone to decorate it however I wanted.
How was the process of buying your home? Gleeson are great for first time buyers, they talked us though everything from Help to Buy to what you need a mortgage advisor for. They even helped us towards our solicitors fees and included carpets! The process of buying was so easy. I definitely think going for a developer who specialise in first time buyers was the best choice for us.
Do you have any tips for future Gleeson homeowners? I'd say don't be scared to ask any question that pops into your head! The sales team are so helpful, don't be afraid to ring or email them throughout the build process for updates. I'd also recommend looking at the hashtag of your home on social media, ours is #gleesontyrone. There's great ideas on the spaces, how people have styled them, and everyone is so friendly. Perfect if you want to know dimensions of rooms. Lastly, I'd say enjoy the process as much as you can! You only buy your first home once.
How has life changed for you since moving into your Gleeson home? We've now lived in our Gleeson home for four years and as our home has flourished so have we! We've both changed jobs, Dan has gone from being an Electrician to a Designer Engineer, and I've got a job in marketing as well as my own business, called PanacheParParis. I make neutral homeware accessories, focusing on handmade paper gifts.
We've also both turned 30 and got married since moving into our home. We have the most wonderful neighbours, we invited both sides to our wedding! Everyone on our development is friendly and says hello to each other; we have been very lucky. 
Our story definitely shows that a Gleeson home is perfect for your first step onto the property ladder and beyond. Four years later and we couldn't be happier than here in our Tyrone.
Fancy sharing your Gleeson home buying story with us? Just email marketing@mjgleeson.com and you could feature on our blog. Inspired by Paris and Dan's story? We have over 70 developments to choose from, so why not find your Gleeson home today, with prices from £95,000 and homes located across the North and the Midlands, what are you waiting for?