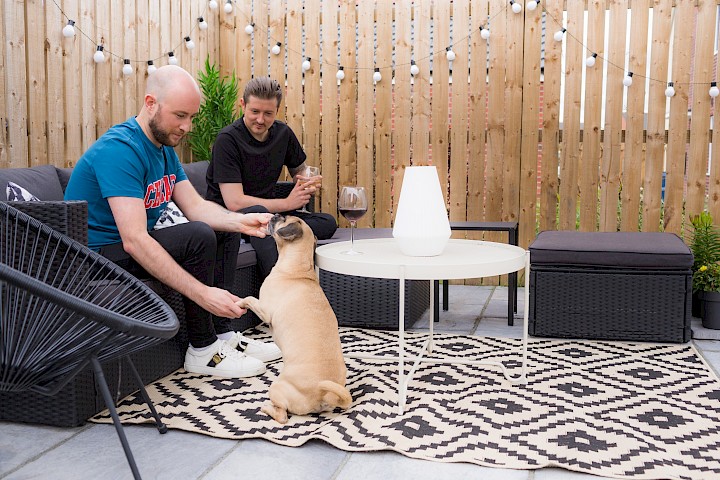 Marc and Karl's home buying journey
Known for their stunning monochrome home, gorgeous garden, and cute dog Dawson, you'll be surprised to hear that Marc and Karl, owners of the Instagram @foxtonhome, are not interior designers. Instead, they are a mortgage case manager and a solicitor-come part time Instagram influencers. The happy couple simply have a keen eye for detail and know what colour palette they want to go for! We sat down for a chat with them to learn all about their home buying journey and their style tips. 
The interview:
Which development do you live on? Highfield Park, in Sunderland
When did you purchase your home? 17th January 2019
What date did you move in? 31st May 2019
Which home type did you buy? A Tyrone – a 3 bedroom semi-detached home with a drive and a garden. 
Is this your first home? Yes, beforehand we were living in rented accomodation. 
Why a Gleeson home? We had been looking at a number of different home builders, but we visited a number of Gleeson sites in our region and we loved the layouts of the homes. When we visited the site we finally chose to buy on, we loved the location so it fit hand in hand. We were been made to feel very welcome by the sales team, who answered all the questions we had, and before we knew it we had put a deposit down on our plot. 
How was the process of buying your new home? It was much easier than we anticipated. After putting our reservation down, Gleeson pointed us in the direction of a financial advisor who was amazing. Once we exchanged it was just a waiting game, we had an expected completion date, but we were aware this could move. Gleeson gave us weekly updates on the house build and while we were anxious about delays occurring, our home was completed on time by the brilliant site manager. The final checks all went really well, meaning completion was super easy and straight forward.
Why a new home? We had a couple of years of savings so we wanted to move into a house that was all done and ready for us to move in; a blank canvas to put our stamp on. Buying new means that you don't have to renovate when you move in, which can be a huge additional cost for many home buyers.
How has life changed for you since moving into your new home? It has been amazing getting out of rented accommodation. It's really nice to know the hard work you put into your home is benefiting you and only you, not a landlord. You're investing in your home and living arrangements for the long term, which gives you a real sense of achievement, plus financially it's worked out cheaper for us each month which is an added bonus.
It's also been really nice to decorate and do all the things we have dreamed of and made it our own. We have been able to do things like a garden renovation which has become our favourite place to spend time with family and friends. It's given me a platform to also build on my love for interior design, which I have always been limited to before. We've made friends with neighbours and felt part of a little community. It's been a really good first year.
What would your advice be to other renters who are looking to purchase a home? Definitely do it, it's the best decision we have ever made. We saved our deposit from scratch and it took years of saving and being careful with budgets but it's been so worth it and even if it feels so far away the feeling of buying your own home is the best feeling in the world. So, if anyone wants to get on the properly ladder, do it! Plus, there's loads of ways to buy, that we didn't use, but we know Help to Buy and Home Reach have really helped some of our neighbours move quicker.
Any home styling tips?  We get a lot of our inspiration from Instagram. Using our @foxtonhome account we follow so many inspirational homes, Instagram is like a little community where everyone shares tips. We also regularly buy home magazines and watch home styling shows on Netflix. When it comes to styling your home, I'd say be brave and don't be afraid to go out of your comfort zone, also try utilise the space in every room, you'll find a huge difference in what you can do. Try shopping in Ikea and Home Sense, but also H&M Home have some stunning bits online.
Lastly, any claims to fame or fun facts about you both? Karl, has phobia of glitter, it's a little bit of an ongoing joke with friends but it is something he just can't bare to be around and it really freaks him out. Our dog, Dawson, is also named after Jack Dawson from Titanic as it's Marc's favourite film. 
Thanks to Marc and Karl for sharing their Gleeson home buying story, it was great to hear from the people behind the most gorgeous feed on the gram'. Fancy sharing your Gleeson home buying journey story with us? Just email marketing@mjgleeson.com and you could feature on our blog and social media. Inspired by Marc and Karl's story? Find your Gleeson home today, with prices from £50,998* and developments located across the North and the Midlands what are you waiting for? Own it today.
*Price based on part buy-part rent