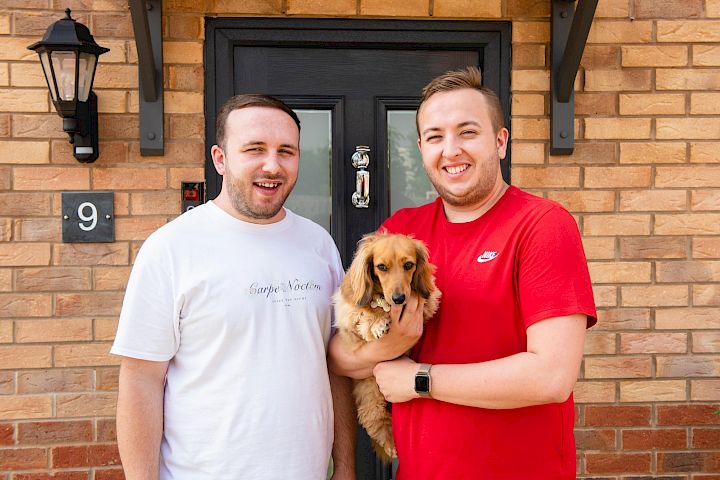 Tom and Frank's home buying journey
We're always checking out Instagram to see what @Tfnewbuild's Tom and Frank are up to when it comes to furnishing their home. A creative couple, we think their Christmas decorations look like they're straight out of a Christmas film, whilst their living room's rustic feature wall looks like it's from the pages of an interior design magazine

We've been looking forward to hearing their journey for a while now, and it's certainly been a crazy one; in the three and a half years since they moved in they've bought a dog, Tom has started this own home fragrance business Just Wicks and Tom's parents have now bought on the same development so they're neighbours! Read on to find out why they're loving home ownership and the freedom it's given them.
The interview:
When did you reserve your home? August 2016.
What date did you move in? August 2017.
Which home type did you buy? A Tyrone – three bedroom semi-detached.
Is this your first home? Yes, my partner Frank and I both lived with our parents before buying together. We both worked full time, so we were able to save a good deposit. The Help to Buy scheme helped us out too, it was great for assisting us in getting on the property ladder.
Why a Gleeson home? We looked at various house builders when we knew we were ready to buy as we knew we wanted a new build. However, some house builders were way out of our price bracket, for example we looked at the houses on a nearby development to ours, and a 3-bedroom flat there was more expensive than a 3-bedroom Gleeson home, which was just ridiculous if you ask me! It also really appealed to us that Gleeson homes come with two parking spaces, whereas a lot of builders often only offer the one.
Plus, our Gleeson development, is beautiful, you head under a bridge to get to it and it's like entering a completely different world. The development is surrounded by stunning green fields, perfect for countryside walks. After falling in love with the development, we equally fell in love with the Tyrone house style after looking around the show home. Everything fell into place and we reserved soon afterwards. Picking our exact plot on the map was amazing, the whole process really feels like you're on an exciting journey.
It didn't take long for my parents to realise how great the development is too, and they bought a 4-bedroom Westmeath, completing in September 2020. Downsizing from the family home and buying their Westmeath meant they had some spare money to buy a holiday home in Spain, which has worked out amazingly for them.
Why a new build home? As first-time buyers we felt it would be much less stressful and safer for us to purchase new, we didn't want a home that needed tons of renovating before we could even put our stamp on it. When buying new you're covered by various warranties which was definitely important for us. The Help to Buy boost made buying new more appealing, as well as being able to customise our home before we even moved in.
How has life changed for you since moving into your Gleeson home? Since purchasing our home we have had a new lease of life, we can finally enjoy our own space, and know at the end of the day that when we close the door behind us, this is our home and we have worked hard for it.  I love how our home is our sanctuary and we can do it up however we like, something you certainly don't get with a rented home.
Buying our first home has also allowed us to get our first dog together. We've called her Mabel and wouldn't be without her. Alongside this it has allowed me to start my own business, a home fragrance company, Just Wicks, where I sell wax melts, diffusers and much more. The business has flourished over the past 12 months and has most certainly been a safety net financially when I was made redundant this year due to the pandemic.
What are you loving most about homeownership? I love that our home is so inexpensive, our mortgage rate is low, and all our energy bills are very affordable due to our insulation and, it's always warm and cosy, which is great as we are a little boring these days and love nights in watching movies with a takeaway.
Your home is looking amazing and festive this Christmas, do you have any winter interior design tips for Gleeson homeowners? For Christmas decorating I recommend choosing a colour palette and sticking to it. Pick a colour that you love and that gives you festive vibes. For the past couple of years, we've gone for red, green and gold, a classic combination. But we love to give our decorations a modern twist like our front door which is slightly Kardashianesque!
Thanks to Tom and Frank and Tom's parents for sharing their home buying journey, we hear about lots of families becoming neighbours, buying near or even next to each other on our developments and stories like this certainly makes us feel warm and fuzzy, especially at this time of year!
Fancy sharing your Gleeson home buying story with us? Just email marketing@mjgleeson.com and you could feature on our blog. Inspired by Tom and Frank's story? find your Gleeson home today, we have over 70 stunning developments to choose from, with prices from £98,995 and homes located across the North and the Midlands what are you waiting for? Own it in 2021.