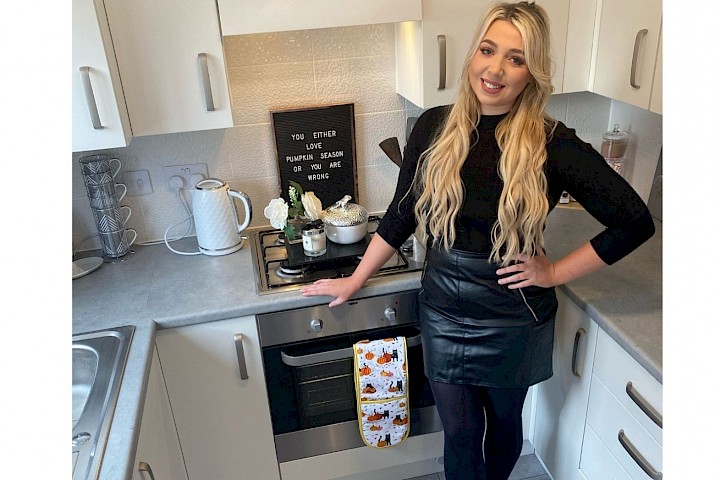 Leigh-Ann's home buying journey
If you're not following Leigh-Ann Dearden (leighs.gleeson) on Instagram, then you are 100% missing out. With a beautifully decorated Gleeson home that we can't help but envy, Leigh-Ann's feed is a haven of interior inspo, with shelfies galore and cat photos to melt your heart. She also has some incredible DIY and space saving hacks, really making amazing use of her home. We caught up with Leigh-Ann about her Gleeson home journey and why she chose a new home for her first home.
The interview:
Which development do you live on? Balderstones in Rochdale, Greater Manchester
When did you purchase your home? 11th August 2019
What date did you move in? 27th February 2020
Which home type did you buy? A Cork – two bedroom semi-detached
Is this your first home? Yes, beforehand I was living with my parents, but felt ready to live independently. I am a key worker; working as a trauma orthopedic nurse and felt I wanted my own space after a long day at work. I am a solo buyer and my home is my sanctuary, I was 24 when I reserved my home, now I am 25 and looking back, moving out was the best decision I ever made.
Why a Gleeson home? Balderstones development is in an amazing location, perfect for my commute to work. Plus, it's within minutes of the M60 and the M62 motorways which makes travelling around Greater Manchester so easy. I was also attracted to the development because the Gleeson Cork home is the most affordable yet stunning new build on the market. I loved the idea of seeing it being built from scratch, it was great to be involved in the building process.
How was the process of buying your new home? It was quite competitive when it came to reserving my plot, it was a very popular one, which was stressful as I had my heart set on it! However, once I had reserved my plot everything became stress free, my sales executives were so helpful. I felt looked after and valued throughout my home buying journey.
Why a new home? With a new home there's no worry about having an old boiler that breaks down on you, there's no damp issues that arise or problems with the home's structure. Plus, a new home is a blank canvas for you to put your mark on. I'm loving going shopping for home bits and bobs, accessories and decorations for my home.
How has life changed for you since buying your home? Life has changed so much since buying my home. Since the pandemic I have found myself working on the Covid-19 ICU unit looking after very poorly patients which has been an eye-opening but rewarding experience. It has been very upsetting but seeing people who were extremely ill recovering and then walking out of the hospital doors is incredible. Lockdown itself was hard, although I got the keys to my home in February, I only moved in three days before lockdown, once all my furniture had arrived. I went from living with family and seeing them everyday to being on my own for the first time which was daunting. However, I just feel so happy that I am set up for the rest of my life by being a homeowner and no longer have to rely on my parents. Since being a Gleeson homeowner I have discovered a community of fellow Gleeson homeowners on Instagram, I love seeing how other people have styled their Gleeson home and sharing my images to inspire others. I made so many new friends on Instagram who kept me company in lockdown.
Any home styling tips? My decorating tips would be, just do it. If you like something, buy it. It you want to paint your walls bright pink and spotty, go for it! If it doesn't look right once it's done, you can always change it. It's your home, personalise it how ever you like.
Thanks to Leigh-Ann for sharing her Gleeson home buying story, a true hero key worker with a beautiful home too. Fancy sharing your Gleeson home buying story with us? Just email marketing@mjgleeson.com and you could feature on our blog. Inspired by Leigh-Ann's story? Find your Gleeson home today, with prices from £97,995 and developments located across the North and the Midlands what are you waiting for? Own it today.