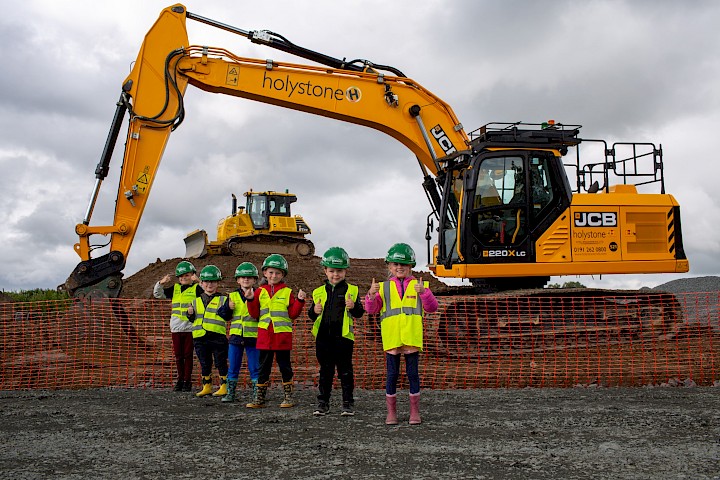 Grange View First School site visit at Grangemoor Park, Widdrington

 
The Gleeson Team in Northumberland recently welcomed six pupils from Grange View First School to its  Grangemoor Park development in Widdrington.
Children from the school have been mesmerised by the construction activity taking place on the Gleeson site, which is next door to their school. Much of their day is spent  on in amazement from their classroom window, so when it was time for art class, their teacher of course asked them to draw their favourite digger.
Gleeson Site Manager Darren Cummings and Steven Geoghegan of Holystone Civil Engineering Ltd were presented with the fantastic artwork and could not wait to get the kids on site for a closer look, so they immediately got to work in preparing a safe area that was accessible for the children.
Steven Geoghegan of Holystone said "I was delighted to hear that the children from the local school had taken such an interest in our site activities. Their artwork was very impressive, and we are looking forward to getting the prints displayed at the front of the development for all to see. Being able to safely bring them onto site for a front row seat, watching the "diggers" go to work brought a real sense of enjoyment to everyone involved.
Holystone would like to thank you all, especially the teachers and children of Grange View First School."
The six children, escorted by Head Teacher Mrs Laskey arrived on site in their wellies and hi vis jackets. Each student was presented with their very own green Gleeson hard hat so that they really felt the part. They watched on as the diggers swooped into action, digging out areas and putting on a great show. To end a fantastic morning the site team gifted some construction machinery toys for them to enjoy back at school. One of the children said "This is the best day of my life and it feels like Christmas!".
After the visit Mrs Laskey said "We are enjoying watching the new Gleeson development in our village. The children are fascinated by the progress so far outside our classroom window and we can't wait to revisit".
"We look forward to having the school back on site and involving them in some of our great projects going forward."
Gleeson boasts a unique position in the housebuilding sector, building high quality, low cost homes, for people on low to medium incomes in the North and Midlands.
Gleeson homes are ideal for first-time buyers and when comparing the cost of mortgages with local rent prices, often fare considerably better and are sold at typically 20% below the average market price making them an ideal long-term investment.