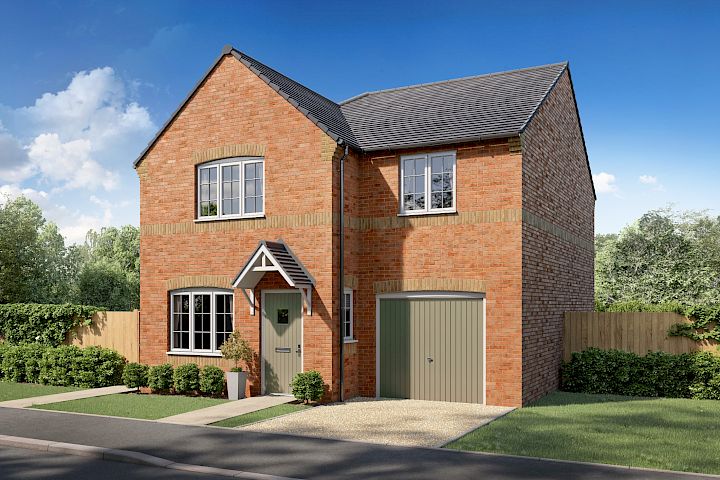 Gleeson to bring 65 affordable, quality new homes to Aspatria
Gleeson Homes has been granted planning permission to build 65 homes off Station Road in Aspatria.
The development will see the 6.47 acre plot of land be transformed into beautiful, high quality, low-cost 2 bedroom bungalows plus, 2, 3 and 4 bedroom semi-detached and detached homes. Gleeson will be developing the piece of greenfield land, formerly used for agricultural grazing, creating an exciting new community. The project will also form part of Gleeson's Community Matters scheme, providing local school children with the opportunity to name a street on the development.
With house prices on the development anticipated to start from just £148,995 for a 2 bedroom home, Gleeson expects these homes to be highly attractive to first-time buyers and young families local to the area. There will also be six affordable homes on the development starting from just £131,200, as well as three local authority rental houses.
Construction is expected to start in Summer 2022, and will be carried out in one phase which is expected to last until Autumn 2025. The development's first homes will be released for sale in Autumn 2022, with the first residents expected to move in during Spring 2023, which also coincides with the launch of the development's two show homes.
Communities are extremely important to Gleeson, so it is delighted that a local school student will be naming a street on the development. The winning name will be announced in a school assembly and all participants will be invited to the development's official opening ceremony.
Kirk Thompson, Operations Director of Gleeson Cumbria said: "We are looking forward to bringing much needed new homes for first-time buyers and key workers to Aspatria. We are delighted to be supporting the local area by working with schools and sponsoring sport clubs, as well as boosting employment by utilising a workforce on site that will be made up of local labour and sub-contractors. This will be our fifth development in the Allerdale district, and we appreciate the support from the local community."
With a regional office based in Penrith, Gleeson has seen great success in across Cumbria with its new developments and strong land pipeline.
Gleeson builds homes that are genuinely affordable, providing customers with the opportunity for wealth creation through homeownership.
Gleeson is seeking local labour and sub-contractors to work on this exciting new development, including applications from local young people who are interested in joining the Gleeson apprenticeship scheme.