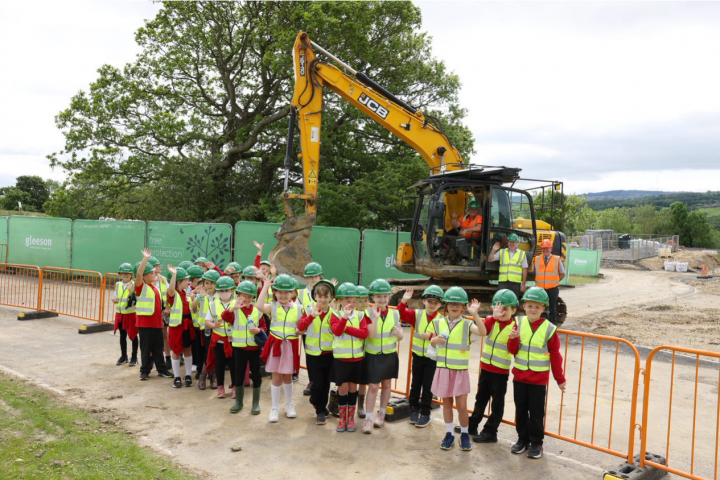 Gleeson Homes invites Chopwell Primary School to visit its Moorland Green development
Housebuilder Gleeson Homes recently invited three classes from Chopwell Primary School to visit its Moorland Green development in Chopwell, so they could see the new development being constructed close to their school.  
 
Years 2, 3 and 4 children, were escorted by their class teachers to the development, where they donned their own hi vis vests and hard hats before hearing a health and safety talk from Paula Clark, Health and Safety Manager about the dangers of playing on building sites, the importance of wearing the correct PPE and also, how to signal that equipment is moving around the building site which was demonstrated by Gleeson's on-site Forklift Truck driver.
Much to the children's delight, the JCB driver displayed how the land is dug and the Forklift Truck driver demonstrated lifting a skip. Next up, after refreshments the children heard from the Site Manager, Tony Nichols about how Gleeson is protecting local ecology, safeguarding existing trees and planting new ones, as well as installing owl houses and bat boxes and creating plenty of green open space for the area's red kite, red squirrel, deer, badger and fox population, plus a play area for local children.
Following this, the on-site labourer Graeme Arnell helped the children have a go at building their own walls with lightweight bricks and trowels.
After a fun-filled session, the children were each presented with artwork packs with outlines of diggers and trucks for them to take away and colour in, giving them a lasting memory of their site visit.
Vic Bruce, Head Teacher at Chopwell Primary School said:
"We were thrilled to be asked by Gleeson to visit their Moorland Green development. The children loved their visit, making comments about how they want to work for Gleeson in the future. They loved the fact the trees and wildlife are still going to be cared for. Gleeson has been superb at ensuring we are all engaged and kept up to date with the growth of our community. The day was very interactive and taught the children a lot about health and safety, which I'm sure they will remember whenever they encounter a building site in the future."
Gleeson understands the importance of involving the community before and during the construction of developments, leaving a legacy once the work is complete.
Ed Alder, Operations Director at Gleeson said:
"We were delighted to welcome the teachers and children from Chopwell Primary School to site. As part of our Community Matters programme, we are keen to ensure that we enrich the local areas in which we build by collaborating with local schools, teams and charities to support good causes and provide moments of joy like this one.
"The children really enjoyed seeing the building site in action, hearing about the local wildlife, learning about the importance of safety and trying out being builders for themselves. One child even said 'this is so much fun, much better than maths', I think we certainly found several tradesmen and women of the future within the classes."
Moorland Green in Chopwell is made up of 205 2, 3 and 4 bedroom homes perfectly placed close to plenty of amenities, with prices starting from just £124,995 for a three bedroom home.  Set to open its four beautifully styled show homes this summer, Moorland Green will boast examples of some of Gleeson's most popular house types, with the first residents also due to move into their new homes this August.
Gleeson are donating considerable Section 106 contributions on this development, including £139,958 towards ecology and £84,350 towards traffic signals and management.
This is Gleeson's third recent development in Tyne and Wear with the housebuilder seeing great success in the region. Gleeson is also in the process of relocating its Tyne and Wear office to  larger premises in Gateshead, furthering the growth of the region and employing a number of new team members to support future new home developments.