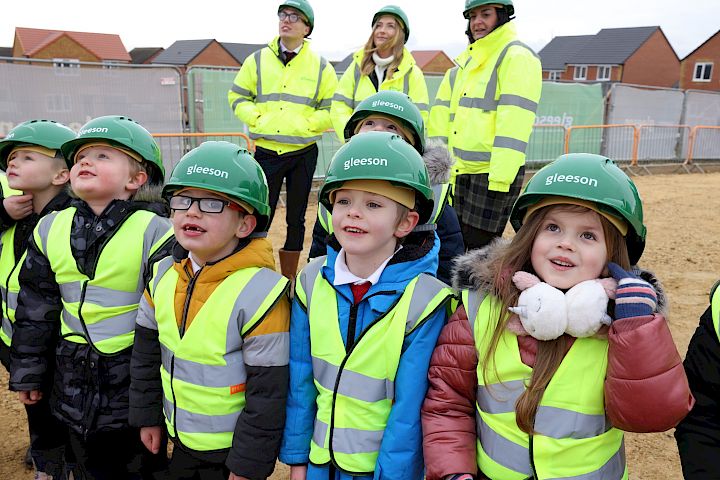 Gleeson Homes invites Catchgate Primary School to visit its Greencroft View development.
Housebuilder Gleeson Homes recently invited year one pupils from Catchgate Primary School to visit its Greencroft View development in Annfield Plain to see the for themselves the new development being constructed close to their school.  
The year one pupils were escorted by their class teachers to the development, where they donned their own hi vis' jackets and hard hats before hearing a health and safety talk by Paula Clark, Health and Safety Manager about the dangers of playing on building sites, the importance of wearing the correct PPE and also, how to signal that equipment is moving around the building site which was demonstrated by the on-site Forklift Truck Driver.
Following this, the Site Manager, David Anderson helped the children have a go at building their own walls with lightweight bricks and trowels. After a fun-filled session, the children were presented with their own technical site plan to take back to school to colour in and decorate with stickers provided.
Joanne Shaw, Head Teacher at Catchgate Primary School said: "Our year one children had a fabulous time visiting the Gleeson site in Greencroft. We were made to feel very welcome by everyone we met. Dave the Site Manager and his team made sure that all of the children understood how houses are built and how each person's role contributes to the design and construction of homes. The children experienced bricklaying and observed the action on the site. They also saw heavy machinery in operation including the cement mixer delivering cement. The children have been inspired by this visit and have since written thank you letters to the Gleeson staff. We are really pleased to have the Gleeson development located beside our school, and are looking forward to seeing the further benefits it brings to local people in the community."
Sarah Marsden, Divisional Managing Director at Gleeson said: "We were delighted to welcome the teachers and children from Catchgate Primary School to site. As part of our Community Matters programme we are keen to ensure that we play a part in the areas in which we build by collaborating with local schools, teams and charities to support good causes and provide moments of joy like this one.
"The children loved seeing the building site in action, learning about the importance of safety and trying out being builders for themselves. I think we certainly found several tradesmen and women of the future within the school. Gleeson understands the importance of involving the community before and during the construction of developments, leaving a legacy once the work is complete."
Greencroft View, Annfield Plain is made up of 85 two, three and four bedroom homes perfectly placed close to plenty of amenities, with prices starting from just £129,995 for a three bedroom home. With easy access to the beautiful Durham countryside, Greencroft View is the ideal place for those looking for a rural location combined with an easy commute to larger towns and cities such as Durham and Newcastle. Proving very popular with local people, Greencroft View has three show homes in total for customers to view, including a two-bedroom Cork, and two three-bedroom homes; the detached Kildare with a garage and the semi-detached Tyrone.
Gleeson is seeking local labour and sub-contractors, including applications from local young people who are interested in joining the Gleeson apprenticeship scheme.