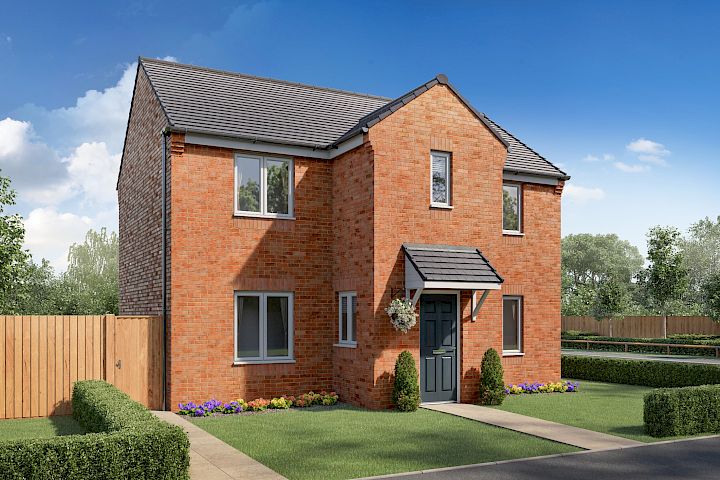 Gleeson Homes to launch new development in Prees Heath
Gleeson Homes will provide 19 "affordable" homes at their new site, Brushwood Gardens, in Prees Heath, which will be ring fenced for local people to purchase at a discounted rate of 20% below current market value.
Brushwood Gardens will be Gleeson's first site in Shropshire, as it looks to fulfil the need for affordable quality homes in the area.
The new development, situated on Whitchurch Road, is due to launch early March from Gleeson's temporary sales centre at Chapel Fields Conference Suites whilst construction continues on the on-site sales centre.
First releases at Brushwood Gardens are now on sale, with prices starting from just £150,696 for a 3 bedroom home. Show homes due to open in June, and the first homeowners moving in for summer.
Out of the total 43 homes being built, 19 homes will be classed as for sale at a ''discount market price', which means Gleeson will only sell these homes to qualifying purchasers that meet the criteria from Shropshire council in three stages.
In the first instance, the 'discount market price' homes will be available to first-time buyers that are residents of Whitchurch Rural Parish, are employed within the area, or have family connections within the parish.
Then the criteria is opened up to the town of Whitchurch and surrounding areas, and lastly residents and workers within the wider Shropshire area will be eligible to purchase.
As part of the planning process, Gleeson contributed £296,962 to support the infrastructure of the local community, £120,666 towards education and schools and £3,500 to Prees Heath Common Butterfly Reserve. Gleeson will also be building a play area on the development for local children to enjoy. Gleeson is in the planning process for a second development in Whitchurch and is looking forward to building links with the local community through their Community Matters scheme.
Stephen Cosgrove, Operations Director at Gleeson said:
"We are delighted to be bringing our affordable, quality homes to Shropshire. At this is our first development in the area, we expect there will be exceptional demand for our homes"
"This is a fantastic opportunity for any local residents and workers to secure a quality new home with a generous 20% discount."
"We are pleased to be supporting the local area by donating towards educations, as well as supporting the community by employing a workforce made up of local labour and contractors."