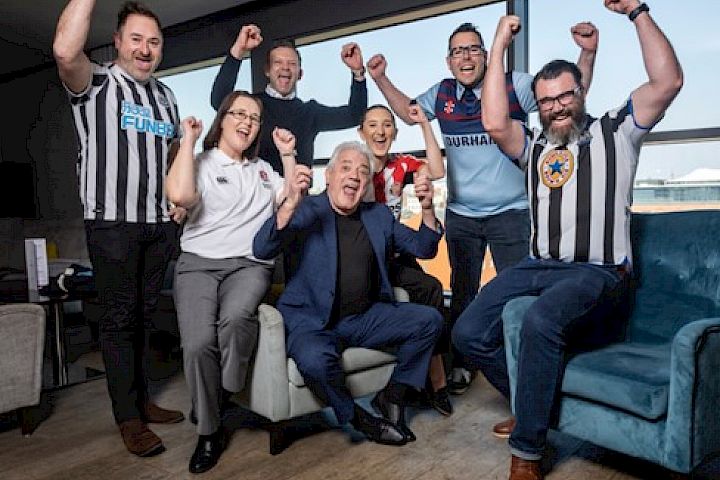 Gleeson Homes helps to organise "King Kev's" charity event to help disadvantaged children in the North-East
Gleeson Homes is delighted to be one of a number of organisations helping to organise a fundraising event for children's charity KidsOut. The event, the first run by the charity in the North-East, aims to raise awareness and much needed funds for a charity supporting disadvantaged children in the region.
The charity, which has been launched by former Newcastle United and England player and manager Kevin Keegan, will host the North-East Question of Sport event providing an evening of entertainment, networking and friendly competition while raising funds for the charity.
The black-tie event will be held on Thursday 20 October 2022 at Sunderland F.C.'s Stadium of Light and is being organised by a committee comprising representatives from various organisations including Gleeson Homes, law firm Ward Hadaway, development land agents Wisemove, development consultants Pegasus Planning and Durham County Cricket Club.
Guests will compete in teams to be crowned champions in a stylish and engaging electronic quick-fire quiz based on the popular TV show 'A Question of Sport'. The evening will begin with a champagne reception before being served a three-course meal.
Gleeson Homes is delighted to be participating in this important local event, with strong levels of community engagement being crucial to our ethos. This is particularly important within the North-East of England, where Gleeson Homes has a significant presence and operates 17 developments.
KidsOut is a volunteer-led charity which aims to bring fun and happiness into the lives of disadvantaged children when they need it most. Based in Bedfordshire, KidsOut provides its services across the UK to over 70,000 children a year, mainly through the provision of fun days out and toy boxes for children in refuge. To date, over 950,000 children have been taken on a fun day out by KidsOut.
Neil Reaney, Operations Director for Gleeson Tees Valley and its representative on the committee, commented:

"Having been involved in the Yorkshire KidsOut event for some considerable years I know this is going to be a fantastic evening of entertainment with lots of fun and games but, the main aim is to bring together lots of North-East organisations together in one room and try and raise much needed funds for this brilliant charity in what we hope will be one of the biggest industry networking events of the year. We also hope to be supported by a number of sporting celebrities past and present on the evening. Kevin Keegan needs no introduction here in the North-East and as a committee, we are delighted he has shown his support for this event."
Kevin Keegan said: "I was thrilled to be invited to help kick off the inaugural North East Kids Out Question of Sport event. I've been involved with many of these events over the years and I know it's a great event which supports a fantastic charity. I know people in the North East will really get behind this and I can't wait to be back again."
Gordon Moulds, CEO at Kids Out, added: "Kids Out provides significant support to children that have escaped domestic violence and I am delighted that our first ever major Newcastle fund raising event is taking place. This will provide Kids Out with the funds it needs to continue to support every child in a Woman's refuge in the North East".  
To book a table and reserve your place, please contact the organisation directly at www.kidsout.org.uk/forms/newcastle/ or by calling 01525 385252.
To find out more about the areas in which Gleeson build and information on the work Gleeson does in the community please visit www.gleesonhomes.co.uk.