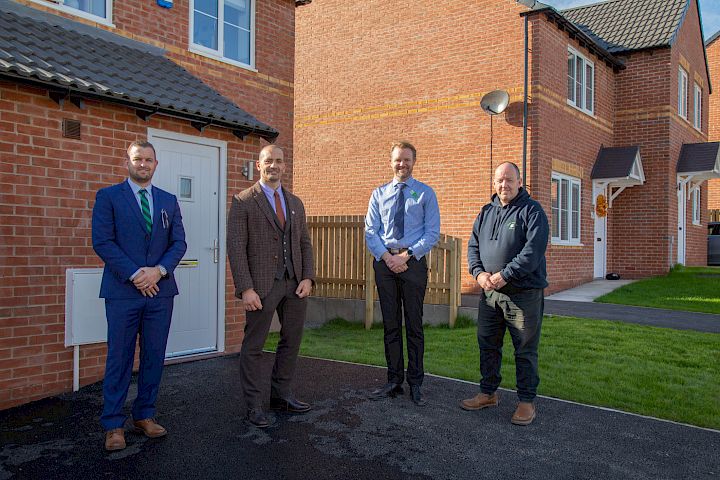 Gleeson invites Councillors for a tour of its Florence Drive development in Egremont
Housebuilder Gleeson Homes welcomes Copeland Borough Council councillors to Florence Drive in Egremont, to showcase how the homes are benefiting the local community.
Gleeson's first site in West Cumbria, Florence Drive brings 28 affordable, quality homes to Egremont for local people. Built on land previously owned by the council, the site commenced construction in June 2020, with the first  three bedroom detached  show home opening in June 2021.
Meeting at Florence Drive was Councillor Andy Pratt, Executive Member and Portfolio Holder at Copeland Borough Council, Councillor Mike McVeigh, Copeland Borough Councillor for Egremont, Leader of the Labour Party and member of the planning committee, Councillor Thomas Higgins, and Councillor Stephen Bell, Deputy Chair of Egremont Town Council as well as Nick Hayhurst, Head of Planning and Place, Christie Burns, Development Management Planning Officer, Julie Friend, Housing Strategy and Development Officer where the Gleeson team gave a tour around the development, as well as a talk about the history of the site and Gleeson's £3.2 million investment in the area.
With prices starting from £112,995, 21 homes on the development have already been sold with 13 homeowners having moved in. 55% of purchasers on the development are first time buyers, many of whom have taken advantage of the Government's Help to Buy: Equity Loan scheme.
The councillors and committee members were very impressed with the quality and design of the homes, Gleeson's community matters scheme, local trades working on the site, and the interior styling of the show home.
With three discount market value affordable homes on the site having been sold to first time buyers, several customers have been able to escape the rent trap, giving them a better living environment.
Kirk Thompson, Operations Director for Gleeson Cumbria said: "We were delighted to showcase our development in Egremont to local councillors. Florence Drive is a fantastic location for first time buyers, key workers and families, and we relished the opportunity to display how we are bringing affordable, quality homes to West Cumbria.."
Andy Pratt Executive Member and Portfolio Holder at Copeland Borough Council said: "I was very pleased to visit Florence Drive and look around the show home, seeing first-hand the local investment this development has brought to Egremont. Through the discounted sale scheme administered by Copeland Council, three local first time buyers have been able to afford a brand-new home that would otherwise have been out of their price range. I look forward to many more discounted sale homes being delivered in future under our policy and would encourage anyone struggling to get a foot on the housing ladder in Copeland to add their names to our discounted sale register."
Gleeson's community matters scheme, which gives back to the areas in which it builds has seen the housebuilder work closely with the Egremont community. Bookwell Primary School which is just a stone's throw from the development, in 2020 Gleeson ran a competition with the school to name Florence Drive. Joel Pickering, now a year six pupil, suggested Florence Drive in honour of the local landmark and arts and craft centre called Florence Mine in the town. Most of the new homes will be able to see the old mine from their upstairs windows. Recently Joel came to visit Florence Drive with his Head Teacher Russell Hardy and his Dad who also works at the school as a senior teaching assistant, and was delighted to see the site in action.
Meeting the economic needs of the community, Gleeson has also agreed to provide an offsite Public Open Space contribution of £19,412 and £13,200 to cover a Travel Plan and a Traffic Regulation Order, further benefiting local people.
Gleeson also employs local labour, sub-contractors and apprentices to work on all of their sites in the Cumbria region.