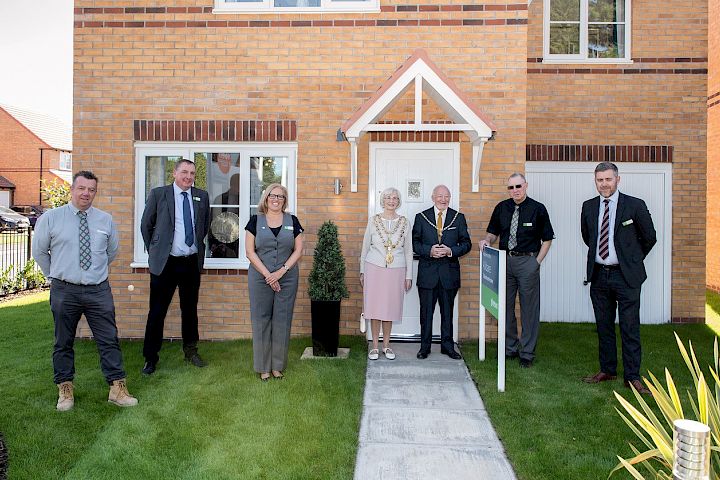 Mayor of Chesterfield opens the show homes of Gleeson's new development in Poolsbrook
The Mayor of Chesterfield, Councillor Glenys Falconer, and her Consort, Councillor Keith Falconer, have officially opened new show homes at Gleeson's Erin Court development in Poolsbrook, Chesterfield.
House builder Gleeson Homes welcomed Glenys and Keith to the official opening of its Erin Court development located off The Grove in Poolsbrook. Upon arrival Glenys enjoyed a guided tour of the site, before cutting the ribbon and venturing into the show homes.
Erin Court first opened in February and when complete, will consist of 175 new 2, 3 and 4 bedroom semi and detached homes, all complete with gardens and parking.
With prices starting at £141,995, 29 homes on the development have already been sold with nine homeowners  having moved in. 76% of purchasers on the development are first time buyers, many of whom have taken advantage of the Government's Help to Buy: Equity Loan scheme.
The Mayor and Councillor Falconer were very impressed with the overall design and interior styling of the three show homes, which comprise of a two bedroom semi-detached Cork, three bedroom semi-detached Fergus, three bedroom detached Kildare.
In a short speech to welcome the mayoral party to the development, Andy Davies Regional Managing Director, highlighted that most residents who have bought on the development so far were either living locally or returning to Poolsbrook to be closer to family. As life-long residents of Chesterfield, both the Mayor and her Consort were very pleased to hear that Gleeson focus on building affordable, quality homes for local people.
Councillor Falconer, having previously worked as an industrial engineer with a company who produced domestic boilers, was also very keen to learn about the heat source pump that Gleeson have installed in the Kildare show home, the first to be trialled within the business.
Air source heat pumps have several benefits, including being three times more efficient than a traditional gas boiler, in addition to  being better for the environment, lowering the home's carbon footprint. This puts Gleeson ahead of the curve, making steps towards the Government's Net Zero 2050 goal, and a greener future for new builds. Using the latest technology by Panasonic, Gleeson is one of the first housebuilders to commit to this method of heating.
Andy Davies, Regional Managing Director said: "We were delighted to welcome Mayor Glenys and Keith to Erin Court to open our new show homes. Erin Court is a fantastic development for first time buyers and families, and the new show homes will ensure that young people can see the quality, affordable homes we build and can discuss with our  sales executives how Gleeson can help them achieve their dreams of homeownership."
Mayor Glenys Falconer commented on the development: "I am very impressed with Erin Court. Gleeson is  building quality homes at affordable prices, allowing working couples and families to own their own home. I was also very pleased to hear that Gleeson homes cannot be purchased by investors, meaning developments, such as Erin Court, truly benefit the community."
Gleeson has agreed to provide £51,000 towards affordable off-site housing provision and has also paid a compensatory off-site planting contribution. Additionally, Gleeson will be donating £66,646 towards GP services, and £5,000 towards off site highways, as well as £296,395 towards the Community Infrastructure Levy (CIL).
Gleeson is seeking local labour and sub-contractors to work on this exciting development, including applications from local young people who are interested in joining the Gleeson apprenticeship scheme.