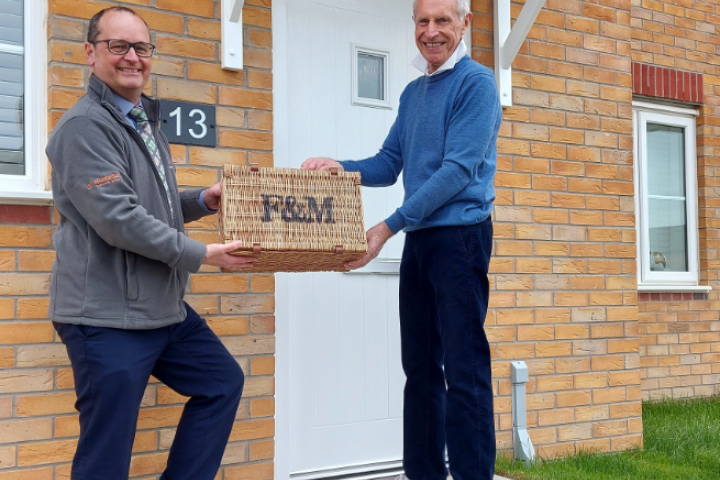 Double happy buyers at Linkswood Park, Rotherham
At Gleeson we understand the importance of creating communities, involving local people in our developments before and during the construction process, leaving a legacy once our work is complete allowing our developments to thrive, neighbours to become lifelong friends and local people to see the benefits of Gleeson bringing quality, affordable homes to their area.

That's why we wanted to share the stories of two of our homeowners who not only completely embrace community spirit, but Gleeson spirit too. Living just three doors apart at our Linkswood Park development in Dalton, Rotherham, couple John and Julie and now neighbour Graham both live in their second Gleeson home.
John and Julie are Gleeson's biggest fans, and have deliberately sought out Gleeson due to being so impressed with our homes specification, the customer service they have received and the standard of our developments.
Their first Gleeson home was at Newhill Court, in Wath upon Dearne, however upon retiring, the couple decided to move to the coast, reserving a plot at Macaulay Park in Grimsby, again intentionally seeking a Gleeson home near the coast. However, when the completion dates didn't match up with the sale of their home at Newhill Court, the couple purchased a home from another developer; however they didn't feel the same way as they had done about their Gleeson home. 
When returning closer to home, moving back to South Yorkshire, John and Julie viewed Linkswood Park and immediately knew it was for them, particularly as the Site Manager who oversaw the construction of the home they loved at Newhill Court is now the Site Manager at Linkswood Park.
Purchasing a three bedroom semi-detached Fergus with a garage the couple think their home is fantastic value for money, loving the blank canvas a Gleeson home provides. 
Julie and John said: "You can't go wrong with a Gleeson home! We recommend Gleeson to everyone we know when they say they are looking for a new home. We couldn't be happier with our Fergus, we are currently working on the garden ready for Summer and can't believe the size of our home for the price we paid."
Our second double buyer at Linkswood Park is Graham, who is the proud owner of a three bedroom semi-detached Tyrone. Another huge fan of Gleeson, Graham has even used our recommend a friend scheme getting new buyers on board with Gleeson as he loves our homes so much.
Graham is a new build convert due to their energy efficiency and loving having a blank canvas. He originally bought at Parson Green, in Parson Cross having moved from Buckinghamshire to South Yorkshire.
Graham loved living at Parson Green, so much so that he launched the Parson Green Facebook community group, which now has 400 members. Graham is even thinking about launching a Linkswood Park group soon and states that Gleeson homeowners really do take pride in their homes.
Graham said: "The customer service provided by the site teams and sales teams at Gleeson is exemplary, they cannot do enough for their purchasers".
Bryan Simpson, Gleeson's Divisional Managing Director for Yorkshire and the Midlands visited John and Julie and Graham to thank them for their valued custom and feedback.
Bryan commented: "I was delighted when I heard that John and Julie and Graham were all such advocates for Gleeson. It makes me very proud and humbled to hear that they love our product and ethos so much so that they have bought two Gleeson homes and have recommended us to many more homeowners. It was great to go and meet them in person at their door steps and hear more about their home buying experience."
Prices for a 3 bedroom home at Linkswood Park currently start from just £169,995, learn more and find your dream home here.