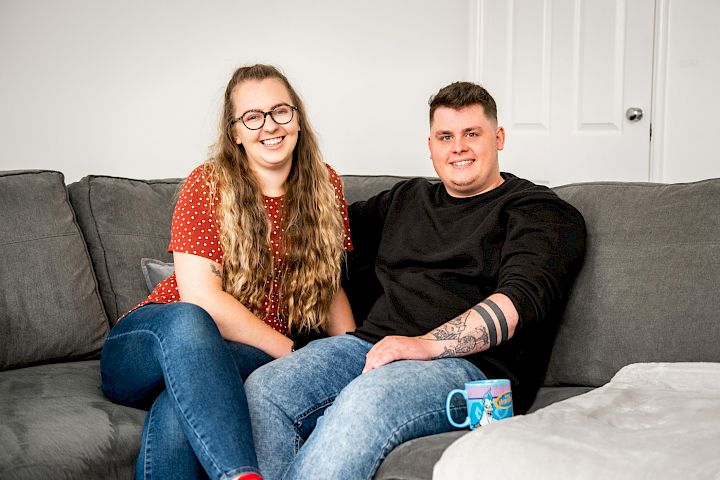 Lauren and Matt's homeownership story
Lauren, 23 and Matt, 25 have been together for five years, after meeting at college and then making it official while working together. Spending the last two years renting a one bedroom flat, the couple were keen to get onto the property ladder, but never imagined they'd be able to own a three bedroom detached house, until they found Gleeson. Changing their lives completely, giving them so much more space and saving them almost £200 a month, their new home means so much, we spoke to Lauren to hear more about the couples buying journey.
 
The interview:
When did you reserve your home? July 2020.
When did you move in? March 2021.
Which home type did you buy? Kilkenny, 3 bedroom detached home with a garage
Is this your first home? Yes, this is the first home we've owned and we absolutely love it. We went for a three bedroom detached Kilkenny with a garage and it's perfect. We never thought we'd be able to afford a detached property for our first home.
We were previously renting a one bedroom flat, which we had lived in since early 2019. We had styled the flat nicely, but there were so many things about it that just weren't ideal. Firstly, it had no garden, or outdoor space at all; and only had on street parking, which meant it was a nightmare to get parked and I really had to master the art of squeezing my car into small spots. We only had one bedroom, which meant we could never have friends or family over to stay, and our bedroom was attached to the communal stairs, so we always heard lots of noise from other residents at all hours of the day and night
We were paying an extortionate amount in rent;  it was a staggering £530 per month. Now in our Gleeson home, which is beautiful and much larger we are paying £360 per month for our mortgage, it really is amazing the difference homeownership has made.
Why a new home? We always wanted to buy new. We wanted a home that was ready to move into, I really didn't like the idea of living in a home which had someone else's choices. When you buy new you can pick the way the interior of your home will look from day one, there's no worrying about ripping out an old fashioned kitchen. We had some excellent incentives thrown in with our home too, including upgraded flooring, an upgraded shower and turf to the rear garden, you wouldn't get any of that included when buying a second-hand home from a private seller.
New homes are a complete blank canvas, and we're enjoying putting our own stamp on each room. Our master bedroom is looking good and we're also adding bits and bobs to it all the time, with our next project set to be making the bulkhead into fitted wardrobes. Our second bedroom has been turned into my dressing room / office, doubling up to be the perfect place to get ready as well as to work. Our third bedroom is Matt's space, for working and gaming and he is loving having his own 'man cave'.
New homes are so energy efficient too, our bills are also only a tiny bit more per month than what we were paying in our flat, which is incredible considering we've gone from a one bedroom flat to a three bedroom detached home. 
However, most of all, I love the idea of being the first to live in our house, being the first person to have ever cooked in our kitchen is a great feeling.
Why a Gleeson home? Our number one reason for choosing Gleeson was the price! It's amazing the amount of home you get for your money compared to other developers. We took a look at other nearby sites and for our budget we could only get either a two bedroom house or a three bedroom semi-detached house, but with Gleeson we could get a detached house with a garage. It really was a no brainer.
Another big tick for us was the fact that every Gleeson home comes with a garden, which was something we were craving so much. Being in lockdown in our one bedroom flat with no garden to enjoy really did spur us on to think it really is time we bought our dream home.
The location of our development is stunning, we're so close to the sea, and can walk out of our estate, past a river, past the port and be on the beach within 10 minutes. There's lots of great bars and restaurants nearby as well as supermarkets, takeaways and a lot more, so there's always something to do. We're just a 15 minute drive from our family and friends and can get to Newcastle city centre in around half an hour which is perfect for shopping!
Why did you choose your house type? We chose the Kilkenny for so many reasons. It has such a good sized kitchen-diner, in our flat we barely had any worktop space for food prep, now we have so much room, our kitchen doesn't look cluttered at all and we have plenty of storage space and cupboards.
The bedrooms are all a great size, the handy cupboard under the stairs is an added bonus, the downstairs toilet is in a good place and the landing has lots of space either side of the stairs. When we viewed the show homes we also loved how the stairs were in the living room of the Kilkenny, ideal for Christmas decorations.
We also chose our particular Kilkenny as the garden is a lovely size and the plot has a west facing garden meaning it's sunny all the time! Our plot has a garage too, which just made all the difference for us, particularly as we were going from having nowhere to park our car, to having a garage and a driveway.
How was the process of buying your home? Reserving and buying our home was very straightforward, the new build mortgage specialists Meridian Mortgages who are recommended by Gleeson are really easy to work with and help you all the way.
During the buying process I used Instagram to visualise how other Kilkenny owners used their space, I found my new neighbours on there too, and the couple who moved in across the road used to send us photo updates showing how our home was progressing. I found the process enjoyable, which is so unlike me as normally I am a stresser, but I knew our house would be ready when it was ready and was so excited for us to move in.
How has life changed for you since moving into your Gleeson home? Life is amazing! We are saving so much money every month by not renting, instead we are paying for a house that actually belongs to us, which is a great feeling. We've been engaged a couple of years now and are finally looking to take that next step and book our wedding, and we've been looking at potentially getting a dog too. Everything is falling into place.
Fancy sharing your Gleeson home buying story with us? Just email marketing@mjgleeson.com and you could feature on our blog. Inspired by Lauren and Matt's story? We have over 70 developments to choose from, so why not find your Gleeson home today, with prices from £96,995 and homes located across the North and the Midlands, what are you waiting for?