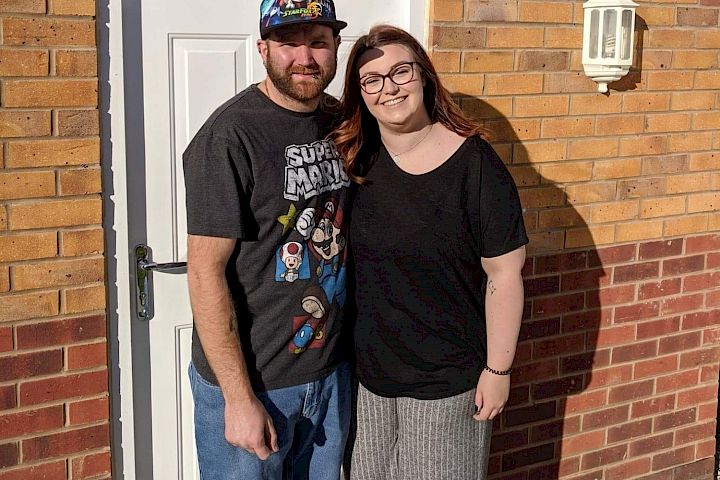 Natasha and Adam's homeownership story
Natasha and Adam moved into their dream home in September 2020 and have been putting their own stamp on it ever since.

The couple can't believe how affordable and straight-forward the whole process has been and with Gleeson holding a special in Natasha's heart due to her late Grandad being a Gleeson employee for over 40 years, it seems that this home was meant to be. 

With a couple of cats in tow and a wedding to plan, we caught up with nail technician Natasha to hear all about the couple's homeownership story and the future they have planned in their perfect home.
 
The interview:
When did you reserve your home? June 2020.
When did you move in? September 2020.
Which home type did you buy? KilkennyKilkenny, 3 bedroom detached home with a garage (was a show home).
Is this your first home? Yes, we were both living with our parents before buying our home. We had started discussing living together in late 2019 and thought it would take a few years for us to be able to purchase. We were saving for our deposit putting a portion of our earnings away every month every month but being apart during lockdown was the final push we needed to get going with our house hunt.it all happened much quicker than we thought it would.
Why a new home? The Government schemes really do help make new builds so much more affordable than  homes that have already been lived in. As first-time buyers getting onto the property ladder was daunting and being able to use the Help to Buy: Equity Loan and our Help to Buy ISA really made it so much more affordable.
Why a Gleeson home? There's so many reasons! The development's location was ideal for us, it's so convenient for both our families and Adam's work which is just a short drive away. The area has lots to do and you can get to the M1 so easily to travel wherever you need to.
We also found that with buying a Gleeson home we got much more for our money than other developers. For example our beautiful Kilkenny has a garage, 3 bedrooms, a driveway and a great sized garden. For the price we paid, with other developers you would be likely to only get a 2 bed. Adam was paying board every month when he lived at his parents' home and because our mortgage is so affordable, he's actually only paying £30 more a month towards our mortgage than he previously paid his Mum and Dad.
Another reason we chose Gleeson was because our friend had reserved a Gleeson home just before us, so we were able to use the recommend a friend scheme, which was a great bonus as we received £250 towards extras and our friend received £100 to spend how she wished.
Gleeson has  always held a special place in my heart too, as my late Grandpa worked for Gleeson as a joiner for over 40 years. It's really lovely for me to be in a Gleeson home, as it helps me feel closer to him and I know he would be very proud.
Why did you choose your house type? We really liked the Kilkenny from the moment we walked into the show home, hence why we ended up buying the show home itself! We loved how the Kilkenny we purchased was fully furnished and was ready to move into.
We visited the show home and met our Sales Executive on the 6th June 2020 and by Monday  the 8th we were phoning to reserve as we knew three other couples had viewed the house the previous weekend, we were so eager to get our reservation in first!
The Kilkenny just was perfect for us as we definitely wanted a garage, and we wanted a spacious living room. With the Kilkenny's open staircase we could immediately picture putting a Christmas garland up the bannister. Adam fell in love with the guest bedroom, which had been decorated by a local school child with a Marvel theme. He knew straight away that the room was destined to be his games room! We also both loved the French doors leading out to the garden, we can't wait to spend time outdoors BBQing this summer.
Since moving in we have personalised some elements of the home, such as changing the living room wallpaper to a gorgeous emerald colour to match both of our birth stones. We are slowly tweaking the show homes original furniture to put our own stamp of the home, but we have kept lots of the décor in place, particularly in Adam's games room! We have enjoyed documenting our homeownership experience on our Instagram page @ourkilkennyshowhome.
How was the process of buying your home? Reserving and buying in the middle of a pandemic wasn't something we thought we'd ever say we would have done, but it was the best time for us to do it! I am a self-employed nail technician and due to the beauty industry being closed down, I had lots of time on my hands to plough into sorting out the mortgage paperwork and preparing for moving out.
Things went so well and happened so quickly, which can partly be attributed to buying a show home but also because of the great Gleeson team and the new build specialist mortgage advisors Meridian Mortgages. Being self-employed and due to the pandemic I was worried it would be harder to get a mortgage, however the advisors were so on the ball and helped us go from reserving to moving in in just over three months.
How has life changed for you since moving into your Gleeson home? We are so happy now that we own our own home. Knowing that it is ours and we can do what we want, when we want is amazing. Going from living with our parents we felt like we didn't have much freedom and spent a lot of time sat in our bedrooms, now we can chill wherever we want in the house!
We've also have adopted two cats named Ruff and Rivit and now we have our own home, we're looking forward to planning our wedding after being engaged since 2017!
Do you have any tips for anyone looking to move into a Gleeson home? Go for it! It will be much more affordable than you think and you'll love every second of being in your own home.
Fancy sharing your Gleeson home buying story with us? Just email marketing@mjgleeson.com and you could feature on our blog. Inspired by Natasha and Adam's story? We have over 70 developments to choose from, so why not find your Gleeson home today, with prices from £96,995 and homes located across the North and the Midlands, what are you waiting for?