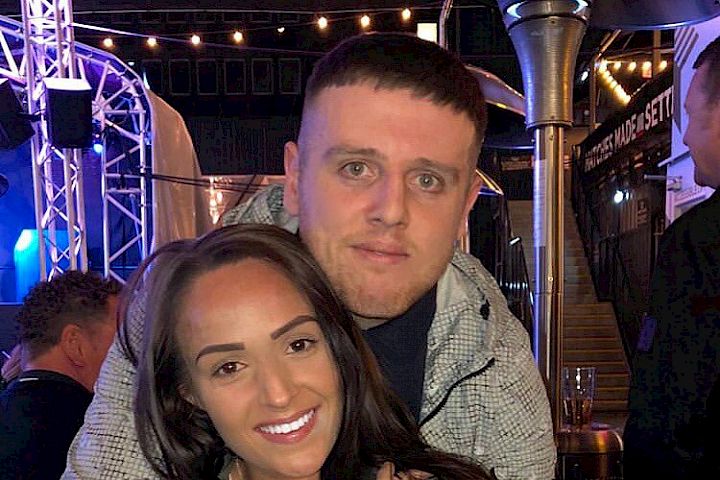 Hannah and Sam's homeownership story
Monochrome, grey and navy is the colour scheme of Hannah and Sam's stunning three bedroom detached Kildare. This is a chic, sophisticated home that could easily pass as  a show home given its style appeal. Since moving into their home in December, the couple have got engaged, and have a little one on the way… a furry little one that is! Loving the simplicity a new build brings, the couple have relished owning their own home, after all, it's been a long time coming following five years living with Sam's parents and a long distance relationship! We spoke to Hannah to learn more about the couple's experience of buying their first home. 
The interview:
When did you reserve your home?   March 14th 2020 – just before the first lockdown.
What date did you move in? 10/12/2020
Which home type did you buy? A Kildare, 3 bedroom detached
Is this your first home? This is our first home and we're thrilled; it's been on the cards for quite some time! We met at a football match over seven years ago and for two years we had a long-distance relationship between Manchester and Gateshead. Five years ago, I decided to make the move to Gateshead to be with Sam, and moved in with him and his parents. As soon as I moved, we opened a Help to Buy ISA, and rather than renting, we stayed living with Sam's parents until we had saved enough to buy somewhere of our own.
Why a new home? We live such busy lives and buying a new build just suited us so much more than a project home. New builds are so much more low maintenance, we couldn't be doing with having to do loads of work; we just wanted to move in and enjoy our dream home!
Why a Gleeson home? We found with Gleeson that we were 100% getting the most for our money. Our sales executive was so lovely and informative and really helped us picture life on our development.
Our development was perfect for us location wise; it's in a lovely quiet area, and due to it being a relatively small development we could see that a good community was being created with likeminded, friendly people.
We knew as soon as we saw the Kildare that it was for us. It's a stunning three bedroom detached house; it's huge for our first home! The bedrooms are a great size, and we love how our master bedroom has an en-suite. Since moving in we have made our third bedroom into an office, as my job is now permanently based from home. The second bedroom is our guest room which will be ideal for when we can have my parents up from Manchester to come and stay for the weekend.
We loved our kitchen choices, and the wide range of options Gleeson have available, however Sam's job is a kitchen designer, and he couldn't resist putting his own stamp on it. So when we moved in Sam got to work making our kitchen truly bespoke, utilising all of his design expertise, we absolutely love it and it shows just how versatile Gleeson homes really are.
How was the process of buying your home?  The process wasn't too bad considering we reserved in the midst of a global pandemic! Gleeson communicated with us well and we got regular updates from our sales executive throughout the whole process. We didn't visit our house much during the build, due to the pandemic, however every time we did we were impressed at how much the house had evolved.
We found the mortgage paperwork difficult as it was our first time doing anything like this , but the support we received from our chosen mortgage specialists Meridian was great!
Since moving in Gleeson's aftercare has been on point, we've been contacted regularly to see how we're settling in and any small issues we've had have been rectified promptly.
Do you have any tips for anyone looking to move into a Gleeson home? I'd say to any new homeowner, don't rush into buying loads of things before you move in! Once you're actually in your home it's a totally different ball game, some of the items I'd bought before moving in, I  don't love anymore now we're in.  I'd say wait until you're settled in a little bit more as then your style really comes out and you can visualise what works best in each space. However, if you're stuck for style inspiration, I'd recommend visiting Gleeson's show homes, or browsing interior images created by Gleeson homeowners on Instagram. My personal fave is the #gleesonkildare hashtag, of course.
How has life changed for you since moving into your Gleeson home? Our lives have changed massively since moving into our home. We got engaged a week after we got the keys, (it was supposed to be the same day, but the ring hadn't arrived in time!). Instead, Sam asked if we could go up to see the commemorative brick that we have for his Grandad at Sunderland's Stadium of Light and when we got there, feeling like his Grandad was there with him, Sam asked me to marry him! We are now in the process of planning our wedding and can't wait to be able to go and view venues this summer.
We are also adding a furry friend to our family in the not-so-distant future, and we're so excited to begin the next phase of our life together.
Our home feels like such a calming place, which is so important especially at the moment!
Fancy sharing your Gleeson home buying story with us? Just email marketing@mjgleeson.com and you could feature on our blog. Inspired by Hannah and Sam's story? We have over 70 developments to choose from, so why not find your Gleeson home today, with prices from £96,995 and homes located across the North and the Midlands, what are you waiting for?