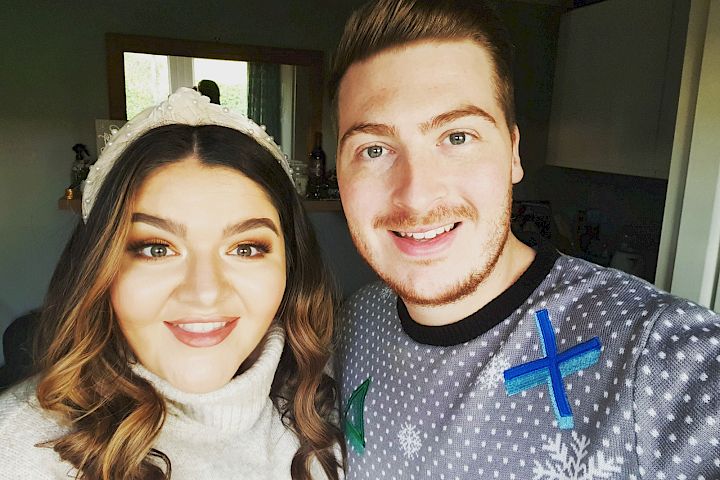 Liv and Joel's home buying journey
A year in the making, thanks to Covid, and Liv and Joel waited patiently for their dream home to be built; according to them it was worth the wait.
Having fallen in love with the Kilkenny house style years ago after viewing Gleeson show homes with Joel's sister, the couple knew that a Gleeson home was for them even before they were ready to begin their house hunting.
Since moving in they have added the finishing touches to their perfect blank canvas with their Instagram account showcasing their pristine home with pops of colour, so we interviewed Liv and learnt all about the couple's journey.
The interview:
When did you reserve your home? August 2019.
What date did you move in? August 2020.
Which home type did you buy? Kilkenny, a three-bedroom detached home with a garage
Is this your first home? Yes, we both previously lived between our parent's houses – and moved between both of them every other week – it was exhausting! Having been together for five years, and both being settled in our careers, of teaching and retail management, we really wanted our own space, and somewhere that we could make our own and call home. We knew we wanted to buy rather than rent, as renting didn't seem like the best way to spend our money. So, we saved all we could until we had our deposit.
Why a new home? Simply, it comes without issues. The security we feel having the NHBC warranty and the My Gleeson interface to report any issues is fantastic, we know that if anything happens, we can get it sorted.
Design wise, we loved that all the walls were painted white. A perfect blank canvas that we've been able to add to and adapt to our personalities. I've painted some of the walls in total block colours, some of them in half height paint and I've painted an arch of colour in the downstairs WC. I've been using my Instagram @homewithlivv, to document all of my new purchases and paintwork, Joel does occasionally make an appearance on the grid, but he much prefers to leave me to it.
Why a Gleeson home? We went with Joel's sister a couple of years ago to have a look around some Gleeson developments. We loved the show homes and particularly fell in love with the Kilkenny. Subsequently Joel's sister purchased a Gleeson home and found that it was great value for money. After her experience, we knew we were going to go with Gleeson when we were ready to buy our first home.
The Kilkenny is ideal for us, we love the fact it's detached, and has a garage, perfect for giving us additional storage space and the possibilities with our Kilkenny are endless. Since moving in we have added fitted wardrobes in both the master and second bedroom and have begun landscaping our huge south facing garden. Also, the size of our kitchen is great, we knew that the kitchen would be the heart of our home, so wanted a nice sized space to fit a large table and chairs. Picking our kitchen Options was one of the best parts of the buying experience for us.
How was the process of buying your first home? Due to the Covid-19 pandemic, we spoke with various sales executives whilst waiting for our home to be completed, and they were all so helpful. Throughout they offered advice about dealing with solicitors, time frames and our Options. We knew that delays were inevitable, so kept driving past our development and peeping at our home. Throughout the first lockdown I kept busy by browsing furniture online, choosing colour schemes and buying decorative pieces. You bet as soon as Ikea reopened it was our first stop!
How was life changed for you since moving into your Gleeson home?  Life is just so much calmer. We now have a home to call our own and have finally had order restored, no more flitting between our parent's houses just to see each other. We've made lots of friends on our development and there is a group set up on social media where all residents are members, so there is always a neighbour who can help you out when you need anything. We love our home and our development and couldn't be happier.
Fancy sharing your Gleeson home buying story with us? Just email marketing@mjgleeson.com and you could feature on our blog. Inspired by Liv and Joel's story? We have over 70 developments to choose from, so why not find your Gleeson home today, with prices from £98,995 and homes located across the North and the Midlands, what are you waiting for?