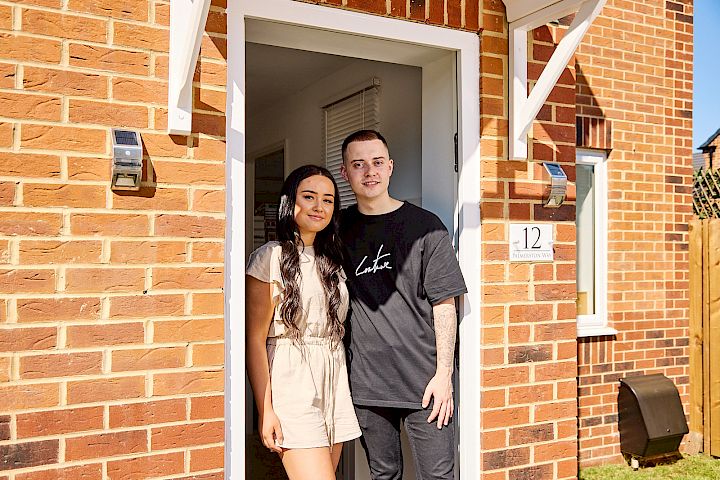 Brad and Charmaine's homeownership story
Brad and Charmaine both work in the fashion industry so a stylish home was a must for them. After living in a cramped two bedroom flat in Manchester city centre throughout lockdown one, they knew it was time for a change. Discovering their nearest Gleeson development on the outskirts of Manchester and the symmetrical, bold Renmore house style the couple were sold and reserved as soon as one became available, moving in just three months later.

While personalising their blank canvas into a stunning chic and neutral home perfect for them, the couple have fallen in love with homeownership, and have saved some cash too, with their 3 bedroom detached home actually working out cheaper per month than their flat.

We spoke to Brad and Charmaine about their buying journey and what they love the most about their home.
The interview:
When did you reserve your home? August 2020.
What date did you move in? November 2020.
Which home type did you buy? Renmore, a 3 bedroom detached home.
Is this your first home? Charmaine previously owned a flat in Manchester and we both lived there, we both work in central Manchester in the fashion industry. I am a Merchandising Admin Assistant at Pretty Little Thing and Charmaine works for In the Style as an Assistant Buyer, so the location of the flat was great for getting to work and for those after work drinks! We had been saving up ready to go to Thailand for a holiday, but our plans got cancelled when we went into the first lockdown. Spending the first lockdown throughout the hot summer months in a small flat without a garden quickly made us release how much we wanted to buy a house and have our own garden. We quickly got looking and came across Gleeson. We were amazed at the price point of the homes and the fact Gleeson offer the Help to Buy: Equity Loan to make buying a new build home more affordable.
Why a new home? We love the fact that a new build is a blank canvas. We like to get things done quickly and are both passionate about interior design. We loved that we could move in and start decorating straight away without the need for lots of prep. We think that new homes are classy and neutral and have gone with that as our colour scheme too, meaning we'll never get bored of the décor of our home.
Why a Gleeson home? The affordability was spot on for us! We didn't think we'd be able to buy a detached house so big for our first home together, but Gleeson proved us wrong. Our home actually works out cheaper than the rent and bills we were paying for the 2 bedroom flat, which is just incredible considering the size difference.
Plus, we were really drawn in by the Renmore, it's the perfect size and feels enormous compared to the flat we were in before. Charmaine loved the symmetrical look of the Renmore with the door in the middle, the layout of the house with the en-suite was just what we were looking for. The en-suite is one of our favourite parts of our home, we love the Porcelanosa tiles, they have a gorgeous grey finish and always look like they are sparkling.
The development location was perfect for us too, we are just five minutes away from all the local shops and just five minutes from the motorway, meaning we can get to work in Manchester very quickly. We're originally both from Milton Keynes and moved to Manchester for work and university, buying our home here now means that we're able to fully settle in Manchester for good.
How was the process of buying your home?  The process was amazing. We were fortunate enough to have got a cancellation property, so things moved so quickly for us as our home was pretty much ready. We were reserved, exchanged, and completed in just over three months.
How has life changed for you since moving into your Gleeson home?  We are so grateful to own such a beautiful home at just 22 and 24 years old, and this would not have been possible without Gleeson. We have made a home Instagram account @harewellhome and have made some lovely friends who are also Gleeson homeowners, we can't wait to have them all round soon! We are really enjoying making our house a home by adding our own style, which has been so fun to do. 
Do you have any tips for anyone looking to move into a Gleeson home? Visit the sales centre in person and explain your situation and what you're looking for. There were no houses available to reserve on our development when we initially enquired, but we received regular email updates about our development, meaning we could reserve our dream home when it became available.
Fancy sharing your Gleeson home buying story with us? Just email marketing@mjgleeson.com and you could feature on our blog. Inspired by Brad and Charmaine's story? We have over 70 developments to choose from, so why not find your Gleeson home today, with prices from £101,995 and homes located across the North and the Midlands, what are you waiting for?