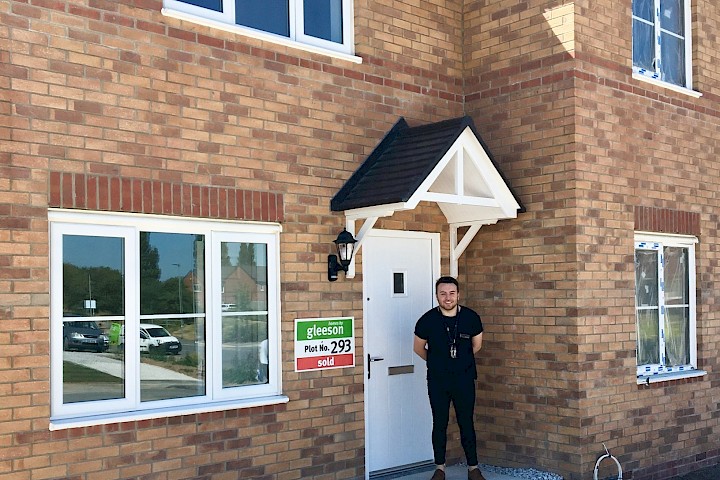 Zach's home buying journey
Zach had a 'pinch-me' moment when he bought his two-bedroom Gleeson home in 2018 at just 21 years old. Costing half the price per month in mortgage repayments compared to the rent he was paying for a small one bedroom flat; his home has been his sanctuary. Zach has truly made it his own with a bold colour scheme and striking accessories, with images shared on his growing Instagram page @zh_home.

After living alone for two years, Zach moved in his partner Jack in summer 2020, and now can't imagine ever moving to a new house after seeing his dream home go from strength to strength. We love sharing Gleeson homeowners' stories, so we caught up with Zach to learn more about his home buying journey.
When did you reserve your home? April 2018
What date did you move in? July 2018
Which home type did you buy? Cork, 2 bedroom semi-detached  
Is this your first home? Yes, I was living with my parents prior to buying my Gleeson home. When I was 18, I moved Greece to work for TUI, looking after customers during their holidays. It was a lot of hard work but also was a lot of fun in the sun. When I moved back to the UK, I didn't want to move straight back home, so I began renting a flat.  It soon began to drain all my money, leaving little spare income aside for saving for my future, so, I moved back to my parents' house for a year whilst I saved for a deposit for my first home. In my rented property I was I was paying double my current monthly mortgage payment for a small one bedroom flat, so buying my home really has worked out so much better for me.
Why a new home? When I began my search, I straight away liked the idea of being able to start from scratch and live in a brand-new home. My parents live in a new home and a lot of people who I'd grown up with were also in the process of buying on my development, so it didn't feel a million miles away from home and seemed like the perfect place to start my journey.
Rather than buying an existing property than needed 'doing up', with my Cork I was able to start with a blank canvas and build on it over time and as my budget allowed.  My partner Jack has also been a star in helping me bring my visions to life, even though there are quite a lot of them! I also have the peace of mind in knowing that if there's ever any issues they can be sorted, and the house is protected by the NHBC warranty.
Why a Gleeson home? I chose Gleeson because the development was in a perfect location for work, family, and friends. Even though I was moving slightly down the road from my home village, I still felt close to everyone I needed to be close to.
The location of our development is great for commuters, I work full time in finance and compliance for a telecoms company and before the pandemic I was able to just walk to the train station at the end of our road and hop on the train to work, which was ideal. Alongside work, I'm also studying part-time for a business management degree, so needed a desk set up, which my home has plenty of room for. I picked the Cork house type because at the time, when I bought my home, I was a solo buyer, and there was plenty of space for me and all my belongings. However, even now looking back, I made a great choice as with my partner Jack having moved in there's still plenty of room for the both of us.
What do you love the most about your home? I've loved putting my own stamp it. It's so satisfying to walk into a room and think 'Jack and I did that' and look back on how far the interior of the home and furnishings have come. I've also learnt that it's okay to change your home regularly and that there are no right or wrongs when it comes to personalising your home; it's all about whatever makes you happy. We have certainly experimented with the interior of our home, opting for bold colours like a yellow accent chair, funky wallpaper, quirky accessories, and floating shelves and I get so many compliments on Instagram about my home. Aside from the interior, I love my garden and the private driveway, with some housebuilders gardens and driveways just don't exist, so I feel really lucky.
How was the process of buying your first home? Buying my home was so much simpler than I had imagined; I had to pinch myself a several times at the thought of buying a home at just 21 years old. It was the most affordable option for me with the schemes that Gleeson offer; much better than renting or living with my parents (sorry Mum and Dad!) I originally visited the sales centre thinking I would leave disappointed due the costs and pictures I had built up in my head, however, after my first visit I left knowing that I would be able to own a new house thanks to the guidance from my sales executive and Meridian Mortgages, the mortgage advisors that Gleeson put you in touch with. My favourite part was choosing all the designs and Options, such as my beautiful kitchen and then watching it come to life when I visited site at the various build stages.
How was life changed for you since moving into your Gleeson home? Owning a home has taught me so much and I can't wait to keep growing and building on what I've have started in my home. I have so many memories attached to this house already that the thought of eventually ever moving makes me feel sad.
Jack moved in with me in summer 2020, after meeting virtually during the first lockdown in March, and we've made some amazing friends with our lovely neighbours. We love having family and friends round for nights in (when allowed of course) and we've recently celebrated our first Christmas together in this house and the community spirit on our development really shined, as we all got involved making the estate look festive. The development looked fantastic with all the lights and snowfall, it put a smile on my face every time I came home.
Do you have any tips for someone looking to buy their first home? My top tip would be to have fun! There is a lot of paperwork and phone calls to make when buying a home, but in the end it's so rewarding. I had colour schemes and sofa choices coming out of my ears, but it was one of the most enjoyable experiences of my life.
Fancy sharing your Gleeson home buying story with us? Just email marketing@mjgleeson.com and you could feature on our blog. Inspired by Zach's story? We have over 70 developments to choose from, so why not find your Gleeson home today, with prices from £98,995 and homes located across the North and the Midlands, what are you waiting for?