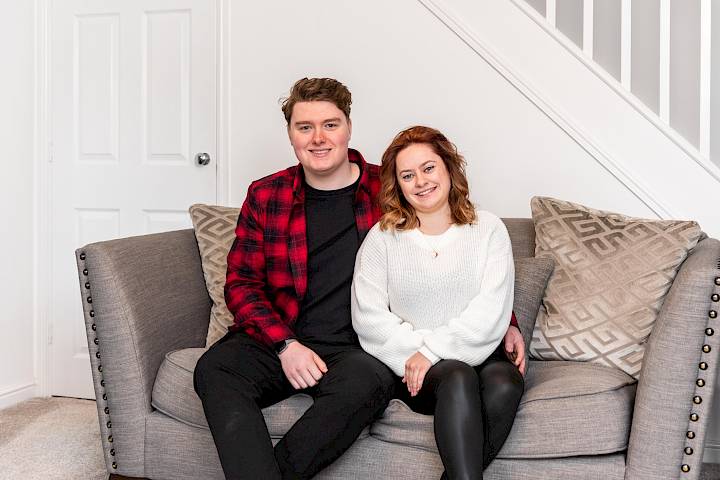 Katie and Liam's homeownership story
Katie and Liam, @kl_foreverhome on Instagram, have been together for just over four years and were dreaming of owning their own home, after spending lockdown living with their parents.
Discovering their local Gleeson development was a dream come true, as they found they could buy a spacious 3 bedroom detached Kilkenny, with a garage, garden and driveway for much less than they anticipated. Loving the independence homeownership has given them, the couple, both aged 24, are excited for the Summer in their new home, and are loving community life, having made lots of new friends on their development.
The interview:
When did you reserve your home? December 2020.
When did you move in? June 2021.
Which house type did you buy? Kilkenny, 3 bedroom detached house with a garage
Is this your first home? Yes, this is our first home; we felt that the time was right for us to fly the nest and officially move in together after constantly living between our parents' homes. We looked at a few different new developments  in our local area before we stumbled across Gleeson's development. It instantly felt like the timeframe and area were right. We decided not to rent before buying as we felt like it would be better in the long run to stay at our parents' whilst saving. The pandemic helped us a lot in terms of being able to save larger sums of money for our deposit, as we couldn't spend our money on anything else, but it did really help that we could use the Help to Buy: Equity Loan, which meant we only needed a 5% deposit in total.
Why did you choose to buy a new build home? We chose a new build as it's a blank canvas. We wouldn't have been inheriting someone else's  style so we could put our own stamp on things. The freedom you get with a new build as well meant we were able to pick from the Gleeson options, allowing us to personalise our kitchen and bathroom interiors to our own individual taste, which made it feel even more special to us.
Liam originally wanted to go for an older home, but after looking at Gleeson's new build developments, it felt more realistic and achievable for us to get the house we wanted whilst owning a home that we could be proud of from the moment we moved in.
Why did you choose to buy with Gleeson? After looking at other developers, we felt like Gleeson offered the best value for money and its  customer service was second to none. The Sales Executive who guided us through the process was really friendly and knowledgeable, she answered any questions we had about the whole process and pointed us into the right direction of the right person who could help if she couldn't. As first-time buyers, this made things feel much smoother and a little bit less stressful, especially in the early stages when we were finding our feet with the process!
How was the process of buying your new home for you? We found the process both simple and smooth, with the expert advice given throughout our home buying journey, we felt comforted rather than overwhelmed.
Throughout the build process we decided it would be a fun idea to create our own home account, @kl_foreverhome. We saw the Gleeson online community and wanted to be a part of it, as well as documenting our progress and watching our house being built. This has also in more recent months been quite helpful in connecting with other fellow buyers on our development as more houses get released. We love sharing house updates on our Instagram and interior tips, Liam has even started his own YouTube vlog too - https://www.youtube.com/c/Dimmickk.
What do you love the most about the interior of your home? We love the layout of our Kilkenny. We feel like we have the best of both worlds our  open plan kitchen-diner and  spacious living space. The Kilkenny doesn't feel like a stereotypical 'new-build', the kitchen has plenty of room and bench space which is perfect as baking is  Katie's number one hobby. There is enough space to entertain and have our friends and family over in both rooms; we didn't have to sacrifice one for the other!
What do you love the most about the exterior of your home? The garden size is probably our favourite feature externally, we can't wait to start 'project garden' and have lots of exciting plans for what we will do with our space. Every Gleeson home having a garden is so great, we can't wait for BBQs this summer. Another aspect which was great for us was having our own drive, we feel much safer having somewhere to park our car overnight and having a drive makes life much easier when unloading shopping!
How has life changed for you since moving into your Gleeson home? Since moving into our new home, we are much happier with having our own space and the independence that comes with it. We have had a new sense of freedom and responsibility. Liam's commute to work has been more than halved following the move and is literally a three minute bike ride. This has given him a better work/life balance. The whole process has made us mature a lot more, from things as little as the weekly food shop to bigger commitments such as paying bills, we feel so much more grown up!
Are you enjoying life on your development? What is the community like, have you made any friends amongst your neighbours? We love our development, it has a close-knit feel already, despite it being quite early days and only having a few neighbours who have moved in so far. Everyone is really friendly and willing to help, which is the community feel you want when moving into a new home.
Do you have any tips for anyone looking to move into a Gleeson home? We would advise anybody looking to buy a Gleeson home, to take a look at all house types in your local area. The Kilkenny wasn't on our list until we viewed the show home one day and it took us by surprise. Another tip we have is to have patience throughout the whole process is key, even upon moving in, buying a house is a big deal, and it doesn't happen overnight.
We would completely encourage anyone looking for their dream home to buy with Gleeson, you get so much home for your money, and will love the community that comes with living on a Gleeson development. We feel really grateful to have been able to afford to buy our first home at the ages of 23 and 24, especially one as spacious as the Kilkenny.
Fancy sharing your Gleeson home buying story with us? Just email marketing@mjgleeson.com and you could feature on our blog. Inspired by Katie and Liam's story? We have over 75 developments of stunning, affordable, quality homes located across the North and the Midlands, what are you waiting for?!
Find your Gleeson home today, click here to get started.