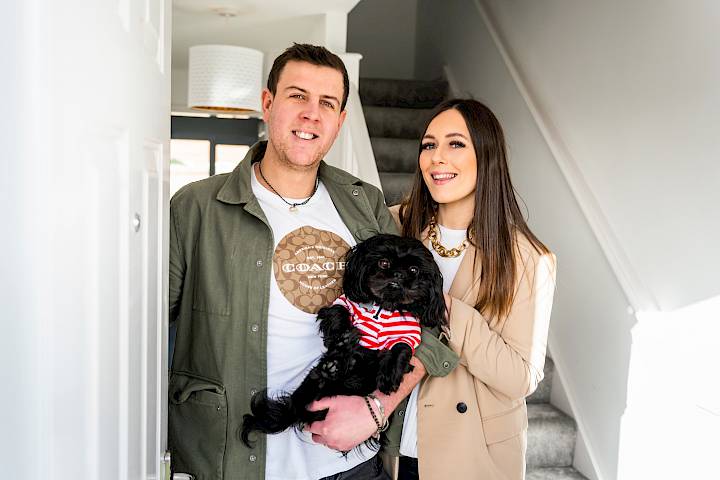 Elly and Calum's homeownership journey
Newlyweds Elly and Calum wanted to get out of the rent trap and onto the property ladder, as after their wedding in 2019, their next goal on their bucket list was to own their own home. Gleeson made this a reality and Elly and Calum are now the proud owners of a stunning 4 bedroom detached Longford.

After being restricted in a rented property, the couple wanted a blank canvas that they could personalise, and were delighted to be able to pick their kitchen choices and select upgrades from Gleeson's options range, with teacher Elly receiving a £1,000 voucher as part of our Key Worker Priority Programme.

Since moving in, Elly and Calum have a new addition to their family; an adorable dog called Teddy, something they couldn't do in their rented house.
When did you reserve your home? February 2021
When did you move in? November 2021
Which house type did you buy? 4 bedroom detached Longford
What was your living situation before buying with Gleeson?
We rented a 3 bedroom semi-detached house for five years paying £450 a month before moving into our Gleeson home. In our rented property we didn't have a rear garden or any parking, so when we started looking for our first home, we knew exactly what we wanted and had a tick box in mind. Gleeson covered all these needs and more!
Which house type did you buy and why did you choose it?
We chose the 4 bedroom detached Longford, and we absolutely love it. We had been saving for a while to buy our dream home, so we didn't want to compromise on space and then have to move later on. We saw two available homes on our Gleeson development which were both 4 beds, however after looking around the Longford show home we just fell in love.
After deciding on the Longford, we couldn't believe it when we were told our mortgage would only be £90 more than what we were paying in  rent, which is amazing for a house which is almost double the size!
Calum works for a chemistry company in the IT department and so works from home a lot, we therefore wanted to make a room his office space as well as wanting room for family to come stay. I've also got a clothes obsession, so having a spare room which could be my dressing room is amazing! We also have three toilets  which just feels so grown up. We love the layout as we have so many interesting rooms and areas. It feels so  homely. I would definitely recommend the Longford to anyone looking for a spacious 4 bedroom home.
Why did you choose to buy a new build home?
After visiting so many older homes that were on the market, we started to realise how much we would have to change to create our dream home. We didn't want to be saving for years to purchase, to then continue saving to have to change a million things. We love that a Gleeson home is a blank canvas, which allowed us to customise, change and adapt so many of the options with our home to truly make it our own!
How was the process of buying your new home for you?
At the end of 2020, start of 2021 we started looking at properties, visited a few and were searching hours every day for potential new homes but just couldn't find anything that we liked. We then started talking to friends about new builds and the rest is history.
Since we were new to the process, having never bought a home before, we had so many questions about the whole process, but our Gleeson Sales Executive was so friendly and helpful, thanks to them we found the process easy and seamless.
We were very proactive in keeping on top of paperwork and documents that it made the process so much easier too.
Do you have any tips for anyone looking to move into a Gleeson home?
Use the Gleeson Instagram page to start looking at inspiration and find other people who have purchased the property you like as it gives you real life ways of how people have personalised their new home. If anyone wishes to see up to date changes and photos/videos of our home, they can follow our Instagram @athomewiththetullys!
We would also recommend anybody looking to check out the floor plans and the show homes to get a true feel for the options, as house styles you may have written off may actually be perfect for you! Every home has unique features that can be adapted to your lifestyle.
Describe your interior style?
Green, green and more green! I love plants and so I try to incorporate a bit of green detailing in every room, I find it very calming and elegant. Don't get me wrong, it's a very new home so it's not finished yet, , but we have made a good start and already our home just feels perfect!
What is the community like, and have you made any friends amongst your neighbours?
Our development is so peaceful. Everyone is so friendly and helpful, it  already feels like family. We made friends with our neighbours before moving in as we joint purchased a fence for our garden and we kept in contact. When we moved in, they were so lovely and let us use their internet access until ours finally got fitted. They truly are so wonderful!
How has life changed since moving into your home?
Life has completely changed for the better, we are loving being a married couple in our own home! We have a puppy name Teddy who is our baby, he loves the new house too, especially the garden!
Silly things have been so much easier. When we lived in our rented property, we had nowhere fixed to park so had to find nearby streets available and it became a nightmare. We wouldn't want to go anywhere past certain hours as we wanted to ensure we had somewhere to park. Having a drive is incredible, the house is perfect for our needs, the development is lovely, the area is so serene and beautiful that our friends and family are jealous and love coming to visit which makes us feel so much more wholesome and happier. Our life can finally begin!
Fancy sharing your Gleeson home buying story with us? Just email marketing@mjgleeson.com and you could feature on our blog.
Inspired by Elly and Calum's story? We have over 70 developments located across the North and the Midlands and with prices starting from £95,000, what are you waiting for?! Find your Gleeson home today, click here to get started.