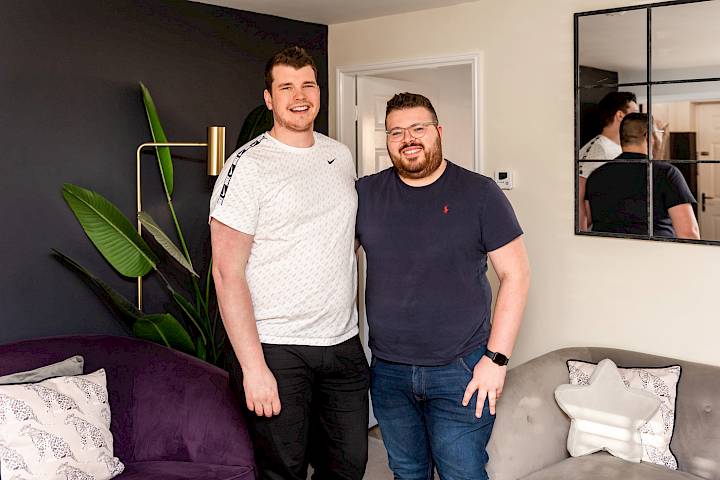 Jake and Josh's homeownership story
If you're big into monochrome, with pops of colour, plants and on-trend accessories then Jake our brand ambassador, come plant guru's home Instagram account @no_70home is a must follow for you.
After living together in Jake's previous home, interior lovers Jake, 26 and Josh, 25, who have been together for four years, decided to take the next step and buy their first home together, turning their blank canvas, a stunning 2 bedroom semi-detached Kerry into their dream bougee home.
We spoke to Jake to learn more about their home buying journey.
The interview:
When did you reserve your home? June 2021
When did you move in? July 2021
Which house type did you buy? 2 bedroom semi-detached Kerry
Is this your first home?
I have previously owned a home, but our Gleeson home is mine and my partner Josh's first home together! My previous home was a mid-terrace that was over 100 years old, so it needed constant work doing to it, which to a limit we didn't mind, but it did grow tiresome, and very expensive!
The house was a mid-terrace, so our front garden and back garden were communal areas, shared with neighbours. This meant we couldn't add that personal touch and always felt we couldn't use the garden to its full potential. We wanted somewhere private, and the top of our agenda was a driveway  for both  our cars, which we found with our beautiful Gleeson Kerry!
Why did you choose to buy new?
For us, I loved the idea of buying a blank canvas which we could then make our own and personalise however we liked. I originally had my heart set on a renovation project which I could share on my home Instagram account, @no_70home, however after we went to view the Kerry, my mind was changed and I could envisage exactly how I would adapt the house to become our home!
It also made me realise you don't need to rip apart an older home to renovate, when a new build provides you with so many opportunities and options to make your home bespoke why would you look anywhere else?!
Why did you choose to buy with Gleeson?
We had a lot of bad luck with house hunting before viewing our dream home with Gleeson. One of our friends also lives on our development, and we fell in love with the area after visiting them. We initially viewed a Cork and out of curiosity we asked to look at the Kerry. As soon as we stepped inside and saw that it was available to reserve, we knew we had found our home and instantly fell in love with it.
Everything about the house felt  like it was designed for us and the service we got from our Sales Executive was fantastic. We were lucky, and reserved the home quite late on in the build stages, meaning we could move in very quickly, and as an incentive we got to pick our flooring, as well as receiving a contribution towards our solicitor fees and mortgage, we couldn't believe our luck!
As things progressed so did our luck and we were in our new home within a month! The whole process we had with Gleeson was just so stress free and enjoyable.
What do you love most about your home?
Above everything, we love how our home is so adaptable and is our blank canvas to make our own.
I think out of all the rooms, the living room is our favourite as it is so bright, airy and welcoming. The large window at the front lets so much light in, much to the appreciation of my plants, but also, we have a small side window before the stairs, and it just adds that little extra natural light and breaks up the wall.
We also love our garden as it is very spacious, there's always the stigma with new builds that they are built on top of each other, and you don't get much garden space. This is totally the opposite with Gleeson; our garden is large giving us plenty of room for a patio area, grass, decking area and a bin/storage space down the side of the house.
How was the process of buying your home?
The whole process with Gleeson was so stress-free and pleasant. My previous experience purchasing a second hand home was quite stressful and time consuming whereas with Gleeson it felt like a walk in the park. Everyone we spoke to from the sales team to the build team were so friendly and welcoming and would do what they can to help your home buying process run as smoothly as possible, we would definitely recommend Gleeson to anybody looking to get on the property ladder.
Our home was so affordable, to say it is brand new, on an established development, and has a garden and a driveway, we can't believe how much house we've got for our money.
Describe your interior style…
My style has completely changed since moving into our Kerry. In my previous home we were very bold and colourful with our interior, however in our Gleeson home we have decided to go for a more monochrome, neutral take on things.
I work part time at Next Home so I get some of my inspo from there, but we like to be unique and style things a bit more unusual than what you would expect. If you have visited my Instagram page you will see that I LOVE my plants, so they have to be a feature in each room, giving it that natural touch. We also love to shop at Home Sense for our fancier finishing touches and accessories.
A fun little fact, a lot of my Instagram followers call me a plant guru for how many indoor and outdoor plants I have in our home… you can never have too many plants!
How has life changed for you since moving into your Gleeson home?
Our life has changed drastically for the better since moving into our Gleeson home. We both feel a lot more settled and relaxed in our new home, we have some lovely neighbours, and even have a group chat with some of our close neighbours which is very active!
The sense of community on our site has really broken down the anxiety of moving and meeting new people. The build team  who are still on site are polite as well as the sales team who still keep in touch; it's a real sense of community. We genuinely feel so much happier where we are, and I think it's so rewarding.
Do you have any tips for anyone looking to move into a Gleeson home?
When looking at a Gleeson property I would recommend having a browse of all the different house types. Gleeson has so many different styles that can be adapted in so many different ways to suit your lifestyle. The show homes can really help you visualise this, so I would highly recommend viewing any in your local area.
I'd also say don't be fixated on the price of the home, if it is a little out of your reach Gleeson can help you find the best option such as the Help to Buy: Equity Loan scheme which requires just a 5% deposit! Also, if you are a second-time buyer, like myself, Gleeson can help you sell your existing home too.
Above all, have fun whilst looking!
Fancy sharing your Gleeson home buying story with us? Just email marketing@mjgleeson.com and you could feature on our blog.
Inspired by Jake and Josh's story? We have over 70 developments located across the North and the Midlands and with prices starting from £95,000, what are you waiting for?! Find your Gleeson home today, click here to get started.