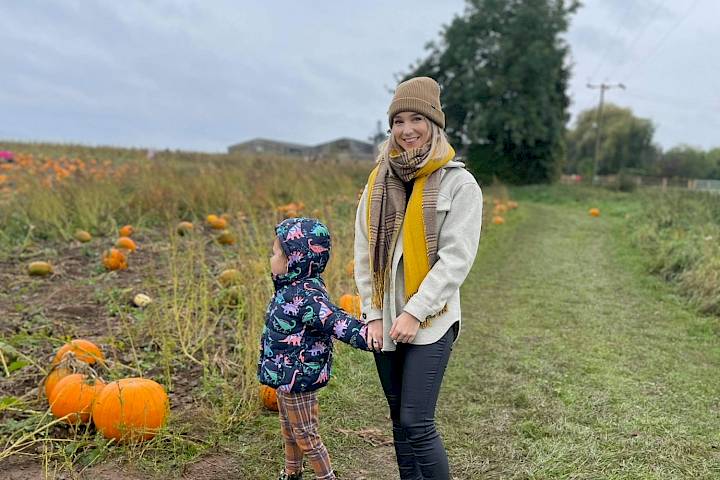 Brittany's homeownership story
If modern scandi sounds like your dream home style, then you need to take a look at our brand ambassador, Brittany's Instagram, bfhome.x!
Brittany and her five year old daughter moved into their 3 bedroom semi-detached Tyrone in Nottinghamshire after falling in love with its layout, including its stunning open-plan kitchen-diner with its on-trend breakfast bar.
After splitting up with her husband, Brittany thought she wouldn't find her dream home on just her single income, and anticipated that she would end up having to turn to renting. However, Gleeson made her homeownership dream a reality, providing an affordable, quality, spacious home with enough room for Brittany, her daughter and their chihuahua Romie.  
We spoke to Brittany to hear all about her home buying journey.
The interview:
When did you reserve your home? July 2019
When did you move in? December 2019
Which house type did you buy? 3 bedroom semi-detached Tyrone
Tell us about your homeownership experiences so far!?
I previously owned a home with my ex-husband, but after we split up, I thought I would struggle to find a home suitable for me and my daughter that would be within my budget. However, I soon came across Gleeson and was amazed at how reasonably priced the homes were, and how much was included for the price! My mortgage would work out cheaper than renting in the local area, so it was a no brainer.
Why did you choose to buy new?
I love the idea of a blank canvas and not having to pay for repairs or big jobs that may need doing on an older house! Being a single parent, I wouldn't have the time or the money to do a full refurb, and wanted somewhere I could simply move into and style to my taste.
New builds are so easy to personalise, and I love that when you buy new you are able to customise and choose your options during the build process. It really gives your home more of a personal touch and makes the experience super exciting.
The 10 year NHBC warranty that comes with a new home is also a great benefit, I have peace of mind that if anything was ever to go wrong with my home I have somewhere to turn!
Why did you choose to buy with Gleeson?
As soon as I visited my development I knew it was meant to be, it was important to me to have a drive, three bedrooms and a spacious garden, which I now have in my beautiful Tyrone thanks to Gleeson.
My sales executive was so friendly and immediately put my mind at ease about my budget, reassuring me that Gleeson homes were much more affordable than other housebuilders and she was right, my home is so affordable and my low mortgage figure allows me to have plenty of left over money for my bills, as well as treats for me and my daughter.  
As well as being affordable, I loved the look and feel of the development added to which, my home is in a great location; it's close to my daughter's school, my family and friends, and isn't far from the M1, making commuting to work and getting places really easy.
Since buying my home, I've started a new relationship and my boyfriend of 18 months has recently moved in with us! There's plenty of room for all of us, however if we ever did want to upsize we definitely would consider buying with Gleeson again.
What do you love most about your home?
I love the layout of my Tyrone, my open kitchen-diner with the L-shaped worktop is my favourite room and feature in the house. It's the perfect space for entertaining friends and family, and is ideal for when I'm hosting meals and get togethers.
I also fell in love with the brickwork and drive, which can fit both mine and my partners cars on. My garden is also really spacious and flat which is ideal for my little girl, it means she has plenty of space to play outside and run around in which became a lifesaver throughout the lockdown period.
How was the process of buying your home?  
Prior to moving in, I was living with my mum, so the process was really straight forward for me. I reserved my home, waited five months whilst my house was being built and then moved straight in! My sales executive kept me updated throughout the process via phone call and email, and the site team were so helpful and explained everything really clearly in my Home Demonstration.  
Describe your interior style…
My interior style is modern, Scandinavian chic! I like to have every room quite different, and with my kitchen-diner have gone for a cottagey feel, let's call it rustic with a contemporary twist! However, the room I'm most proud of has to be my daughter's bedroom, with its peach walls, cosy corner and bookshelves, it's every little girls dream.
I get inspiration from Instagram and love to check out what @thehousethatblackbuilt and @lifewithivycocohome are doing with their styling. This inspired me to start my own Instagram, @bfhome.x, I love sharing with my followers interior tips and details about the buying process. Plus, I'm now a Gleeson brand ambassador which allows me to help Gleeson buyers even more.
How has life changed for you since moving into your Gleeson home?
My life has changed drastically in the last two years. I have gained so much independence from owning my own home; it has been a completely different experience for me compared with when I bought my first home with my ex-husband.
I had been living in my home for three months when Covid struck in 2020 and we went into lockdown. Not being able to see anyone led me to do most of the home improvements myself. I got stuck into painting, assembling furniture, putting up blinds, shelves and mirrors and I am really proud of what I've achieved. It feels amazing to come home to something that I have put so much time and effort into.
Do you have any tips for anyone looking to move into a Gleeson home?
Enjoy the process. It's hard to be patient when you're already so excited, but it's worth it for the end result. Don't be afraid to ask your sales executive any questions, even if you think they might be silly, the team are so friendly and always happy to help!
Fancy sharing your Gleeson home buying story with us? Just email marketing@mjgleeson.com and you could feature on our blog.
Inspired by Brittany's story? We have over 70 developments located across the North and the Midlands and with prices starting from £95,000, what are you waiting for?! Find your Gleeson home today, click here!