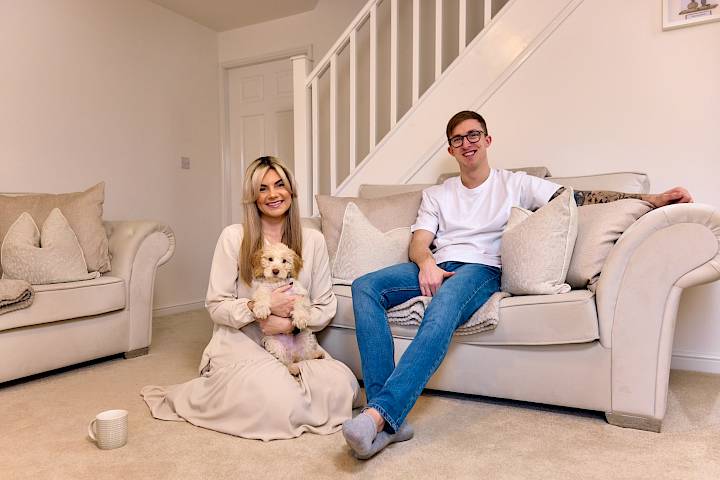 Abby and Dan's homeownership story
Meet Abby, 26 and Dan, 27 (and their adorable puppy Chester!), a newly engaged couple, known as @barnburghview_home on Instagram who live on one of our stunning South Yorkshire developments in a beautiful three bedroom detached Kilkenny.
Prior to buying their Gleeson home, Abby and Dan were living with their parents and after lockdown knew they were ready to move out. After seeing their friend's two bedroom semi-detached Cork, Abby and Dan, were inspired to buy with Gleeson.
Finding the process of buying their home much easier than they expected, Abby and Dan made use of the Help to Buy: Equity Loan, and were delighted to find that their mortgage would be just £467 per month.
We spoke to the couple to hear more about their home buying journey.
The interview:
When did you reserve your home? 12th February 2021
When did you move in? 30th June 2021
Which house type did you buy? A three bedroom detached Kilkenny
Is this your first home? Yes, this is our first home! Being in our mid-20's we wanted to be more independent and have our own space. Gleeson was an obvious choice for us as one of our friends lives in a Cork and after speaking with her about her experience, buying with Gleeson was a no brainer!
We looked at other housebuilders but we found that the service and the homes didn't match what Gleeson could offer. We wanted more to show for our money and with Gleeson we could buy a three bedroom detached home, whereas with other builders, our budget only stretched to two bedroom houses. We want to start a family in the next few years, so the bigger the home we could get for our budget the better, that way we've got room to grow!
Why did you choose to buy new? At first, I (Abby) didn't want a new build. I fell in the trap of believing all new builds are small and I wanted an older property that I could renovate. However, after viewing some of the show homes Dan and I saw that  it's a blank canvas. All the walls are white and fresh, the homes are incredibly spacious and you get to choose all your options, from kitchen units to tiles, to flooring, allowing us to personalise our home to our individual taste. It wasn't long before I found that I actually loved new builds.
What do you love most about the interior of your home? We love our kitchen! We went for the 'New York Gloss White' upgraded units and the 'Chalet Oak' work top and it looks gorgeous together. We love how spacious, bright and airy our home is, and with our plot being south facing, we get a lot of light through the kitchen… The sunshine on the white gloss units looks amazing and makes the kitchen-diner look even bigger! We have a very neutral vibe throughout our home with lots of cream shades and soft cosy knits, I'm loving styling each room, creating the perfect space for us.
What do you love the most about the exterior of your home? We love the red brick on our exterior and also how lovely the house looks with the garage attached: we are really lucky to have a double drive  which makes it so much easier with us having a car and a work van. We love our garden too, we are so lucky to have such a huge garden in our first home, and can't wait to enjoy it this summer.
How was the process of buying your new home? We couldn't believe how easy it was! I think at one point we looked at each other and said "oh is that it", as silly as it sounds, you get so much help and support from the Gleeson team and no question is a stupid question. As first-time buyers it's very daunting after not having done the process before, but all I can say is if you're reading this and are worried about buying your first home, don't be… 100% go for it, you won't regret it!
How has life changed for you since moving into your Gleeson home? Life has changed for the better. We are totally in love with our own little sanctuary and love getting home from work to our own space! It's the best feeling owning your own  home . We have recently got engaged and are now making plans for our wedding and fingers crossed we could have a baby on the cards towards the end of next year, so who knows what the future holds but for now it's very exciting and we are enjoying the journey together! We feel like we are living in a dream, it's so perfect.
Fancy sharing your Gleeson home buying story with us? Just email marketing@mjgleeson.com and you could feature on our blog. Inspired by Abby and Dan's story? We have over 70 developments located across the North and the Midlands and with prices starting from £95,000, what are you waiting for?!
Find your Gleeson home today, click here to get started.