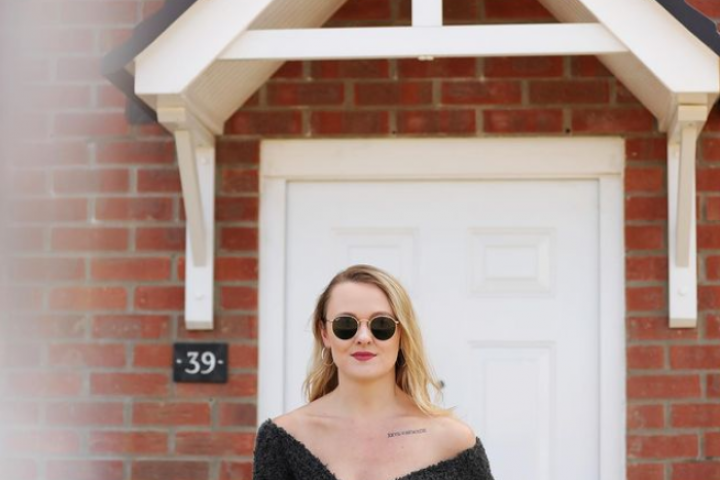 Beth's home buying journey
First time buyer Beth has had a whirlwind year. Moving into her first home in March, she has loved making it her own. Located just down the road from her parents, Beth loves the location of her home, her house style; the Tyrone and how affordable everything is. But, with Christmas fast approaching and a feast to serve up on the big day, she needed a helping hand, so her boyfriend Iain has moved in. We caught up with Beth to find out more, and hear what she's most looking forward to this Christmas.
The interview:
When did you reserve your home? November 2019.
What date did you move in? March 2020.
Which home type did you buy? Tyrone, a 3-bedroom semi-detached home.
Is this your first home? Yes, I'd lived with my Mum just down the road before and knew that I wanted to live somewhere close to her, so this Gleeson development was the perfect Location.
I'd been putting money aside for a while, in the hope that one day I could actually afford my own home.  I am a Trainee Paraplanner, working alongside financial advisors, so I have learnt a thing or two about how to save money.

Why a Gleeson home? Gleeson was the first new build developer I came across and I knew the development was in the perfect place for me. I also checked out a few other housebuilders, to make sure that I wasn't making a rash decision but always came back to the Gleeson home.
With Gleeson you get a stunning home for a much more affordable price than other house builders. The customer service is great too and the sales executives on my development put me at ease straight away. There's a lot to learn when buying your own home!
The thing that really sold it for me was the layout of the Tyrone, the living room being on the back is so private and the kitchen is perfect for socialising, I absolutely love it.
How was the process of buying your first home? It was pretty straight forward to be honest, much more so than I was expecting. I reserved my home in November 2019 and it was so exciting to see it being built. The buying and building process was obviously so new to me, but I had a lot of help along the way from my family, the Gleeson team, and the mortgage advisors I used.
How was life changed for you since moving into your Gleeson home? It's been amazing having my own home with my own space. Gleeson have been so helpful if I have any queries or need anything checking. I always get complimented on the layout of my home and how much of a great social space the Tyrone house style is with the L-shaped worktop. Having my own garden is amazing too, it was so lovely in summer to be outside in my own space.
I also feel like part of a community, I've found a lot of Gleeson homeowners on Instagram and I am inspired by seeing how they have decorated their homes (even though I'm team Tyrone!). The Gleeson show home pictures also inspire me, they are decorated to a really great standard.
There has been a bit of a bigger life change though for me since I bought my home… my boyfriend Iain has moved in! We met just over a year ago when I was originally looking for a home, so it was a little too soon for us to buy together, even though we both knew what we wanted early on. So, I bought my home and he supported me all the way. With Lockdown Two hitting recently and Christmas in just a few weeks' time we figured we should just do it, so he moved in and we haven't looked back.
I'm so excited for my first Christmas in my new home, myself and Iain have invited my parents, brother and Nana this year and we're seeing Iain's Dad on Boxing Day. I've been asking my followers on Instagram as well as my friends and family for some advice on cooking the dinner and making the day extra special. My Nana is 95, and she's always loved Christmas, usually she is the cook so this year I'm insisting that she put her feet up and let me do it! It will be lovely to have all the family together again after the lockdowns. I think the order of the day will go, a Christmas breakfast and opening our presents, then a yummy dinner, followed by coffee, dessert, and games.
Fancy sharing your Gleeson home buying story with us? Just email marketing@mjgleeson.com and you could feature on our blog. Inspired by Beth's story? We have over 70 developments to choose from, so why not find your Gleeson home today, with prices from £98,995 and homes located across the North and the Midlands, what are you waiting for?