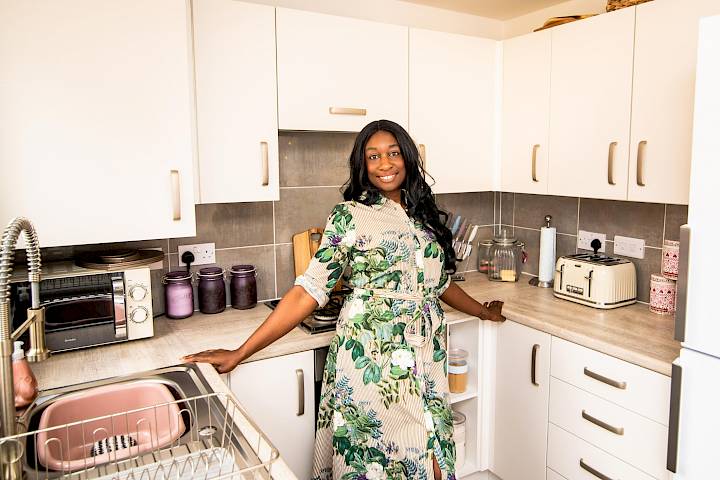 Corina's homeownership story
Solo buyer, Corina has definitely been able to create a beautiful space she loves, save money and build success in her stunning new Gleeson home. Filled with exquisite neutral and pink touches Corina's home is full of feminine charm and is the perfect place to come home to after a long day working hard as a key worker. Looking forward to hosting friends and sharing her home with her nearest and dearest in the future, Corina is loving the status of homeownership as well as the money she's saving compared to her previous rent cost. After spotting Corina's fantastic Instagram @cocos_newhome_journey where she shares her home buys and inspo we caught up with her to learn more.
The interview:
When did you reserve your home? August 2019.
What date did you move in? September 2020.
Which home type did you buy? Cork, a 2 bedroom semi-detached home.
Is this your first home? Yes, this is my first home, before purchasing my Gleeson home I was renting a smaller 2 bedroom home in Nottingham. My rent price per month was super expensive and I felt my money wasn't being invested well. Using some savings I purchased by Gleeson home and am now so proud to be a homeowner. Plus, I am actually saving over £150 a month in outgoings as my mortgage is so affordable vs my previous rent cost.
Why a new home? The main reason I chose to buy new is because I am absolutely useless at any kind of DIY! I'm much more of an interior design type of person. Therefore, a new build was perfect for me, with a blank canvas to work with and add my own touch. I've absolutely loved moving into my home and decorating it with neutral shades and pink accessories. I've picked nude furniture meaning that I can switch up my decorations whenever I feel like it, particularly when I want a change from pink. I've found inspiration on Instagram, on the high street and on blogs. I definitely feel that a new home was the right choice for me, ripping up old carpet and sanding off wallpaper sounds very stressful.
Why a Gleeson home? Simply, I chose Gleeson because the homes are so affordable. The price point was great for me as a solo-buyer, many homes in the nearby area were much more expensive and other housebuilders in Nottingham were charging thousands of pounds more for the same size house. When I discovered Gleeson's development, I was overjoyed that a developer in the area was catering to first time buyers like me, and with the Help to Buy: Equity Loan scheme providing me with a 20% Government loan, it really helped make homeownership achievable.
I was also able to make use of the Key Worker scheme due to working for the local authority in a community based job. This meant I could add the little extras I wanted to my new home all thanks to Gleeson. 
Another thing that drew me to my Gleeson home was the location, it's ideal for me, and is very close to my work place. My development is in what I'd call a 'posh postcode' and is a desirable place to live for young professionals. The development is surrounded by trees and lovely places to go for walks as well as being just a stone's throw from the city centre, meaning commuting is easy.
Plus, I fell in love with the Cork house type, perfect for a solo-buyer. The Cork, despite being a 2 bedroom semi is so spacious and is laid out perfectly for having friends round. This summer I plan to begin 'project garden' which is a huge benefit of my Gleeson home, as many new builds come with tiny gardens or no garden at all. I am going to lay artificial grass, make a BBQ and seating area and get a firepit, I can't wait.
How was the process of buying your home and do you have any tips for anyone looking to move into a Gleeson home? My development was very competitive due to it being a small site of around 50 homes, so I would definitely recommend that anyone looking to buy should register for email updates about new releases on the development you're looking to buy on.
For me buying wasn't quite as easy as I thought, particularly as there were a few setbacks with Covid-19 which delayed my move in, but after a little bit of patience the wait was worth it. The aftercare I have experienced has been good, any little snags were fixed promptly meaning all my worries were taken care of.
My tips would be to keep in regular contact with your sales executive, if you have any questions just ask, they will be happy to help! I'd also suggest building a relationship with your site manager, and take advantage of any site visits you can get, it's so exciting seeing the different build stages. 
Another tip would be to reach out to other people in the community who are buying a Gleeson home. With my Instagram profile, @Cocos_newhome_journey, from the moment I reserved I began posting and documenting the months leading up to my move in day. By doing this I made so many new friends who live on Gleeson developments, but also met people who were buying on my development too, meaning I could get to know my lovely neighbours before even moving in.
My last tip would be to really think about your Options, they are such a big decision! I'd definitely suggest going to visit as many show homes as you can around your local area too. Show home visits really helped me to get inspiration and see how the Cork can be styled and space utilised, plus during show home visits you can also see the Options in real life, helping you to really visualise how they will take shape in your new home.
How has life changed for you since moving into your Gleeson home?  Life is great as a homeowner, not only am I saving money but I also have something to focus on. Over lockdown being in my own beautiful home has been such a haven. I've spent so much time shopping online for nice things and decorating my home, which has been such a positive experience in a difficult time! Being a homeowner is such a proud feeling, it's definitely more than just bricks and mortar.
Fancy sharing your Gleeson home buying story with us? Just email marketing@mjgleeson.com and you could feature on our blog. Inspired by Coco's story? We have over 70 developments to choose from, so why not find your Gleeson home today, with prices from £101,995 and homes located across the North and the Midlands, what are you waiting for?