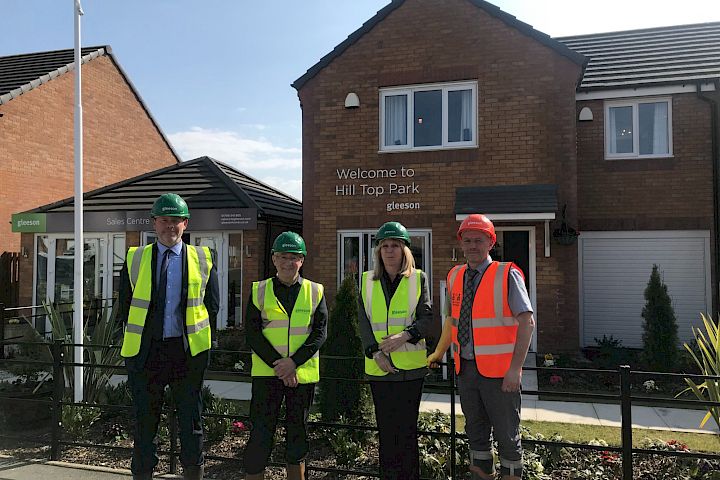 Gleeson welcome Tony Lloyd Labour MP to Hill Top Park
Gleeson Homes, Greater Manchester region recently welcomed Tony Lloyd, Labour MP for the constituency of Rochdale and his Constituency Support Manager, Jacob Mason, to its Hill Top Park development.
Tony Lloyd joined the Gleeson team Mark Wood, Operations Director for Greater Manchester, Jon Sharp, Head of Construction and Sue Irving, Sales Manager for a tour around the development, meeting the teams including several apprentices and was able to see for himself how Gleeson is ensuring its developments are sustainable, benefiting people, communities and the environment. Lloyd was shown inside two plots under construction, and was introduced to Gleeson's Customer First programme, which has seen Gleeson be awarded a 91% customer satisfaction score.
Tony Lloyd MP, Labour MP for Rochdale said: "Rochdale is in need of many more high quality, environmentally friendly homes which are within people's financial reach and affordable to maintain. That's why I welcomed Gleeson's development in Hill Top Park. I strongly welcome Gleeson's commitment to the construction industry of the future, both in terms of investing in apprenticeships and the skills of the future, as well as investing in the new technologies for better homes. In the end, a house is not just a building, it is someone's home and part of community. Getting it right at the design and building stage is the first important step."
Mark Wood, Operations Director for Gleeson Greater Manchester said: "It was a pleasure to welcome Tony Lloyd MP to our development Hill Top Park. The visit allowed us to discuss the work that we are doing to provide 259 quality homes at affordable prices in Rochdale for first-time buyers and young families, a large proportion of those who are key workers and are on low to average salaries. It was great for Tony to meet our onsite team, including our Site Manager, Neil Almond and his assistant Max Gale."

"The Gleeson team were especially impressed with the Tony's in-depth knowledge of the construction industry as he was keen to discover what plans we have in place to offset the future skill shortage that the  industry is facing."

"I was happy that we were able to demonstrate Gleeson's commitment to filling the skills gap by talking about our apprenticeship schemes, and the apprentices currently working at Hill Top Park and Spring Mill in Whitworth."

"We also discussed our plans to increase the use of renewable energies on site and how we are moving away from traditional gas boilers to more sustainable systems such as air source heat pump technologies. Something that we are trialling at our Spring Mill Development."

"We pride ourselves on supporting the local community with our low-cost homes and employing a workforce on site that will be made up of local labour and contractors. With our homes, we are determined to ensure that the housing market better serves young first time buyers and families on low to average incomes."
The average selling price for a Gleeson home is around £145,800, with Gleeson building traditional 2, 3 and 4 bedroom homes, primarily for first-time buyers.
Hill Top Park in Rochdale is one of four Gleeson developments in Rochdale. When complete it will comprise of 259 homes with excellent commuter links to the M62 and nearby towns and cities. The first homes were released for sale in 2017 and the development continues to prove popular, with all but one of the released homes being reserved currently leaving just 20% of homes left to release. The show homes and sales centre are open by appointment only and the development is expected to move in their final residents in autumn 2023.