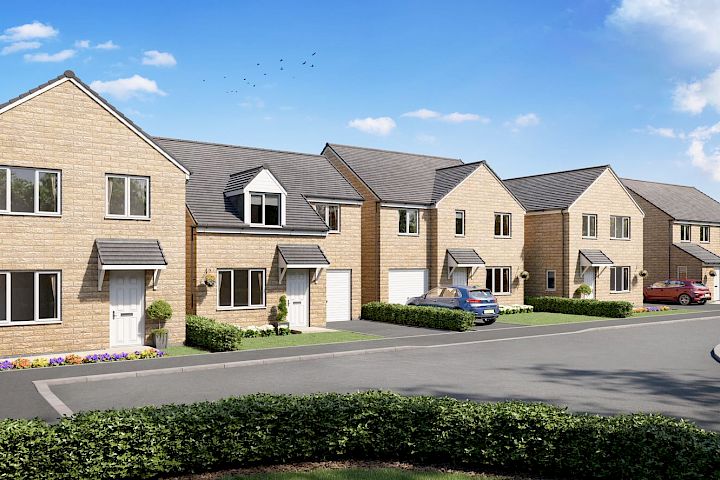 Gleeson to bring 106 affordable, quality new homes to Bradford
Gleeson has been granted planning permission to build 106 homes off Shetcliffe Lane in Bierley, Bradford.
Demonstrating its commitment to regeneration and enriching the communities in which it builds, the site, which was formerly playing fields, will be Gleeson's fourth development within the city region.
Once complete, the development on Shetcliffe Lane and Gleeson's three other Bradford developments, Northbeck Grange, Calverley View and Squirrel Fold (due to open later this year), will provide a total of 561 much-needed affordable, quality homes.
The new development will see the 9.04 acre plot be transformed into a collection of beautiful, high quality, low cost 2, 3 and 4 bedroom semi-detached and detached homes.
With the average 2 bedroom Gleeson home selling for £160,000 and various buying schemes available, Gleeson expect these homes to be highly desirable, especially amongst first-time buyers and young families in the area.
Construction on Shetcliffe Lane will begin in the Autumn of this year, continuing until Summer 2026 and will provide many direct jobs. The development's show homes will open in summer 2023, with the first new homes released for sale shortly before, and the first residents expected to move into their new homes in winter 2023.
Northbeck Grange, another Gleeson development within the Bradford area, is providing 167 much-needed, affordable homes for young first time buyers in Bradford and is about to launch three show homes later in the summer.
Bryan Simpson, Divisional Managing Director at Gleeson said:

"At Gleeson, we are determined to ensure that the housing market better serves young first-time buyers and families on low to average incomes and we are delighted to be bringing 106 affordable new homes to Bradford, our fifth development within the city region.

"We are pleased to be championing the area, supporting the community with our affordable homes, and employing a workforce on site that will be made up of local labour and contractors."
"We are looking forward to working with the local community and we will be employing a workforce that comprises of local labour, including apprentices and contractors."
Gleeson is seeking local labour and sub-contractors to work on this exciting new development, including applications from local young people who are interested in joining the Gleeson apprenticeship scheme.
Gleeson has a Community Matters programme that ensures that the communities in which Gleeson builds also feel the benefit of new developments, with the housebuilder understanding the importance of involving local people before and during the construction of its homes, leaving a legacy once works are complete.
The programme also sees Gleeson donate to and work with local sports teams and community groups, collaborate with schools on a range of initiatives and provide jobs and apprenticeships for local people.
To find out more about the areas in which Gleeson build and information on the work Gleeson does in the community please visit www.gleesonhomes.co.uk.