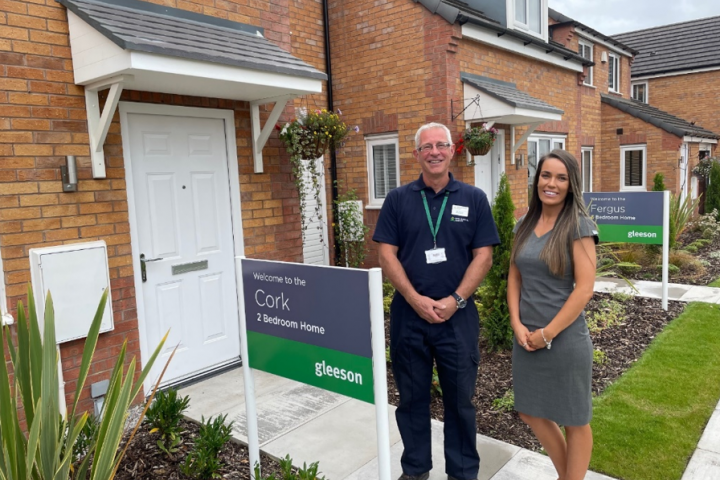 Gleeson Homes raises thousands for Springhill Hospice
Over its last financial year, housebuilder Gleeson Homes' Greater Manchester region has been supporting Springhill Hospice.
Springhill Hospice is a charity located in Rochdale that provides free palliative and end-of-life care to people aged 18 and over, as well counselling, therapy and bereavement services. It offers a wide range of nursing, medical and other support services to their patients, families and carers.
Over the last 12 months, Gleeson colleagues have raised funds in several ways, including through donating show home furniture, collection pots placed around sites and donations towards dress down Fridays.
In total, the region is pleased to have raised an astounding £6,000 in total, which will help Springhill Hospice significantly.
Arron Passarelli, Divisional Managing Director, commented: "I am so proud of what we have achieved for such a fantastic cause. Springhill Hospice is a charity close to many people's hearts, and I'm sure it will benefit from the much needed funds we have raised, allowing Springhill to continue with the brilliant work it does to support those who need it the most. At Gleeson, we are keen to offer our support wherever we can, giving back to local charities and supporting our communities."
Vicki Murray, Corporate and Partnerships Fundraiser at Springhill Hospice, said: "I would like to say a massive thank you to Gleeson Homes for its wonderful donation of furniture that we've been able to sell through our charity shops, as well as funds raised directly for Springhill. These generous donations have raised an incredible amount which will go towards the ongoing costs of providing care for patients and their families here at Springhill Hospice."
Gleeon's Community Matters programme has been implemented to ensure that the communities in which Gleeson builds also feel the benefit of new developments, with the housebuilder understanding the importance of involving local people before and during the construction of its homes, leaving a legacy once works are complete.involving local people before and during the construction of its homes, leaving a legacy once works are complete.
The programme also sees Gleeson donate to and work with local sports teams and community groups, collaborate with schools on a range of initiatives and provide jobs and apprenticeships for local people.
To find out more about the areas in which Gleeson build and information on the work Gleeson does in the community please visit www.gleesonhomes.co.uk.