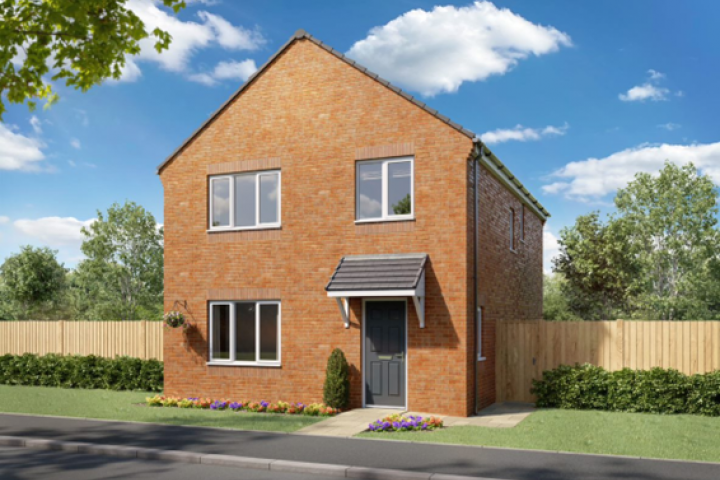 Gleeson to bring 37 affordable, quality homes to Willington
Gleeson Homes has been granted planning permission to build 37 homes off Hawthorn Drive in Willington.  
The development will see the 3.31 acre plot of land be transformed from a brownfield site, which was previously a carpet factory, into beautiful, high quality, low-cost 2 bedroom detached bungalows and 2, 3 and 4 bedroom semi-detached and detached homes.
With house prices on the development anticipated to start at only £158,995 for a 2 bedroom home, Gleeson expects these homes to be highly attractive to first-time buyers and young families local to the area.
Construction is expected to start in September 2022, and will be carried out in one phase which is expected to last until June 2024. The development's first homes will be released for sale in Spring 2023 and the first residents are expected to move into their homes in Winter 2023, which will coincide with the launch of the development's combined sales centre and view home that will be situated within a 3 bedroom detached Clifden house type.
During the ecological appraisal of the site, suitable habitat for Dingy Skipper butterflies was identified, as well as a known population within close proximity of the development. Dingy Skipper butterflies are rare and currently high on the butterfly conservation priority list, and maintaining this habitat is important for the species'  conservation. Through the planning process, Gleeson has agreed to provide a specific habitat suited to their needs in the hope that a population will become established.
Neil Reaney, Operations Director of Gleeson Tees Valley, said: "I am delighted that the Tees Valley region has secured planning for 37 units in the County Durham village of Willington. We are very much looking forward to bringing more beautiful, low-cost Gleeson homes to County Durham, providing a way out of the rent trap to local people in this fantastic corner of the country. Our Tees Valley track record in safety, quality and customer service is strong, and our team cannot wait to get going and uphold these core values whilst enhancing the availability of low-cost homes in this area."
With a regional office based in Wynyard, Gleeson has already seen great success across Tees Valley to date, with its new developments and strong land pipeline. The regional office has recently moved to a brand new 4,537 square foot office located on the Wynyard Business Park, which will serve the region well for its future growth plans.
Gleeson is seeking local labour and sub-contractors to work on this exciting new development, including applications from local young people who are interested in joining the Gleeson apprenticeship scheme.