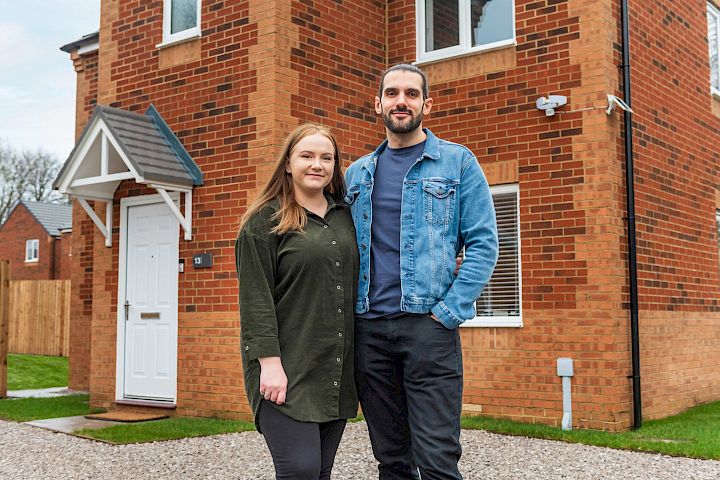 Kelsey and Moustafa's homeownership story
Meet Kelsey, 25 and Moustafa (Muz), 28, both adult social care workers, based in Rochdale who moved into their dream home in December 2021.

Going from complete disbelief that they would be able to afford a 3 bedroom detached Renmore, followed by a super straightforward home buying journey the couple are delighted to now have be in their home with a mortgage and bills that suit their budget, along with a home featuring a large garden, and driveway, ideal for the long-term as they plan their wedding.

While personalising their blank canvas into a stunning Scandinavian inspired, neutral home, they have fallen in love with homeownership, with Kelsey sharing tips and home décor pics on Instagram @at_homewithkelsey.

We spoke to Kelsey to hear more about their Gleeson home buying journey.
When did you reserve your home? April 2021.
When did you move in? December 2021.
Which house type did you buy? 3 bedroom detached Renmore.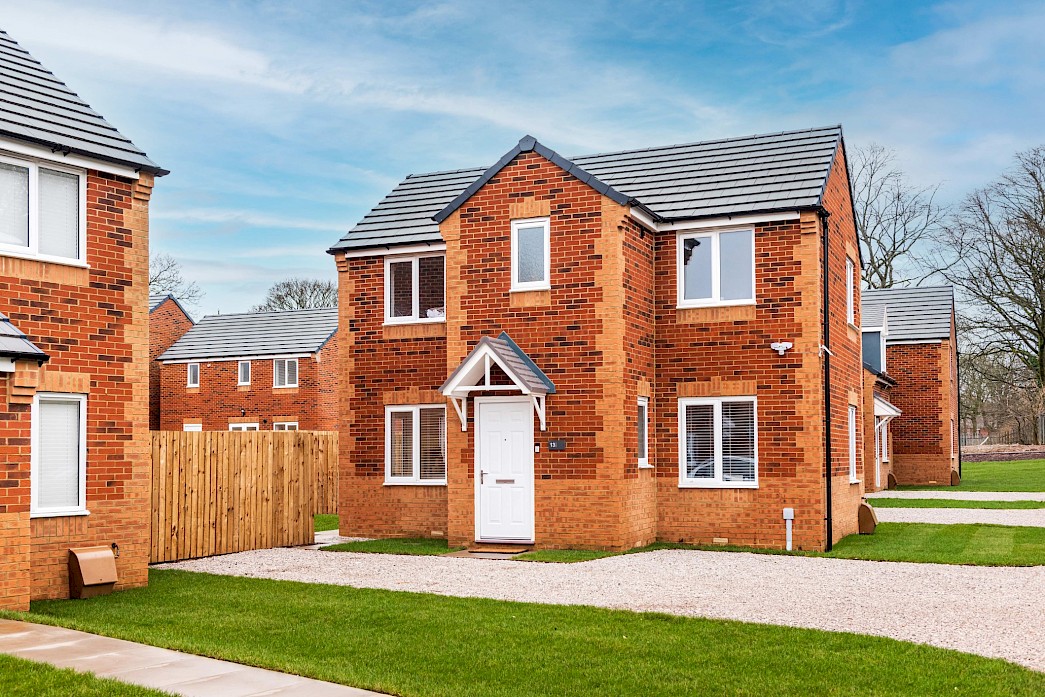 Is this your first home? Yes, after six years together we were tired of living between our parents' homes, with no space of our own. We felt that all our time spent together was tucked away in our bedrooms, and that we were living out of a packed bag. We're now loving having our own space, and we can finally repay our parents by hosting them! After we reserved our home, Muz asked me to marry him, which made the time of purchasing our first home all the more exciting and special.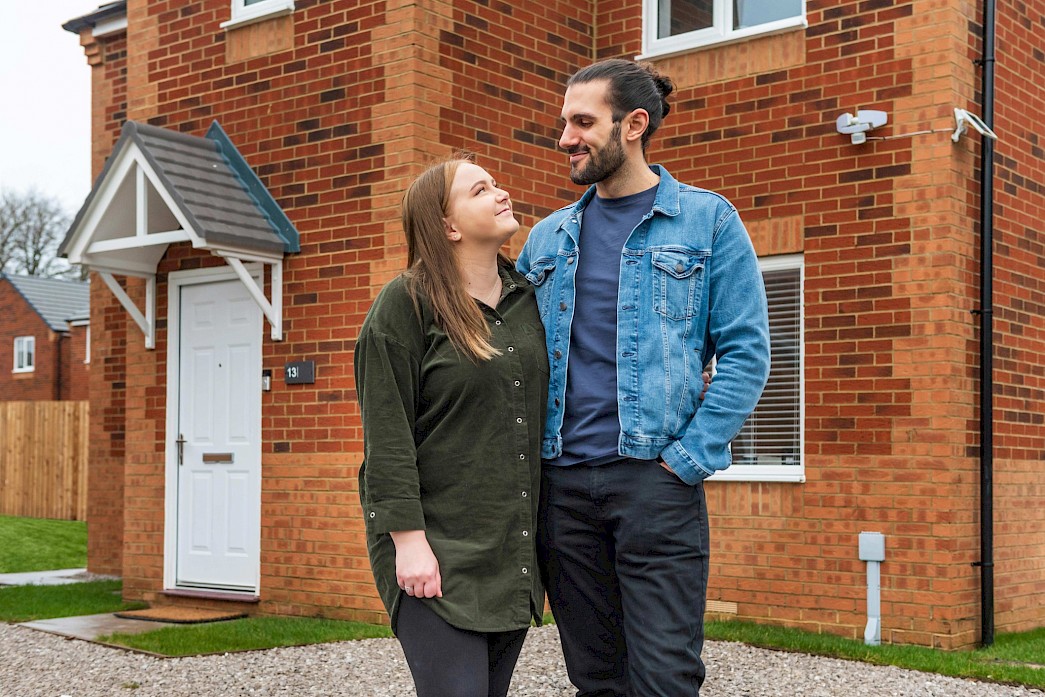 Why did you choose to buy with Gleeson? We had a look around locally, and when we found our Gleeson development, we realised it was in the perfect location for us. We spoke to the Sales Executive, and found that buying was much more straightforward than we first expected, plus we could afford a detached home with a large driveway and a front and rear garden! With us both working in adult social care, we could also use Gleeson's Key Worker Priority Programme, which meant we received a £1,000 options voucher, which we spent on upgrading our bathroom. We really wanted a home that was a blank canvas, and with Gleeson we got just that, it's meant that we can save the money we'd spend on renovating and put it towards our wedding.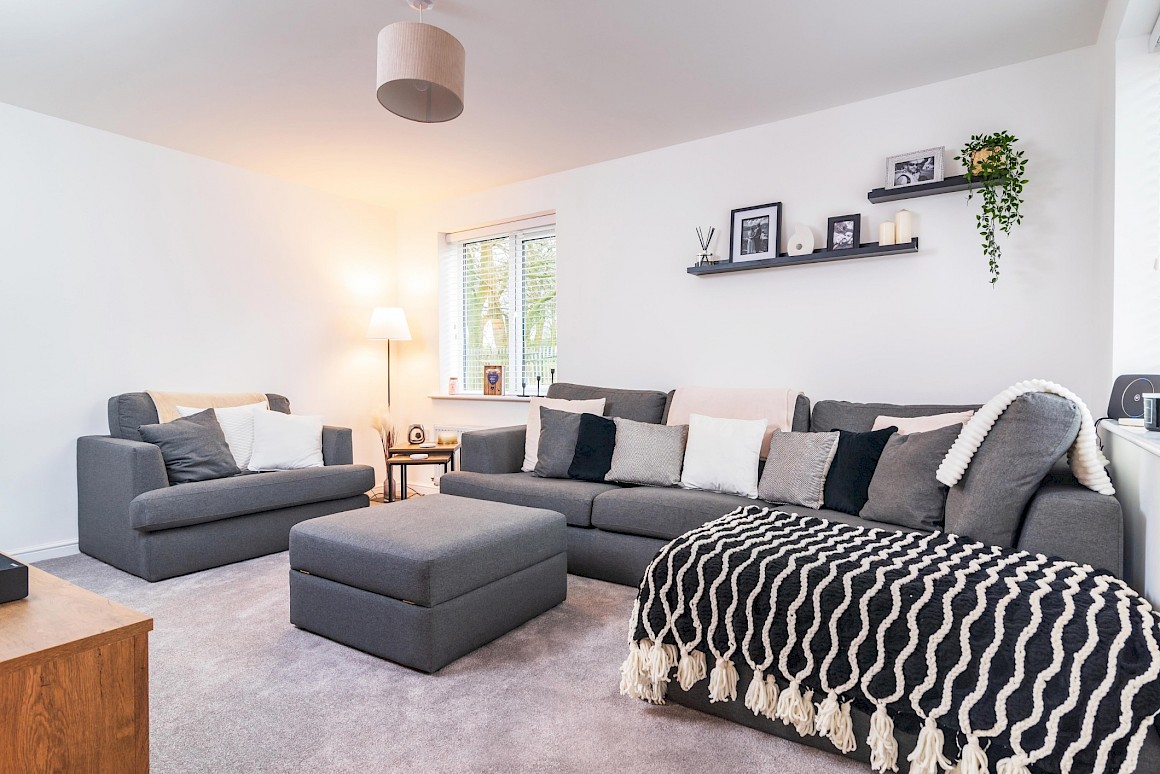 Why did you choose to buy the Renmore house style? We chose to buy a 3 bedroom detached Renmore. After viewing the show home of this house style, we just knew it was perfect for us, the exterior is bold with the front door being so symmetrical and the inside has everything we wanted and more. We love the size of our spacious landing, and the fact that we have an open plan kitchen-diner with French doors out to our own garden. We also love having an en-suite, having that extra space is ideal for when we have guests to stay, and reduces the bathroom rush when we're both getting ready for work in a morning!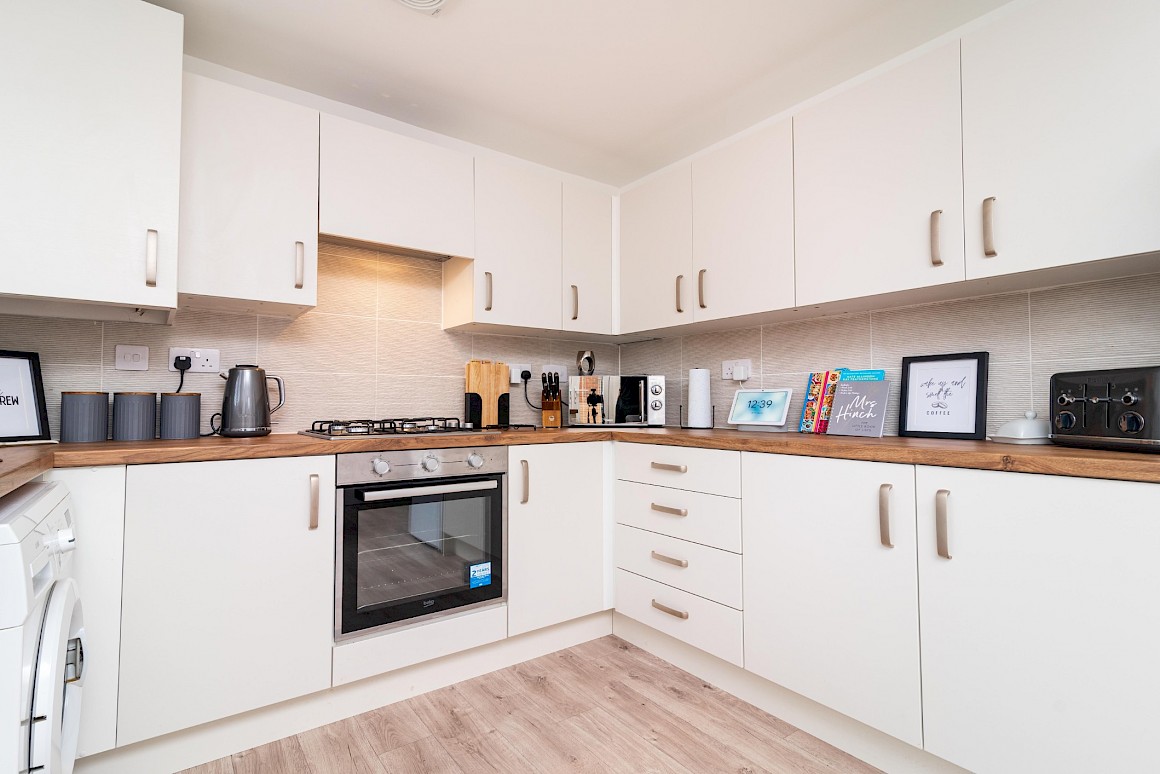 How was the process of buying your new home? The process was so much easier than we thought it would be! When we reserved we were stalking our house all the time, as Muz's Mum and Dad live just around the corner and we absolutely loved the process of choosing our optional extras.
We were nervous at first that we were asking silly questions, but the Sales Executives are so friendly, they are completely used to first-time buyers, and have been asked all the questions before. We used Gleeson's recommended mortgage advisors Meridian Mortgages, who were so helpful, got us a good mortgage deal and explained all the ins and outs of having a mortgage to us, as it was all completely brand new.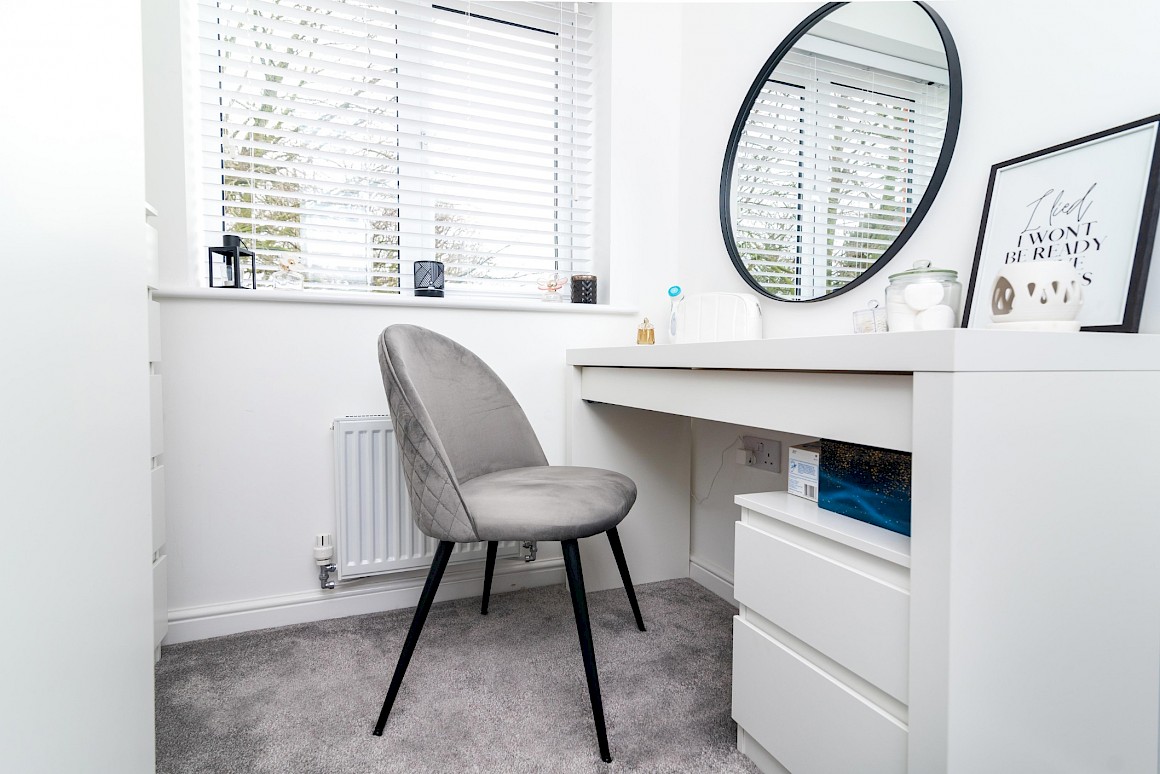 What's your interior style? I would describe our style as Scandinavian neutral, monochrome vibes! Our home is so bright and airy, so we've gone for quite a minimalist style throughout. There's so many bargain places that you can shop to achieve this look, I mainly buy in H&M Home, Primark, B&M and The Range and opt for furniture that is black, white or wooden. You can see more of our home style on Instagram by following our home profile @at_homewithkelsey.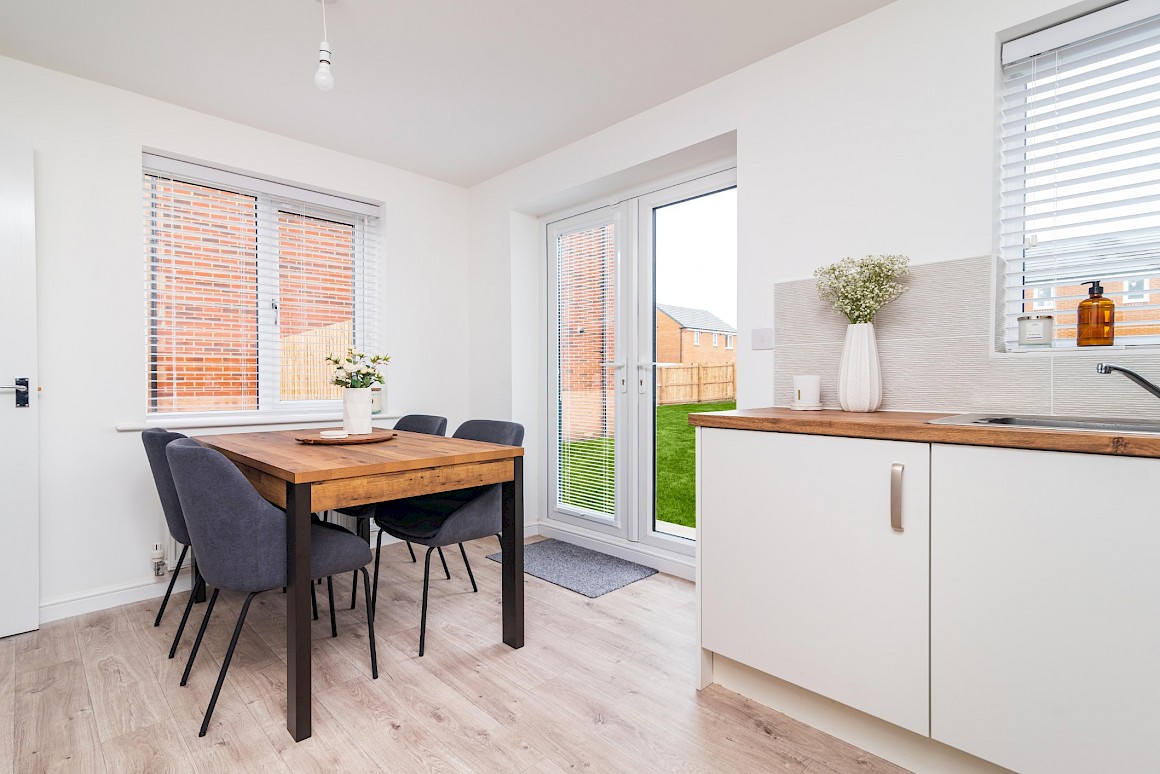 How has life changed since moving into your home? Life has changed for the better, owning our own home is everything we dreamt of and more. Our development is nice and quiet, and our neighbours are lovely. We love how affordable our home is, and are so pleased with how low our energy bills have been, despite the price rises. We would recommend Gleeson to any young person looking for their first home. We feel like we've got so much more independence, have grown in maturity and feel like a proper engaged couple with a future ahead.
Fancy sharing your Gleeson home buying story with us? Just email marketing@mjgleeson.com and you could feature on our blog. Inspired by Kelsey and Moustafa's homeownership story? We have over 70 developments located across the North and the Midlands and with prices starting from £100,000, what are you waiting for?!
Find your Gleeson home today, click here to get started.