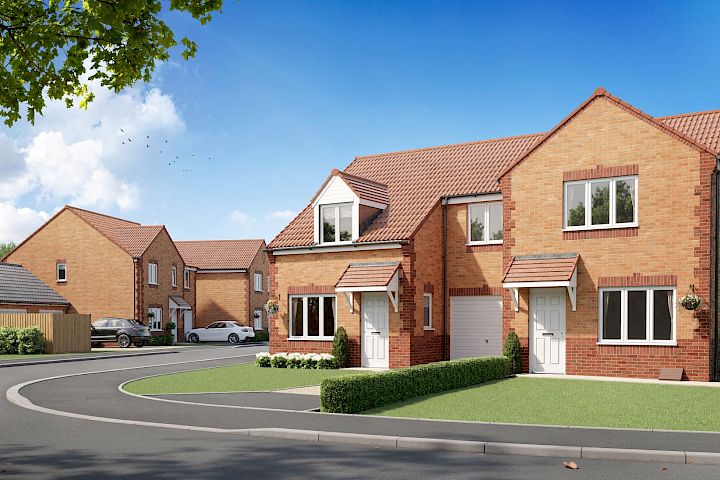 Rhodesia to benefit from 127 affordable homes
Gleeson Homes has completed the purchase of a 10.5-acre site in Rhodesia, near Worksop, after been granted planning permission to build 127 new homes in the village.
The development, which will be known as Rhodes Point, will see the land located on Queen Elizabeth Crescent transformed from former farm and scrub land into beautiful, and carefully designed, traditional-built quality 2, 3 and 4 bedroom semi and detached homes, each with parking and gardens.
19 homes (15%) located on the new scheme will be sold via the Home Reach part buy – part rent scheme. Prices are anticipated to start from £76,197 using the Home Reach scheme and £126,995 using the Help to Buy: Equity Loan government scheme, meaning these homes are expected to be highly desirable, especially amongst first time buyers and young families.
In a great location, close to many amenities, the new development backs onto the Nottinghamshire Wildlife Trust's (NWT) Lady Lee Quarry nature reserve. As part of the planning consent, Gleeson will contribute towards improvements of the reserve, as well as sponsorship of the NWT, who work to protect Nottinghamshire's wildlife, restore biodiversity and inspire locals to make the most of their natural surroundings.
Construction at Rhodes Point is set to begin in January with the first new homes expected to be released for sale in late-Spring.
Gleeson builds homes that are genuinely affordable, providing customers with the opportunity for wealth creation through home ownership. 86% of Gleeson's customers are first time buyers, with three out of four of all buyers being under 35. A typical owner of a 3-bedroom Gleeson home pays, on average, £75 per week in mortgage repayments with Help to Buy versus the £135 per week paid by those in rental properties. Gleeson is seeking local labour and sub-contractors to work on these exciting new homes, including applications from local young people who are interested in joining the Gleeson apprenticeship scheme.
Dale Gibbions, Operations Director at Gleeson said "We are delighted to be building 127 new homes in Rhodesia, which is a well-served village with amenities on the doorstep and excellent transport links. Having previously built several developments in and around Worksop, we anticipate significant interest from local buyers. We are determined to ensure that the housing market better serves young first time buyers and families on low to medium incomes, with a Home Reach allocation and Help to Buy: Equity Loan available at Rhodes Point. " To find out more about the areas in which Gleeson build and information on the work Gleeson does in the community please visit www.gleesonhomes.co.uk.