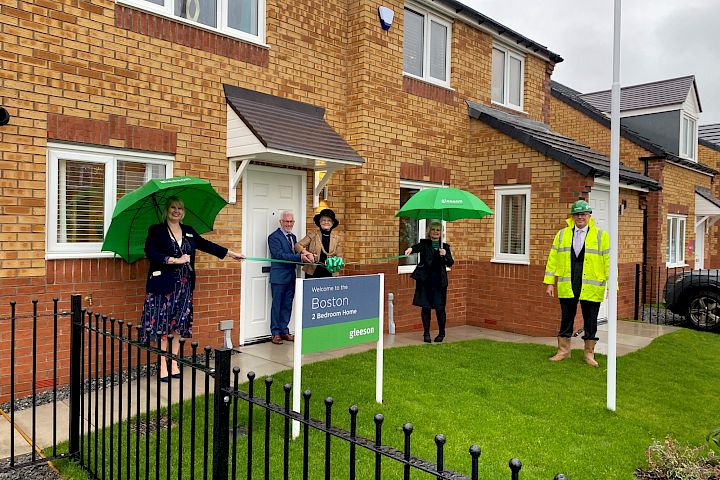 Mayor Opens New Show Homes At £17 Million Development in Carlisle
The Mayor of Carlisle, Marilyn Bowman, has praised the construction of 194 new affordable, quality homes in Carlisle after attending the opening of two new show homes in the city.
Penrith based house builder Gleeson welcomed the Mayor of Carlisle, Marilyn Bowman to the official opening at its £17m Greymoor Meadows development off Kingmoor Road, Carlisle.  Marilyn enjoyed a guided tour of the site, before cutting the ribbon and venturing into the show homes. 
Greymoor Meadows first opened in January 2020 and will consist of 194 new 2, 3 and 4 bedroom semi and detached homes, all complete with gardens and parking. With prices starting from £109,000, 28 homes on the development have been sold to date. With 71% of purchasers thus far first-time buyers, the development has proven massively popular with people taking their first step onto the property ladder, many of whom have taken advantage of HM Government's Help to Buy Scheme.
Mayor Marilyn Bowman, commented on the development: "I am very impressed with the Greymoor Meadows development. Gleeson are building homes at affordable prices, allowing working couples and families to own their own home. I was also very pleased to hear that Gleeson homes cannot be purchased by investors, meaning developments, such as Greymoor Meadows, truly benefit the community.".
As well as providing much needed affordable homes Gleeson have agreed to provide £900,000 to assist the County Council in providing school places in the north of the city. This money was paid before any homes were occupied earlier this year and reflects Gleeson's commitment to the local community.
Gleeson Operations Director for Cumbria Andrew Patmore said, "Buyers are often surprised at just how affordable our homes are. For instance, the average selling price for a home on Greymoor Meadows is £140,000, which is £89,000 less than the UK's average home price. Plus, Greymoor Meadows is perfectly located just over three miles from the centre of Carlisle and five miles from the Scottish Borders, meaning it is at the heart of a thriving community and is ideal for commuters."
A unique housebuilder, Gleeson builds high quality, low cost homes, for people that need them the most, in the areas that they want to live throughout the North and Midlands. This development by Gleeson brings to the area a whole host of employment opportunities for local people, sub-contractors and young people looking to start an apprenticeship in construction.
Gleeson's Sales Office at Greymoor Meadows is open five days a week from 10am to 5pm.