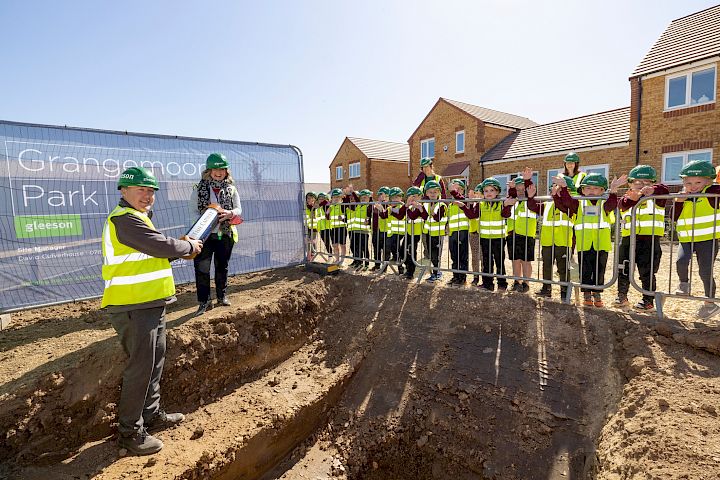 Gleeson and local school bury Covid-19 time capsule at Grangemoor Park, Widdrington
Housebuilder Gleeson Homes recently invited 20 excited pupils from Grange View Church of England First School to visit its Grangemoor Park development in Widdrington, Northumberland to bury a Covid-19 time capsule.
 
The pupils have been collating memories, drawings, poems and letters over the last year in lockdown and were approached by Gleeson to create a time capsule of their work, to be buried on the site for future generations to discover.
The children, escorted by Head Teacher Mrs Laskey arrived in their hi vis jackets and each student was presented with their very own green Gleeson hard hat so that they really felt the part.
The enthusiastic pupils were given a health and safety talk by the Gleeson team about the dangers of playing on building sites, the importance of wearing the correct PPE and also, how to signal that equipment is moving around the building site which was demonstrated by the on-site Forklift Truck Driver.
The capsule burial took place, and was covered and marked by a new blossom tree, signifying hope for the future and new beginnings. The National Time Capsule Society have been informed of the burial and the capsule is registered with the Digital Preservation Trust, meaning the records of its existence will be constantly be accessible.
Louise Laskey, Head Teacher at Grange View Church of England First School said:
"We were thrilled to be asked by Gleeson Homes to be part of its time capsule project. The children were given the opportunity to collect together memories of lockdown including stories, artwork, letters and photos to bury at the site.
"They loved writing, drawing and talking about what they could pop in the time capsule and provided a huge amount of work for Gleeson to choose from. Visiting the site seeing the time capsule be buried was such a great experience that I'm sure they will remember for the rest of their lives; one child even commented that 'this was the best day of her life'! Gleeson has been superb at ensuring we are all engaged with the growth of our community."
Gleeson understands the importance of involving the community before and during the construction of developments, leaving a legacy once the work is complete.
Ed Alder, Operations Director at Gleeson said:
"We were delighted to welcome the teachers and children from Grange View Church of England First School to site. As part of our Community Matters programme, we are keen to ensure that we enrich the local areas in which we built by collaborating with local schools, teams and charities to support good causes and provide moments of joy like this one.
"The children really enjoyed seeing the building site in action, learning about the importance of safety and burying the capsule that they have worked so hard on. I hope if generations down the line find the capsule they can reflect on what has been an extraordinary time for us all."
Grangemoor Park in Widdrington Station is made up of 160 2, 3 and 4 bedroom homes perfectly placed close to plenty of amenities, with prices starting from just £96,995. Set to open its four beautiful show homes on May 1st, Grangemoor Park will boast examples of some of Gleeson's most popular house types.
This is Gleeson's sixth development in Northumberland with the housebuilder seeing great success in the region, in conjunction with excellent growth plans for the county in the pipeline.