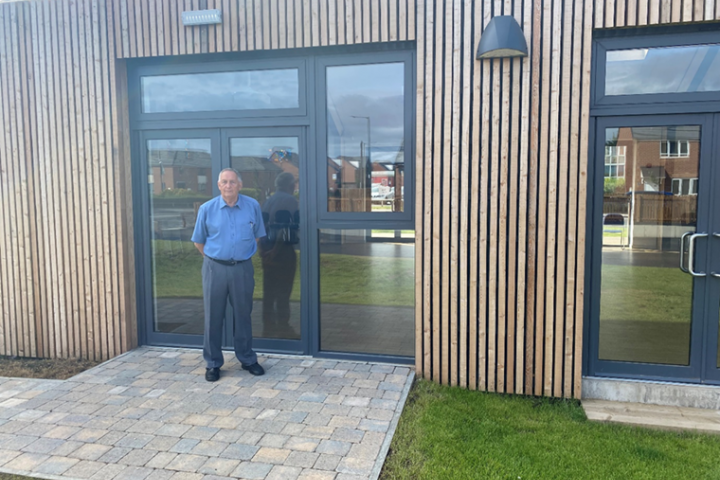 Gleeson expresses gratitude to St. Hilda's Church in Redcar
Housebuilder Gleeson Homes has recently resurfaced the car park at St. Hilda's Church in Redcar as a way of saying thank you for their kindness.
During the construction of the now completed Gleeson Roseberry Court development, located off Roseberry Road, Kirkleatham church kindly allowed Gleeson the use of their land for the sites compound and welfare facilities. Being a small site comprising of only 25 homes, this enabled the construction to go ahead quicker and more efficiently.
Since the construction of Roseberry Court, the pre-existing church has been demolished and a brand-new state of the art church has been built in its place. As a thank you, Gleeson have resurfaced the car park free of charge and provided a fenced boundary between the church and the housing development.
Rob Nightingale, Churchwarden at St. Hilda's Church said: "Gleeson has been working with Kirkleatham Parish for over three years. The Parish allowed Gleeson the use of St. Hilda's car park as a compound during the construction of its new estate in Redcar. 
"Since then, Gleeson kindly offered to resurface the car park free of charge. The technical team at Gleeson, Peter and Connor, have been particularly helpful in developing a good working relationship."
Sarah Marsden, Divisional Managing Director said: "We value the importance of being part of the communities in which we build, helping out local people in any way we can, ensuring the area feels the benefit of Gleeson. We were hugely grateful to Rob and the church for allowing us the use of their car park, and this is just a small gesture we can offer in return to thank them."
Gleeson has various developments around the Tees Valley region including Ryehills, a sold-out development of 49 homes in Redcar, as well as others in Middlesbrough, Blackhall Colliery, Catterick and Bishop Auckland.