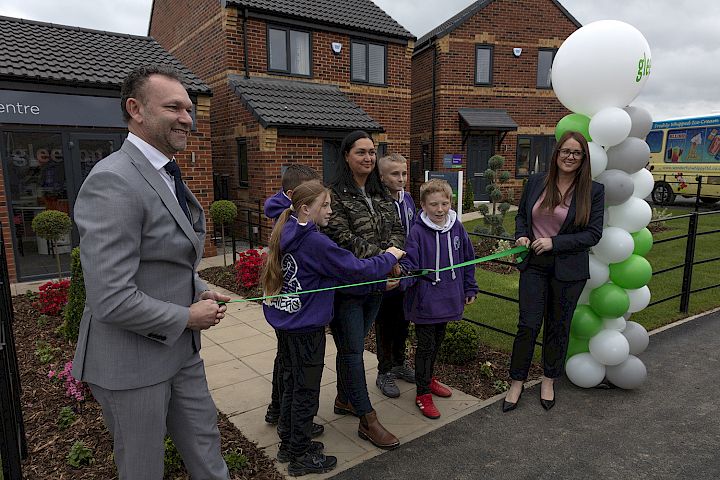 Bradley Lowery Foundation unveils Bradley's Memorial Tree at Gleeson's Hardwicke Place development
Gemma Lowery, founder of the Bradley Lowery Foundation unveiled a Memorial Tree dedicated to her son Bradley, at Gleeson Homes Hardwicke Place site in Blackhall Colliery. In front of trustees of the Foundation, Gleeson representatives and some of Bradley's school friends, Gemma unveiled the tree that will become a permanent memorial at the Blackhall Colliery development.
A hugely inspirational young boy, Bradley Lowery battled cancer most of his young life before he tragically lost his fight in July 2017. The six-year-old was diagnosed with neuroblastoma, a type of cancer found mainly in babies and young children at the age of just 18 months.
Hardwicke Place is less than a mile from where Bradley lived with his parents and Gleeson Homes has been working with his family and the Bradley Lowery Foundation in order to raise funds for the Foundation and keep Bradley's memory alive. The Foundation has been selected as Gleeson's Tees Valley and Tyne and Wear regions designated charity and Gleeson employees have taken part in a number of fundraising activities including raising over £5,000 by walking 874 miles - the equivalent distance of Land's End to John O'Groats.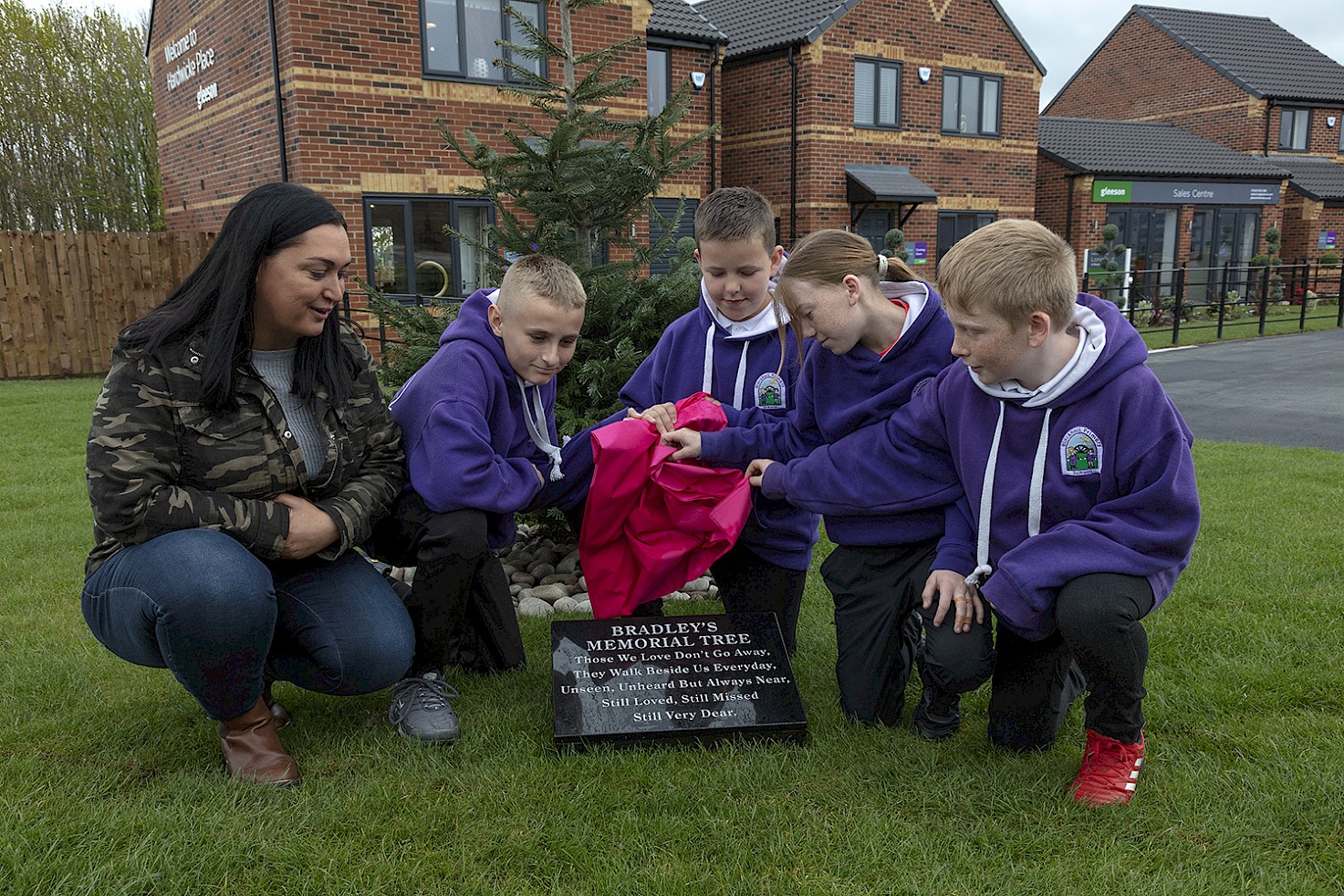 The new development of 2, 3 and 4 bedroom homes comprises of two roads which have been named by Gemma in Bradley's honour. The roads have been named Bradley Lowery Way and Sunshine Place; sunshine being the nickname that Gemma and her husband Carl gave Bradley, due to his sunny disposition despite the pain and discomfort he was suffering throughout his illness.
The tree memorial unveiling also tied in with the launch of the new show homes and sales centre at the development, which were opened to much applause with a ribbon cutting also by Gemma Lowery. With four show homes now available to view, prospective customers are able to see for themselves the benefits of owning a Gleeson home, as well as be wowed by interior design ideas.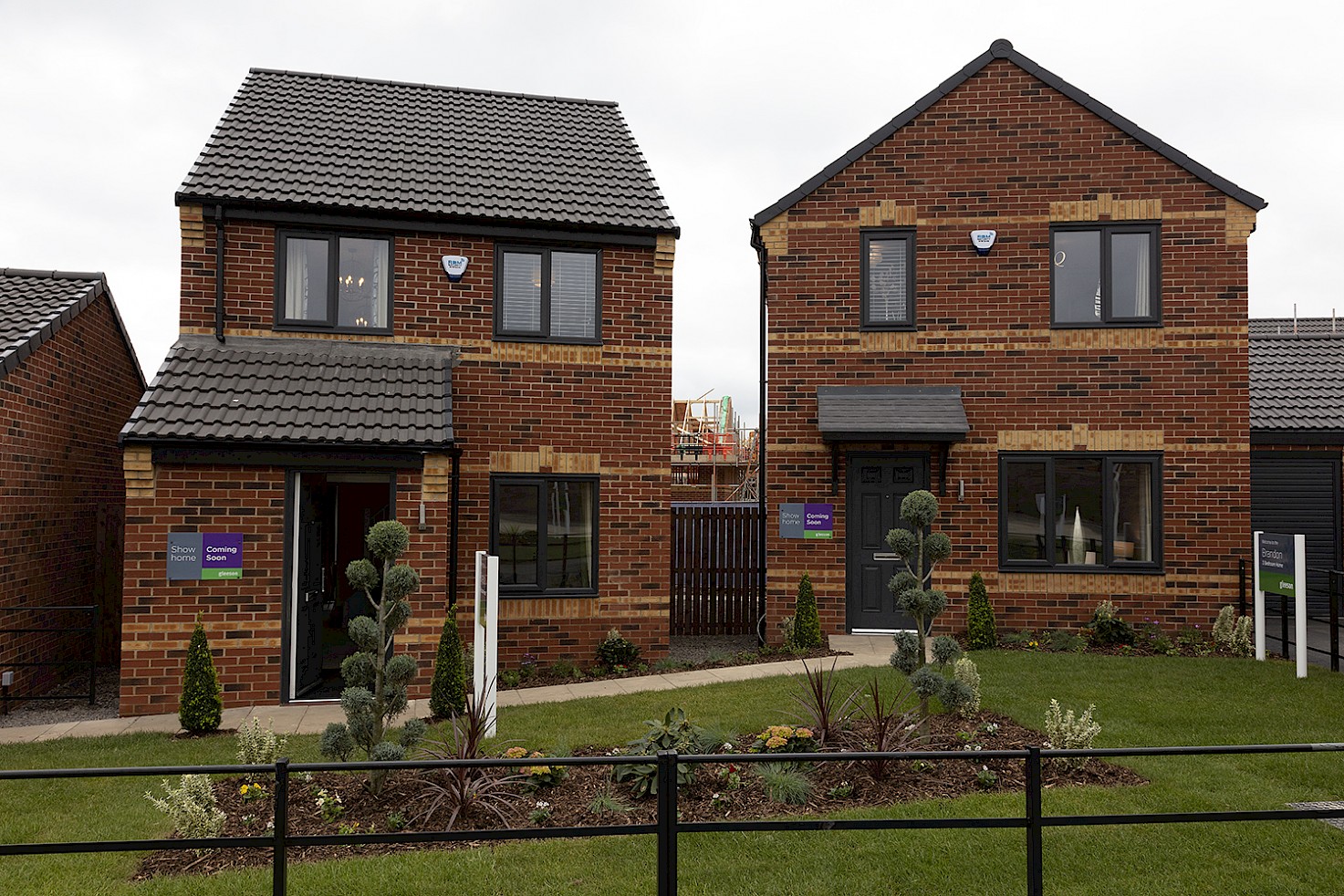 Gemma Lowery, Founder of the Bradley Lowery Foundation said: 

"It is amazing how supportive Gleeson Homes have been to The Bradley Lowery Foundation, with the amazing gestures of the street naming and the memorial tree. Knowing my baby's name will live on, long after I am gone makes me feel so proud of what Bradley achieved in just six short years. I honestly can't thank everyone who is involved enough. Not only have they ensured Bradley's legacy for eternity, we have also made new lifelong friends with everyone involved."
Gleeson are providing further support to the Foundation and its Super Brad's Pad, a holiday home for children who are suffering from illness and their families.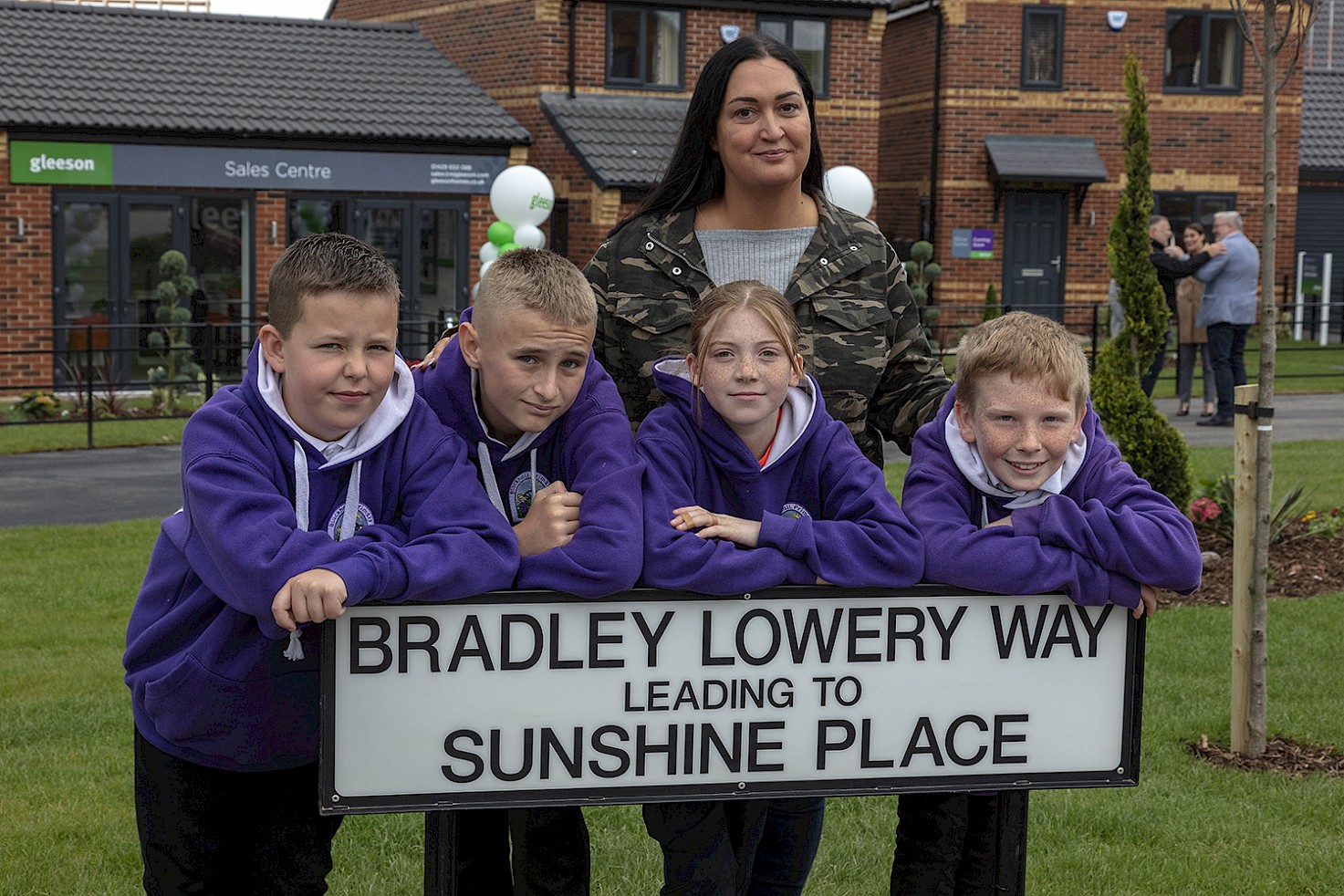 Neil Reaney, Gleeson's Tees Valley Regional Operations Director said:

"Gleeson are delighted to be working with the Bradley Lowery Foundation. Bradley meant so much to the local community and we are pleased to be keeping his memory alive at our Hardwicke Place development. Over the rest of year we will be taking part in more fundraising activities in order to support the Foundation and ensure that families that are experiencing childhood illness receive the support they need."
Prices for a 3 bedroom home at Hardwicke Place currently start from just £174,995, with more homes due to be released in the coming weeks. For first-time buyers, homes are available to purchase using the Government's Help to Buy: Equity Loan, requiring just a 5% deposit.