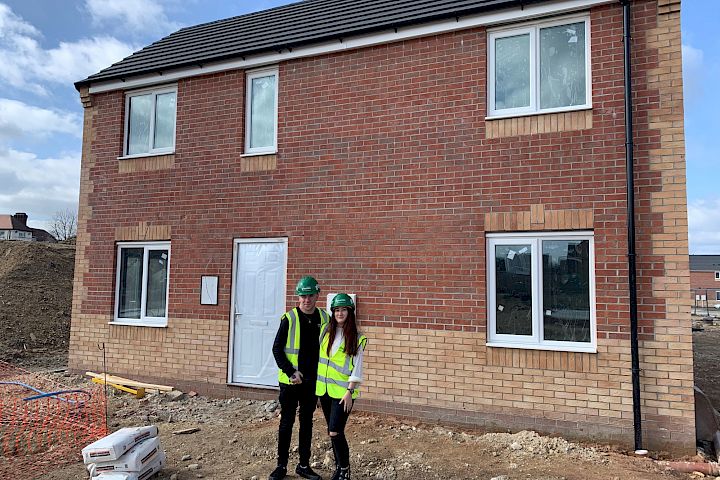 Ally and Joe's homeownership story
At just 21 and 23, first time buyers Ally and Joe have been able to buy their dream 3 bedroom home in Doncaster, and are only paying £400 per month for their mortgage, £200 less than Joe was previously paying to rent a small flat!

Opting for a stunning semi-detached Galway, the couple have decorated their home with an on-trend neutral colour scheme, rattan accessories and cosy throws, sharing beautiful images on their Instagram @number9_galway.

Finding the buying process much easier than they expected, Ally and Joe are now enjoying having tonnes of space to style (and clean), as they relish the responsibilities that come with homeownership. We spoke to Ally to find out more…
The interview:
When did you reserve your home? July 2020
When did you move in? June 2021
Which house type did you buy? 3 bedroom semi-detached Galway
Is this your first home?
Yes, we're both first time buyers! Beforehand, Joe was renting a small 2 bedroom flat, he was unhappy there and was paying around £600 per month for rent and bills, his flat was poky and had no real space or nice finishing touches. I was living with my parents, When I left school, I went straight into working full time, I stayed at home with my family which allowed me to save up for a deposit. Joe, on the other hand, has lived in more houses and flats than I can count after he moved out for university. We're polar opposites but both wanted the same thing; a beautiful new home together.
To make saving up easier, during lockdown, Joe moved in with me and my parents so that he could put aside more money towards his half of the deposit. It was hard having two people living out of a small room. We are so grateful that my parents were able to help us, but it often felt quite cramped.
So, after saving as hard as we could, the next step was to find our dream home. We had friends who lived on a nearby Gleeson development, and they had said how simple the home buying process was, so after some research we headed out to our local development to take a look.
Why did you choose to buy with Gleeson?
After our friends recommendation we went to see our local 2 bedroom semi-detached Cork show home. We absolutely loved it! As we are young, we thought we'd only be able to afford a 2 bedroom home, and were torn between the Cork and the Kerry, but whilst out visiting show homes we had a peek inside some 3 bedroom homes too. After that we fell in love with the 3 bedroom semi-detached Galway! We were then waiting for the homes to be released at our chosen development, soon three plots were released, but there wasn't any Corks or Kerrys.
Luckily, a Galway came up, and due to the great price, we could afford it! We headed straight down to that sales centre and reserved it straight away. After reserving we visited the show home several more times, which was so exciting knowing we'd soon own a home just like it. We never thought we'd be able to buy a 3 bedroom home for our first home, but Gleeson and the Government Help to Buy: Equity Loan scheme  has made it possible.
The location of our development is also great for us, it's super close to my place of work, and is only 20 minutes from my parents, it has great local amenities and there's also a train station less than a five minute walk away.
Why a new build home?
We had also been to view some older houses and they just weren't for us. We wanted to move into a home that didn't need any work doing, we loved how with a new home we got a blank canvas, ready and waiting to be personalised.
How was the process of buying your home?  
Completely not how we expected. I thought it would all be big words, lots of paper work and a whole load of time and money, and it wasn't any of that. The Gleeson sales team on our development and our solicitors explained every step and guided us on our journey. It's really not as difficult as people might think.
What do you love the most about your home?
There's so much we love about our home, I don't know where to begin! Moving into a 3 bedroom home with so much room and storage has been mind-blowing, we're trying hard to make sure we don't end up filling it with rubbish but were incredibly happy with how much space and storage the Galway offers. I love the layout of our house, the Galway WC is huge and we absolutely love having an understairs cupboard too. I love that we have the exposed staircase in our living room too, I can't wait to decorate it this Christmas!
We also love the amount of windows our home has ,and our French doors out to the garden mean it's always full of light. We have a great corner plot with a south facing garden that gets plenty of sunshine, and a double drive too!
How has life changed for you since moving into your Gleeson home?
Living with parents all my life, I thought that it would be a huge shock moving out but it was so simple. I think because of how 'ready to move into' a Gleeson home is, getting settled in is easy. We have of course had to adapt to adult life, washing, cleaning and cooking, but, when you have a beautiful big kitchen and a sense of pride for your home, you really do want to keep it clean and tidy and you do want to make those home cooked meals. Being house proud is an amazing feeling.
Do you have any tips for anyone looking to move into a Gleeson home?
My top tips are, don't be afraid to ask your sales executive questions, that's what they're there for. You may think you're asking a silly question, but seriously there is no such thing and the sales teams are so patient and understanding.
My second tip, based on our experience, would be to go and see as many show homes as you can, just in case! Not only will it help you decide which house style is right for you, but show homes can give you so much inspiration in terms of décor and interiors.
My last tip is, get on Instagram! Social media is wonderful for helping you decide on which house type you like and how you want to style it in the future. The Gleeson community is also incredible when it comes to asking for advice, measurements, ideas, tips and tricks!
Fancy sharing your Gleeson home buying story with us? Just email marketing@mjgleeson.com and you could feature on our blog.
Inspired by Ally and Joe's story? We have over 70 developments to choose from, so why not find your Gleeson home today?