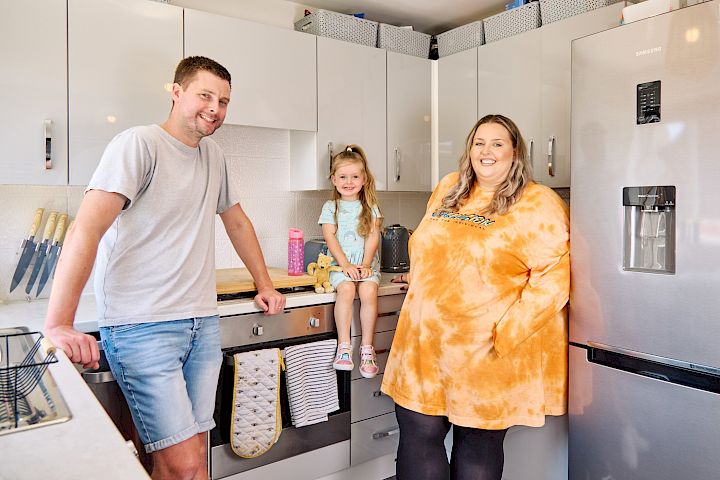 Abbie and Chris' homeownership story
Abbie and her husband Chris' little family was all coming together nicely after the birth of their first child, Esmé, now three years old. However, one thing was missing, the couple were living in an expensive two bedroom terraced rented house but were dreaming of owning their own place to grow their family.

Spotting a Gleeson development just down the road from where they both grew up was the deciding factor for Abbie and Chris as they realised it was the right time to buy.

Abbie and Chris were totally wowed by the Galway house style and it became apparent that  owning a three bedroom home was actually more affordable than renting their current two bedroom terraced house.
The couple were sold and have loved every second of homeownership since moving, in the Summer of 2019.   

We spoke to Abbie about why buying a home was one of the best decisions that they have ever made.
The interview:
When did you reserve your home? December 2018.
What date did you move in? June 2019.
Which home type did you buy? Galway, a three-bedroom semi-detached home.
Is this your first home? Before buying our home, we rented a two-bedroom terraced house for almost five years. We did love our home, but we had outgrown it. It was just too small for what we needed. It didn't have a garden either which isn't ideal when you've got a little one who needs space to play! We were also paying a lot to rent it, which anyone who rents a home will know is frustrating, especially when you know deep down that the home isn't yours, and that you're paying off someone else's mortgage. 
We were definitely ready to make the move into homeownership, we've been together for nine years and have travelled to over 20 different places including, Rome, Amsterdam and Cuba, and the next thing on our bucket list was owning a home. Despite being well travelled our favourite thing to do is be at home as a family.
Why a new build home? We love new build homes; they are beautiful blank canvases that you can move straight into and add your personality. I'm really into interior design and wanted to see my visions come to life, after living in a rented home, it was  amazing to be able to decorate our home however we want to.
We also liked the security of having a 10-year warranty and the My Gleeson portal to refer to if we needed anything. We needed a home that was low maintenance and wouldn't run into issues.
Plus, we loved the Galway house type as soon as we saw it. The size of the downstairs was ideal, with a good sized kitchen-diner and French doors out to the garden. I particularly loved the open staircase in the living room, I couldn't wait to get a Christmas garland up on the banister.
Why a Gleeson home? We chose Gleeson because the homes are so affordable. We are paying £45 less per month for our mortgage vs our previous rent cost and our bills are much lower too, despite being in a larger house!
Gleeson has a lot of benefits over other developers, every home has a garden which was crucial for us as we love to be outdoors in the garden BBQing and sitting by our firepit while Esmé plays in her paddling pool. We also have a good-sized drive providing plenty of parking space, whereas many other house developments don't see giving parking spaces as important.
Our development is located in St Helens and is in the perfect location for both of us to get to work. Chris works as an IT Analyst for Sainsbury's based in Manchester and I am an Ambulance Dispatcher for the North West Ambulance service in Liverpool, so we bought bang in the middle of the two, perfect for commuting. Our family all live in St Helens, so it was important for us to be close to them all.  
How was the process of buying your home? The process was very straightforward. We reserved our home in December 2018 and we got the keys at the end of June 2019. We didn't experience any delays and the whole experience was very exciting. And, we were really happy to be able to use the Help to Buy scheme to make things more affordable for us: it meant that we only needed a 5% deposit, which was ideal as saving whilst renting was  a struggle some months.
We didn't realise that buying a home would be quite so simple, but with the help from the Gleeson  sales executive and Meridian Mortgages we were able to get a very good mortgage deal and were kept up to date through the entire process.
How has life changed for you since moving into your Gleeson home? We are much happier since moving into our new home. It's an amazing feeling knowing that you're a homeowner, rather than feeling that you're renting someone else's house. We love being able to decorate how we like and having more space has been brilliant for us as a small family. Coming back to our own home each day just never gets old.
Since moving in we've personalised our home and made it perfect for us, in our master bedroom we've gone for green, gold and blush pink, Esmé's room is grey, white and baby pink and our third bedroom has been transformed into a home office. The space we have now has changed our lives; we are no longer cramped, there's plenty of room to relax and entertain guests when we can.
Do you have any tips for anyone looking to move into a Gleeson home? I have a few tips for new homeowners, the first is take your time when choosing your options and make sure you're in love with them! We adore the options we chose, and taking our time to make sure we loved them was definitely the best decision.

My second tip definitely is to fill your home with things YOU love, not just things that are "trending". You need to love your home as you're the one living there!
My third tip is take as many photos as you can throughout the process. It's amazing to look back on photos of our home when it was being built. I'd also definitely suggest going and viewing the Gleeson show homes at other developments in your nearby area, you'll get so much inspiration from the show homes and will be able to see your chosen house type brought to life in different ways.
For more tips and home inspiration follow our brand ambassador Abbie on Instagram @homewithabbie.
Fancy sharing your Gleeson home buying story with us? Just email marketing@mjgleeson.com and you could feature on our blog. Inspired by Abbie, Chris and Esmé's story? We have over 70 developments to choose from, so why not find your Gleeson home today, with prices from £101,995 and homes located across the North and the Midlands, what are you waiting for?