Community matters
Here at Gleeson, we value the importance of being part of the communities in which we build. 

It's important for us to give back to the community as a whole, and for the area to feel the benefit of Gleeson.

Building Homes. Changing Lives.
Local jobs for local people.
We aim to make a difference right from the start, with us employing local people to work on our developments, paying them a great wage and giving them long lasting employment.
Gleeson was the first housebuilder to be accredited by the Living Wage Foundation for introducing the "Real" Living Wage as an absolute minimum for all employees.
We also employ over 70 apprentices, impacting the lives of those living in our local communities and helping them on their way to a successful career.
Why not take a look at our current vacancies and apprenticeship opportunities.
Local Teams and Charities
We want to offer support to local teams and charities in the regions in which we build and will provide £1000 of financial support to sports teams and local charities. Maybe your team would like to benefit from a new kit, or support with travelling to away games or perhaps if you're a local charity an additional £1000 would further enhance the great work you do. If this sounds like you, we want to help. Please email marketing@mjgleeson.com to apply for funding.
We also want to support local charities with fundraising, and have some fantastic people across Gleeson who would love to run in an event, dress up in a silly costume or complete a challenge to raise money.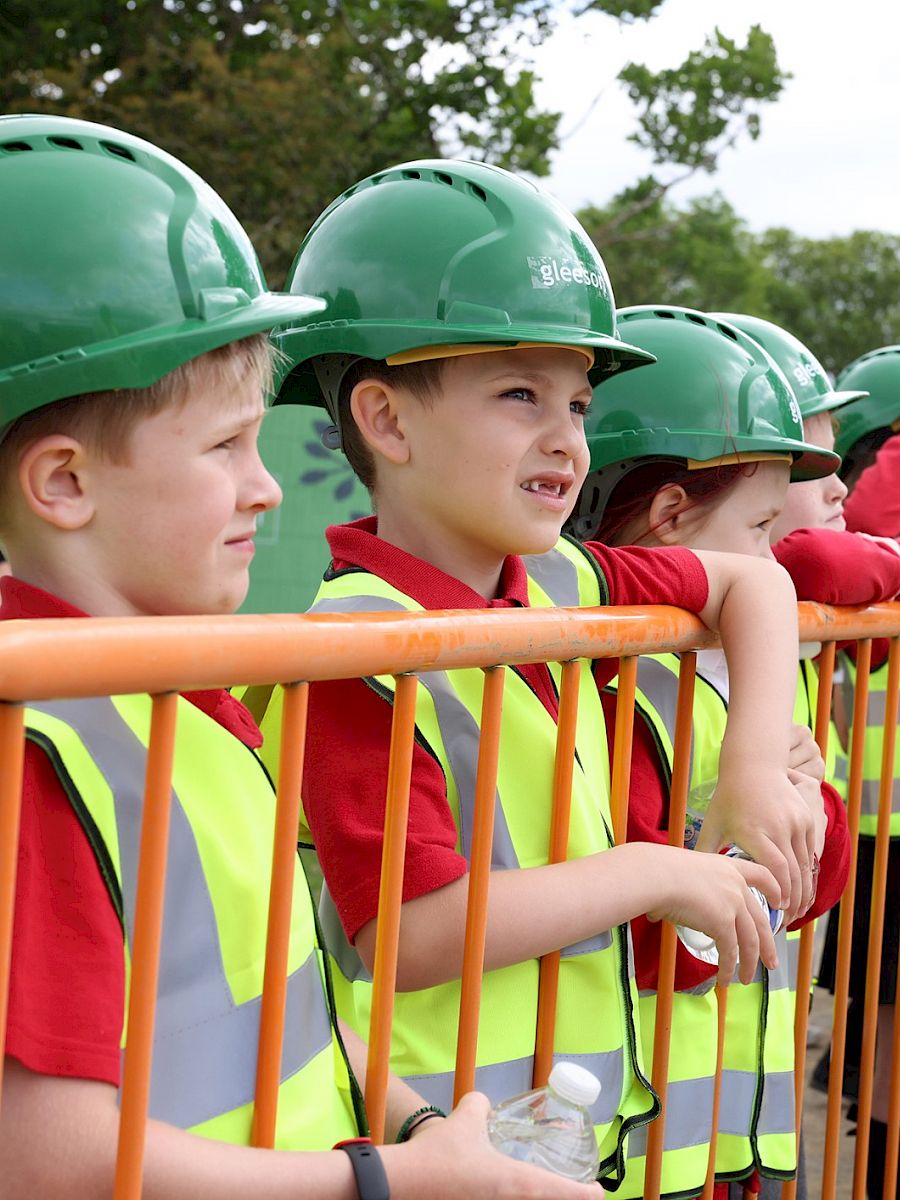 We create the building blocks for communities to thrive.
We know that having a building site in the area can often be exciting for children and the temptation to explore is always there. We want to reassure parents and teachers that our sites are secure and we welcome the opportunity to go into schools to speak about the dangers of a building site. It's important that we communicate to children to let them know our sites aren't a playground. Equally, we'd love to welcome them to see the site in action so we're open to requests from schools who would like to visit.
We love to be part of the learning our local children do, and our teams are always open to working with classes to create and bury time capsules, name our streets or plant flowers and trees. We want to make a difference in our communities and impact local people in a positive way from a young age.
Making a difference to individuals
We know that there are lots of people out in our communities who would benefit from our help. We want to make a difference to the lives of individuals as well as communities and we know we have a great skills base that could help. For example, we recently modified a home for a customer with a wheelchair bound child, providing them with a much needed wet room and great accessibility throughout the house.
"We didn't think we'd be able to buy a three bedroom detached house for our first home but Gleeson proved us wrong. Our home actually works out cheaper than the rent and bills we were paying for the two bedroom flat, which is just incredible considering the size difference."
Brad and Charmaine
Greater Manchester
We're here for you
If you have any concerns about our activity on site, our site managers are available to answer any questions or queries. We make sure that the details for our teams are clear and easy to see, before entering the building part of our sites and their contact details are visible, should you need them.
We're committed to the health and safety of all those who work on site and who are impacted by our building and have an initiative exclusive to Gleeson, called HomeSafe which focuses on the delivery of everything we do being done in a safe manner.
Updating our communities
We're not only committed to making a difference, but we also want our communities to be updated with the work we're doing both on site and in the local area. We'll update our communities with a quarterly newsletter with information on the works we're carrying out on site, anything that may have an impact on those living locally (such as road works) and the great work that our people are doing to change the lives of those in the community.
If you have any questions about our Community Matters programme or would like further information for your area, just get in touch below.
Contact our team
To help direct your enquiry to the correct team, please provide as much information as possible regarding the nature of your enquiry.
Careers at Gleeson
Our people are at the heart of everything we do and we're always on the lookout for talented individuals to join our growing team. Whether you're looking to start your career within the housebuilding industry or are an experienced professional looking to further your career, we have a place for you here at Gleeson.