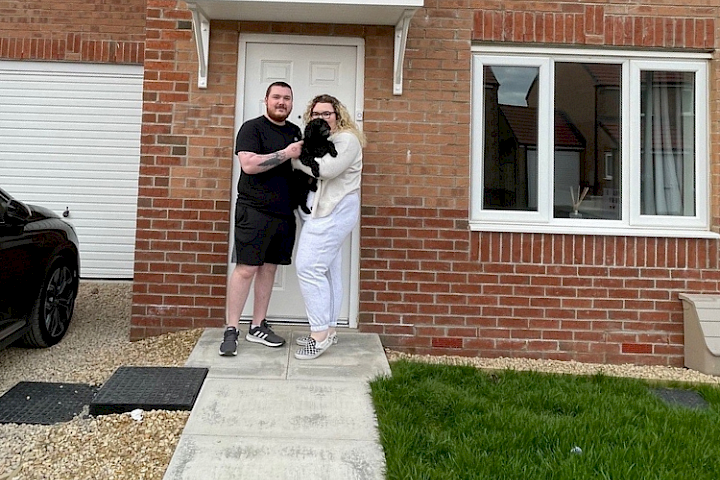 Nicole and James' homeownership story
Nicole and James' relationship clicked from day one and they have been inseparable ever since. However, their living arrangements didn't quite have the same spark, that was until they bought their Gleeson home!

The couple were living in an expensive but cramped rented two-bedroom terraced house, which was not big enough for them and their dog. Knowing they wanted to buy knew, a Gleeson home was perfect for Nicole and James due to its affordability, size and gardens.


Now settled into their dream home, with a man cave, a hot tub and £70 more disposable income leftover at the end of every month compared to when they were renting, the couple have never been happier. We spoke to Nicole to learn more about their home buying story.
The interview:
When did you reserve your home? September 2020.
What date did you move in? December 2020.
Which home type did you buy? Kildare, a three-bedroom detached home.
Is this your first home? Yes, this is our first bought home! We met two years ago at work and our relationship was like a whirlwind, as soon as we started talking to each other we instantly clicked, so much so that James asked me to be his girlfriend on our first date. At this point, James was living alone in a rented flat and within weeks I had moved in, but just six months later we outgrew the flat and moved into a two-bedroom terraced house.
Just 11 months in, James asked me to marry him, and everything seemed like it was falling into place. However, our rented house was a middle terrace and was very cramped, plus we could hear our neighbours conversations, the walls were so thin! We also had no garden, just a small, paved yard which wasn't even big enough to fit a table and chairs in. We have a ten-year-old dog which we adopted from my Mum and we craved a space for her to enjoy and for us to chill on summer days.
We initially wanted to use any money we had to get married, however we thought enough is enough, and decided to purchase our first home. Putting our money towards our future together in our own home, knowing we will eventually get married when the time is right and that everything happens for a reason was the best decision we've ever made. 
Why a new home? We knew early on that we wanted to buy new. I love the idea of having a home that no one else has lived in before. New homes are a blank canvas and being able to tweak a home to suit our personal style was essential for us. We also wanted a home that was low maintenance, with no need to worry about repairs. Gleeson offer a two-year warranty, as well as the NHBC Buildmark 10 year warranty, and with all of the appliances brand new and covered by manufacturers warranties you don't need to worry about the cost of renovations and new ovens.
Why a Gleeson home? We had looked at a few different housebuilder before we found Gleeson. Being 19 and 22 buying a new home was quite nerve-wracking, particularly as we didn't know much about the process. Some made us feel like we wouldn't be able to afford a home on their site and talked down to us due to our age, so we nearly gave up. Then we came across Gleeson and we knew we'd found the right one for us, as they understood young first-time buyers.
Every single person that we spoke to at Gleeson was so friendly and helpful from the moment we enquired to the moment we moved in. With Gleeson we soon found that we'd be able to afford a three-bedroom detached home with a garage! Which was great as we loved the Kildare from the moment we laid eyes on it. We wanted a home with a garage as we learnt from living in our terraced home that we needed the extra space and with the Kildare's integral garage we were delighted that we would have plenty of storage room. We also really wanted a home with an en-suite, which the Kildare has off the master-bedroom. Having an en-suite is so convenient as we can choose between having a shower or having a relaxing bath in our main bathroom, so it's the best of both worlds.
Like many people, we've been working from home since March 2020 and in our terraced house this really wasn't ideal. We ended up using our spare bedroom as an office, but this was a nightmare as when we were both on calls, or in meetings at the same time, it was so distracting; we needed our own space! Spending all day, every day in the same room together wasn't great.
When we moved into our Kildare, we quickly decided to turn our second and third bedroom into our own spaces. I bagsied bedroom two, as it's bigger, and now use that room as my dressing room come office. James has bedroom three, and has turned it into a man cave, and works in there throughout the day. We both feel extremely lucky that we were able to have our own space.
It was also important for us to have a garden, and with every Gleeson home there's a decent sized garden. We knew we would be able to create the outside space we've always wanted. We are currently in the process of digging it so that we can lay concrete and put some grass down and have just purchased a hot tub which has always been a dream of mine, I am going to make a little area for it and string up fairy lights, it will look beautiful!
How was the process of buying your home? The process was perfect from start to finish. We knew in some ways what to expect, as I had been following Gleeson on social media, and had found a community of people who lived in a Kildare to chat to. It was great seeing how Gleeson homeowners had utilised their space, and this helped us feel more at ease when we visited the sales office to pick our options.
Gleeson were great at recommending services to us, they helped us choose a solicitor and Meridian Mortgages, a new build specialist mortgage advisor, who were so helpful and guided us through all  the paperwork. With Meridian's advice we soon found that our mortgage per month would be £20 less than our rented home cost, which is amazing considering our house now is almost double the size of our terraced home! We were amazed at what our money could buy, we never thought we could afford a three bedroom home never mind it being detached with a garage.
We were also so happy to find out about the Help to Buy: Equity Loan, which meant that we would pay a smaller deposit and save some of our money for furnishing our home. We also could make use of the key worker scheme, due to our jobs keeping the UK's communications live. The key worker scheme was a really nice touch, we choose free flooring throughout our home, which meant that our home was fully move in ready when we got our keys.
We're also saving money on our bills compared to our rented property we pay £50 less per month for our gas and electricity. Our house is so well insulated, we hardly ever need to have the heating on!
Do you have any tips for anyone looking to move into a Gleeson home? The main thing I'd say is to have fun, you are buying a house which is an incredible achievement, so enjoy it! We spent many nights driving past our house watching it get built, spent hours looking for furniture and bits and pieces, created mood boards and even started an Instagram, which made the process even more fun as we were able to share our buying process and get tips and tricks from others. Buying your first home will be one of the proudest moments of your life, embrace every second, even if the paperwork is boring!
Fancy sharing your Gleeson home buying story with us? Just email marketing@mjgleeson.com and you could feature on our blog. Inspired by Nicole and James' story? We have over 70 developments to choose from, so why not find your Gleeson home today, with prices from £96,995 and homes located across the North and the Midlands, what are you waiting for?