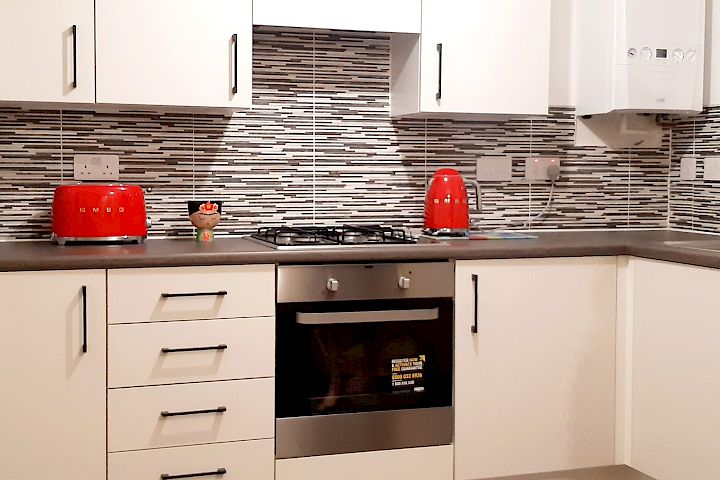 Laura and Stephen's homebuying journey
Street artists Laura and Stephen, both 36, met through their love of art in 2017 and have been together ever since. They have travelled the world, sharing their work across cities such as Paris and New York, but after years of renting a small flat in Liverpool for £650 per month, they decided that their next project was finding their dream home.

Loving the location of their apartment but desperately needing more space for their art and hobbies and longing for a garden and private parking, they set out to find their dream home, and that's when they discovered Gleeson.

Now, the couple live in their stunning 3 bedroom Lisburn home, that they've styled to embody a 1960's and 1970's  theme, which they document beautifully on their Instagram profile @lisburn.life. And if that wasn't enough they're even saving £250 a month, as their mortgage is only £400 per month.

We spoke to Laura to learn more about their story.
The Interview:
When did you reserve your home? May 2020
When did you move in? November 2020
Which home type did you buy? The Lisburn, a 3 bedroom semi-detached home
Is this your first home? Even though we've lived together before, it was only ever in our rented flat in Liverpool. I am originally from Aberdeen but relocated after I was made redundant from my job within the oil industry. My dad was from Liverpool and I have extended family there, so it just seemed like the perfect time for a fresh start.
I took the plunge and moved 350 miles and I'm so glad that I did, as that's where I met Stephen. We met through our love of art and we have been together ever since. We've both owned properties before but this is our first home that we actually own.
Before we bought with Gleeson, we were renting a tiny 2 bedroom flat in Liverpool City Centre for £650 a month. It had no parking, no garden and no space for our hobbies. The location was perfect and we love the city but we just knew we needed more from our home.
Why a Gleeson home? There were so many reasons why we chose to buy from Gleeson. The first thing that sold us was the location; our development is just minutes away from the motorway allowing easy access for work and it's just a short trip into Liverpool city centre. We loved that we could still enjoy the city lifestyle we had before, but that we could reduce our commute and improve our standard of living, benefitting from tons more space, a garden and a private drive.
Whilst we were already sold on the location, we also couldn't believe how spacious the rooms were in a Gleeson home, they were so much bigger than we expected and instantly our minds where whirling with interior design ideas. It was the perfect space for us to put our arty stamp on.
Why a new home? We absolutely love the 1960's and 1970'svibe , so we had never really considered buying a new build home. But one morning we got an email from Gleeson about its development and thought we may as well take a look as the location was perfect for us. The home was well within our budget and we recognised that it would be the perfect blank canvas. As artists, we know more than ever how important your canvas is for creating something beautiful.
We realised that the less time we'd need to spend ripping out old bathrooms and kitchens, stripping flowery wallpaper or replacing carpets, the more time we'd have for our art and for designing our home, so it was just perfect for us. We never expected to buy a new build, but after realising all the added benefits, we were sold and reserved the next day. It's the best decision we could have made because we're now saving £250 a month as our mortgage is only £400.
Why did you pick your house type? Given how small our apartment was in Liverpool, we couldn't believe the amount of space Gleeson was offering for the  price. When we visited the show homes, we were initially interested in the Tyrone house type, it was beautiful and we loved the open-plan kitchen-diner with the L-shaped worktop. Whilst we were a little indecisive and somewhat overwhelmed with all the choices, our great sales executive helped us consider what we wanted from our home. We loved the Tyrone, but for our lifestyle we preferred the kitchen-diner to open out to the garden rather than the living room, so that's when we decided on the Lisburn. The Lisburn was more or less the same as a Tyrone, just with the kitchen and living room reversed.
After visiting the sales centre we were so excited, for the rest of the day my mind was in overdrive thinking about what life could be like in our new home. I got no sleep and woke up so early the next morning. We just listened to our gut instinct and the first thing we did that morning was call our sales executive to reserve our home.
How was the process of buying your new home for you? The whole journey from start to finish was so simple for us. From choosing our development, to our house type, to the specific plot and all throughout the sales process too. We had a vague idea of what to expect given this wasn't our first home, but the simplicity of buying a new build compared to a second hand home doesn't even compare. I was so grateful that there was no stressful chain , all we needed to do was wait for our dream home to be built.
Everything went to plan, we were kept up to date at all times which was amazing given the circumstance of COVID. We were told about our home reaching different key build stages and we were lucky enough to visit throughout the build too. It was amazing to see our future home from start to finish.
I couldn't believe how quickly time went, if you'd had said to us at the beginning of the pandemic that in a year's time we would be living in a new build home, I'd have said not a chance!
How has life changed for you since moving into your Gleeson home? Life has changed massively since we gained all this new space, indoors and out. The novelty of hanging my washing out in the garden to dry in the summer sun hasn't yet worn off and I'm not sure it ever will. Who ever thought you could get so much joy out of such a chore? It's a real treat after living in a tiny flat with an even tinier balcony for so long. We didn't actually realise how much outdoor space we had until we had our fencing fitted, plus there is the benefit of our own private parking on our own driveway, something which has really helped so much after years of on-street parking.
Overall I'd say the biggest change to our lives is how much more space we have to work on our art and be more creative. Because of our Gleeson home we can now work on bigger projects that just weren't possible before.   
What is life like on your development? We've got to know all of our neighbours now and each and every one of them are so lovely; we've made some real friends here. We couldn't believe the reception we had when we moved in, we were brought gifts and given so many well wishes and it just made the whole experience even more perfect. We feel so welcome and grateful to be part of this little community that's been created.
We've also started an Instagram account @lisburn.life to share our home and be a part of the Gleeson Instagram community, the presence on there is amazing and I love how we can share our style to other home buyers.
Fancy sharing your Gleeson home buying story with us? Just email marketing@mjgleeson.com and you could feature on our blog. Inspired by Laura and Stephen's story? We have over 70 developments to choose from, so why not find your Gleeson home today, with prices from £95,000 and homes located across the North and the Midlands, what are you waiting for?