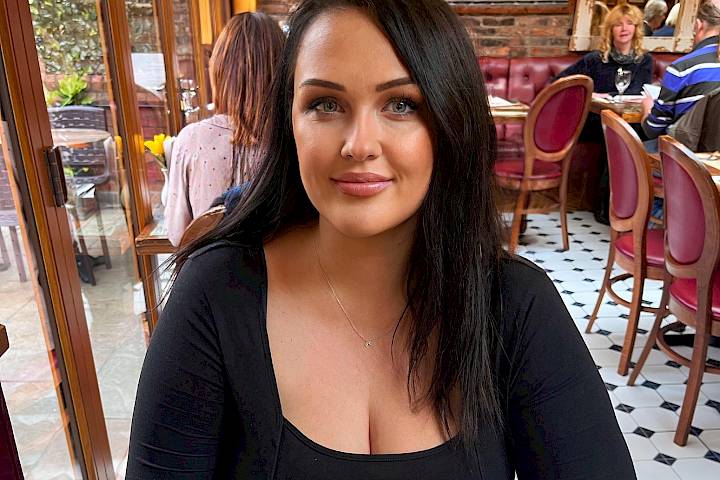 Kirsten's homeownership story
Our Kilner Park development in South Yorkshire is home for one of our Gleeson brand ambassador's, Kirsten and her dog Reggie! With a minimalist style, Kirsten, age 30, is big into both monochrome and neutral colours, regularly sharing interior inspo on her Instagram @myownhomejourney.
Kirsten lives in her second Gleeson home, a stunning 2 bedroom semi-detached Cork, after previously living on another of our developments in a 3 bedroom semi-detached Galway with her ex-boyfriend.
Knowing that with Gleeson she would get an affordable, quality home and great customer service, Kirsten knew where to look when she needed to buy her second home, and was delighted to find the mortgage for her stunning, spacious Cork would be just £375 per month.
We spoke to Kirsten to hear more about her story and her two Gleeson homes.
The interview:
When did you reserve your home? 2nd February 2019
When did you move in? 26th June 2019
Which house type did you buy? 2 bedroom semi-detached Cork
Tell us about your homeownership experience so far!?
This is my second home with Gleeson as I previously lived in a Galway with my ex-partner. Now a solo-buyer, and living in my gorgeous Cork, I  vowed to never go back to living with my parents. I love the independence and space that comes with owning your own home!
Why did you choose to buy with Gleeson twice?
After a great experience buying with Gleeson as a first time buyer, when I started looking for my second home I knew exactly which developer I wanted to buy with. Gleeson homes are affordable, built well and from past experience I can't fault the customer service! Every Gleeson home comes with a garden, and with my plot, the garden size was a huge selling point for me.
The development I live on is close to so many amenities, and my family, plus there is also a train station nearby which is a huge help for when friends come to visit or even for when I fancy getting out the house for the day! The location of my development is ideal; it's on the doorstep of the Trans Pennine trail which gives me access to lots of walks with my dog, Reggie which is perfect!
Why did you choose to buy new?
Buying new is the best! I love that when you buy a Gleeson home, you get a blank canvas and you can style and decorate it to your individual taste. I wanted to be able to pick my options whilst my home was being built and for it all to be completed by the time I moved in! I didn't want the hassle of having to do anything up whilst living in the house.
It's like playing The Sims, building your home the way you want it and being able to move in when it's ready.. I  have always liked the idea of being the first person to live in my home, the first to cook in the kitchen and sleep in the bedroom. You don't get any dodgy hand-me-downs with a new build!
What do you love most about your home?
I love how much space I get with my Cork, especially the size of my main bedroom. It's large enough to fit in a king size bed and also has space for a fitted wardrobe too. The huge windows make the house so bright and airy, they let so much natural light in, making working from home more enjoyable!
My garden was also a deal breaker when looking for my second home and I was lucky that I found one with such a huge space!
I had it landscaped to suit my needs of sunbathing (when we get the nice weather) and for hosting BBQ's in summer. I never thought that with buying a new build I would have such a big garden, everyone always comments that new builds are jam packed together… not in this case!
How was the process of buying your home?  
The process was faultless. I used the solicitors that Gleeson recommended, and new build specialist mortgage advisors Meridian Mortgages, who were great at keeping me up to date, sending out the necessary documents that I needed to sign.
My Sales Executive was absolutely amazing, she was so helpful and kept me informed throughout the whole process. Now when I see her around the development the service doesn't stop and she is always so helpful and friendly. It's like having your favourite Aunt on site to help with any problems or even for just a natter!
Are you enjoying life on your development?
I love my development and I have made so many friends who are always happy to join me on a dog walk with Reggie or come over for some drinks and have a chitchat.
We've also had a few parties as a development, including on VE Day, Halloween and New Year's Eve, which have always been fun and a great laugh. I get on really well with a few close neighbours too and we often have games night together.
There's a real variety of age groups on the development so it's lovely to see everyone happy and becoming a community together.
Describe your interior style…
I'm constantly wanting to change and evolve my style. When I first moved in I was loving grey and light colours, which I still have around my home, but I'm slowly incorporating black accents and feature walls here and there.
I'm a huge fan of the dark colours at the moment and I have actually found that even though they can come across as dramatic, it actually gives the room a much bigger presence.
My go-to shops for interior bits and bobs are Next, B&M and of course HomeSense. I love the weird and wonderful things you can find when you aren't even planning on doing a home shop! You can find interior inspiration and see more of my style on my Instagram @myownhomejourney, with me also being a Gleeson brand ambassador, I'm always on hand via DM to answer any homeownership questions you have too!
How has life changed for you since moving into your Gleeson home?
It has been amazing, not only have I got my independence back it has also given me my confidence back too. I was initially worried about living on my own in a new home after going through a break up and potentially being lonely, however now I relish having my own space and time to myself. It's a safe sanctuary where I can do as I please.
I am quite a sociable individual too, so being able to have friends and family over whenever I please and have them enjoy and compliment my home, is a feeling I take such pride in.
Do you have any tips for anyone looking to move into a Gleeson home?
Have a look at as many show homes and different house styles as you can, mainly to see versatility of a Gleeson home, helping you decide how to style yours. Getting inspiration and seeing how each show home is laid out really starts to bring the whole process to life!
Also take a look on Instagram, the Gleeson community online is huge, with everybody sharing their home style giving you tonnes of ideas!
If Kirsten's story has inspired you and you fancy sharing your Gleeson home buying story with us, email marketing@mjgleeson.com and you could feature on our blog!
We have over 70 developments located across the North and the Midlands and with prices starting from £95,000, what are you waiting for?! Find your Gleeson home today, click here!