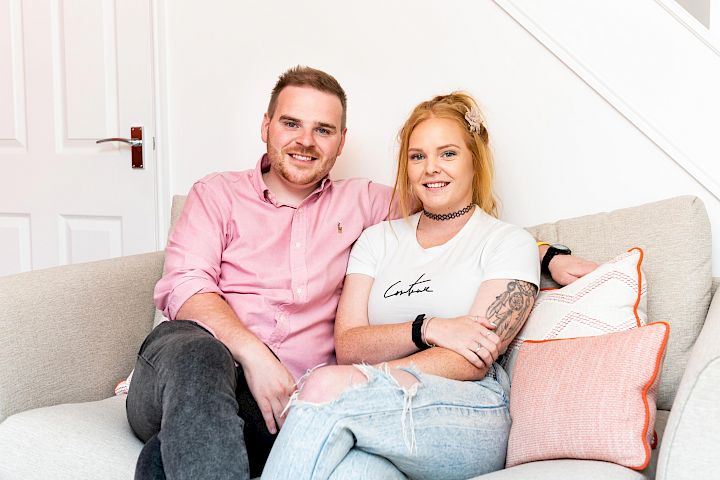 Josh and Tania's homeownership story
Our Rainsborough Park development in Knottingley, near Pontefract is home to Josh, 28 and Tania, 26 who have somewhat of a unique story. 

IT teacher Josh and PE teacher Tania both bought as single buyers on the development in 2018, with Josh purchasing a 3 bedroom semi-detached Fergus for only £125,995 and Tania opting for a 2 bedroom semi-detached Cork, which she bought for £101,995.

Upon moving in and becoming neighbours Josh and Tania got talking and immediately hit it off, enjoying community BBQ's together and walks around the local area. They soon became a couple and have been together ever since.

Two years down the line Josh and Tania realised that they could combine the existing equity in their current homes and purchase a Gleeson home together, they simply just had to wait for the right plot to be released for sale.

With Rainsborough Park being such a large development new show homes were being constructed on the next phase of the site and the existing three bedroom detached Kilkenny show home was released for sale, Josh and Tania were quick to reserve the home, paying just £184,995.

The couple moved into their Kilkenny show home in June and life has been a whirlwind ever since, with Josh asking Tania to marry him at their housewarming party in front of all their nearest and dearest.

We spoke to Josh and Tania to hear more about their incredible home buying story.

 
Tell us about the first homes you purchased with Gleeson?
Tania: I've faced a lot of adversity in my life, spending time on the streets in York and in homeless shelters. After my spell of homelessness I joined a Government scheme and was able to live in a council property, while living there I saved as hard as I could and turned my life around.
My sister lived on Rainsborough Park, so I visited her regularly, and thought why don't I enquire and see whether I could buy here too. I popped into the sales centre and was amazed when I could buy my first Gleeson home, a 2 bedroom Cork, with just a £4,500 deposit, and that my mortgage repayments would be only £350 per month.
Josh: In my early 20's I lived at home, but craved my own space, so I began renting a 2 bedroom terraced property in Ossett, Wakefield. I loved the independence moving out gave me but I was paying £800 per month rent for the house, and hated that I couldn't even paint a wall if I wanted to. A few of my friends had purchased on Rainsborough Park, so I'd seen the quality of their Gleeson homes. I enquired at the sales centre, and discovered the next 3 bedroom semi-detached Fergus that was going to be released. I loved the layout of the Fergus, the fact it came with a garage and  had a great sized garden. My mortgage repayments in my Fergus were only £367 per month, which was amazing considering how much I'd been paying in rent for a much smaller property.
How did moving onto the development change your life?
Tania: Moving onto Rainsborough Park changed everything, I immediately felt like I had a sense of purpose when I was a homeowner and of course, I met Josh.
Josh: I loved life in my Fergus, but it was a bit of a bachelor pad! I got chatting to Tania as we were neighbours and we just clicked. After a spell of texting on and off, we made it official and haven't looked back since and after a couple of years together we decided we wanted to buy a home together. Combined, we had built up enough equity in our existing Gleeson homes to make the move. We were in regular contact with the sales executive on our development, and we always said we'd love to buy one of the sites show homes, so as soon as one became available we were first in the queue to reserve it!
We love the development, love the area around it and the community on the development, so it was a no brainer for us. We reserved the 3 bedroom detached Kilkenny show home with a garage and a south facing garden and Tania sold her Cork and I sold my Fergus.
Why did you choose Gleeson for your homeownership journey?
Tania: The pricing of Gleeson's homes are incredible, you get so much house for the money. The finish in the homes is superb and any small issues we had the Site Manager personally came to see us to sort the problem. I wouldn't want to buy with any other company. That is why we are on house number two.
Josh: With Gleeson you have peace of mind that everything is new. You get a 10 year NHBC warranty and a two year Gleeson warranty and, you get to put your own stamp on the home, which we love. The process of buying with Gleeson is straight forward and simple. Both times we've purchased we've used Meridian Mortgages, Gleeson's recommended mortgage advisors.  They did all the work and sorted our mortgage quickly. Our sales executive kept us up to date, always let us know of any developments and supported us fully with any questions we had. We also used a Gleeson approved panel solicitor for the paperwork, which was great, they contacted us every couple of weeks with updates. It was so easy.  
What do you love the most about your home?
Tania: I love the open-plan design of our Kilkenny and the fact everything is new. I love how the downstairs flows so we can entertain and we have a beautiful back garden for the summer. And, since moving into our show home we've put our own stamp on it with cosy, rustic and neutral accessories, hence our Instagram username!
Josh: Buying a show home for our second Gleeson home had so many perks. We got all the furniture we needed and are just going through the motions of making it truly our own with accessories. We love living in a detached house and are so pleased with our driveway, we never worry about parking. We have a garage to store our camping items in and a large garden perfect for entertaining friends and family.
Do you have any tips for anyone looking to move into a Gleeson home?
Tania: Just go for it! Go and speak to the sales executive at your chosen site as they will give you all the information and support you are going to need. Look around the show homes and ask lots of questions. Don't be afraid to ask if you aren't sure, I had lots of questions as I wanted everything to be perfect.
What's life like now you're in your Kilkenny?
Tania: Life has been a whirlwind, we've been busy decorating and adding our own style to the existing décor and we've enjoyed the summer holiday and then gone back to our busy full time jobs as teachers. Our cat Jessie has had kittens, and to top it all off Josh proposed! It's been the best summer ever.
What does the future hold for you?
Tania: With our second Gleeson home we have the opportunity to make the space ours together and will continue to personalise it and add little décor tweaks. Of course, we will soon be starting our wedding planning! We can't wait to fill this home with love, and expect it won't be long until there will be a mini Josh or Tania living here.
Josh: Gleeson have been great and it has made us want to stay with them for life and not buy anywhere else. We've seen on the development plan that in the final phase of our site there will be a 4 bedroom Westmeath, so watch this space, we will possibly be buying that as our third Gleeson home in a couple of years' time!
Fancy sharing your Gleeson home buying story with us? Just email marketing@mjgleeson.com and you could feature on our blog. Inspired by Josh and Tania's story? We have over 70 developments to choose from, so why notfind your Gleeson home today, with prices from £95,000 and homes located across the North and the Midlands, what are you waiting for?