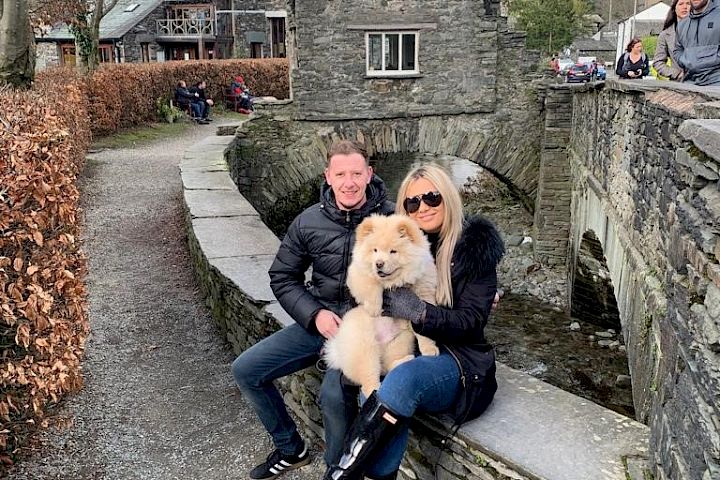 Tabby and Simon's home buying journey
Completing on the 23rd of December, Tabitha and Simon moved into their beautiful three bedroom Kilkenny last Christmas and what a year it's been! With the most beautiful, on-trend neutral home, the couple have truly made their place spectacular, so as it approaches their one-year home anniversary we caught up with Tabby about the couple's home buying journey and their Christmas plans this year.
The interview:
Which development do you live on? Northway Park, Skelmersdale, West Lancashire
When did you reserve your home? June 2019.
What date did you move in? December 2019.
Which home type did you buy? A Kilkenny, a 3 bedroom detached home
Is this your first home? Yes, I'm a student teacher and Simon works in sales, we had wanted to buy a home together but were going to wait until I'd finished university as we thought we wouldn't be able to afford to buy whilst I was still studying.
So, instead of us moving in together, I moved into student halls to have the proper university experience. However, it's quite funny to look back, because I actually lasted just two nights in student accommodation before I begged Simon to get a house with me. We quickly found a place to rent and moved in, but as it was a rented property it was hard not being able to plant down roots there and put our own stamp on it. After 18 months of renting we'd saved a good deposit and were pleased to find out that the mortgage repayments on a Gleeson home were actually cheaper than what we were paying in rent.  
Why a Gleeson home? With me being a student, we needed to find a home that was good value for money. We had a look at other new build developers in the area and the size and quality of home you got with Gleeson was much better than any other developer we viewed at.
The fact that our home is detached was a big selling point for me, I love the privacy of being in a detached home. Plus, the Kilkenny is so spacious, we have a large open plan kitchen, three good sized bedrooms and a garden. Our development, Northway Park is small and exclusive, surrounded by woodland, it's really quiet and has lots of scenic routes nearby where we can take our dog Teddy on walks. We really did fall in love with Northway Park and love it here.
Why a new build home? We wanted a new home because we liked the idea that we would be the first people to live in it. I also loved that it was a completely blank canvas for me to put my stamp on and add the extras that we felt were important. The warranty is a huge bonus too, we don't have to worry about the added cost of our boiler breaking down this winter.
How was the home buying process for you? Buying our home was so much simpler than we expected. Due to myself still being at university, we weren't sure that we would meet the affordability criteria. However, our Meridian Mortgages specialist adviser went through everything so thoroughly with us and put our minds at ease straight away.
As soon as we knew we could afford it, we reserved straight away, and everything just flowed from there. We moved in two days before Christmas which was absolutely manic, we went and got a frozen turkey from Lidl and lived off turkey sandwiches for the first few days whilst friends helped us put up our TV, curtains and mirrors.
We managed to stick to our Christmas traditions though and sat down to watch our favourite film; 'We Bought a Zoo on Christmas Eve'. It was the best feeling ever sitting in our own living room with a glass of wine and a cheese board.
We went out for a meal on Christmas Day with our family but were able to open our presents together in our own home on Christmas Day morning. It was the best Christmas ever!
This year has been much less crazy, I've decorated the house with a white themed Christmas tree and am looking forward to a cosy Christmas.
We're hoping we'll be taken out of tier two restrictions so that we can go out with our family for a Christmas meal, but Simon is on standby to rustle up our dinner if our plans can't go ahead. I can't wait.
How has life changed for you since moving into your Gleeson home, do you have any advice for those thinking of buying with Gleeson? We absolutely love our home and have made great new friends on our development. My favourite thing is being able to walk our dog around our gorgeous estate every day, knowing we are no longer wasting our money paying off someone else's mortgage.
I'm also really enjoying the Gleeson homes community on Instagram, it's great to see how other people have styled their home and how they utilise their space with clever storage hacks. I often speak to Gleeson homeowners about interior design tips and am inspired by their ideas.
When it comes to styling my home I always look around for the best deals and make sure I love the item I'm buying before purchasing. I mostly shop at Dunelm, Wayfair and am always getting Ebay parcels delivered. In terms of people on the fence about whether to buy or rent, I'd say 100% enquire with Gleeson. We never would have thought that a couple where one of the two is a student would be able to afford a three bedroom detached home but we were wrong. We're saving money every month on our rent fee and own a beautiful home.
Thanks to Tabby and Simon for sharing home their buying journey story. Fancy sharing your Gleeson story with us? Just email marketing@mjgleeson.com and you could feature on our blog. Do you fancy joining the Northway Park community? Interested in being in your own stunning home in time for Christmas 2021? Find your Gleeson home here, what are you waiting for? Own it today.