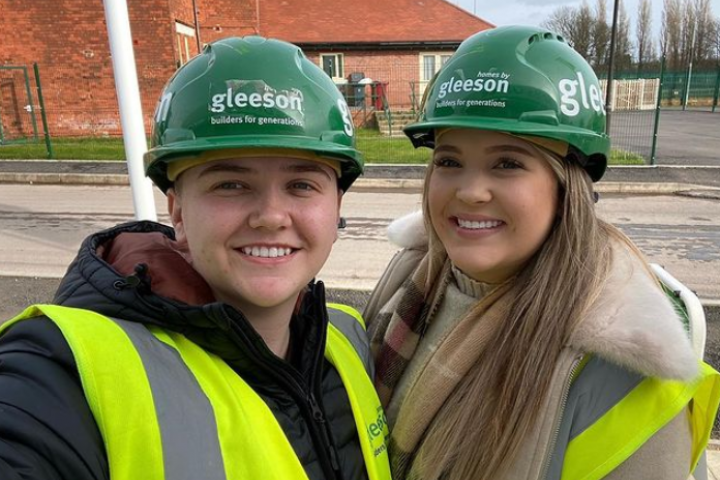 Rhiannon and Lizzie's home buying journey
After four and a half years together Rhiannon and Lizzie bought their beautiful Gleeson home in June 2019 and moved in just in time for lockdown one in March. On the day of moving into their home Rhiannon popped the question and the couple got engaged surrounded by their moving in boxes. Truly building a life together, since their engagement the two have bought their fur baby Missy, a 12-week-old spaniel and have made tons of friends for life on their development; Model Walk in Creswell. We love following their home journey and keeping up with Missy's antics on their Instagram @ourmodeltyrone.
The interview:
Which development do you live on? Model Walk, Creswell.
When did you reserve your home? June 2019.
What date did you move in? March 2020.
Which home type did you buy? A Tyrone – three bedroom semi-detached.
Is this your first home?
This is our first home, beforehand we were both living with our parents. We have been together for four and a half years and just felt the time was right to live together. Luckily, we managed to get into our home just before lockdown, meaning that we got to spend lockdown together with no worries about being apart. Rhiannon works for Severn Trent Water as a Works Coordinator and was furloughed, and I am a supervisor at a private nursery, I spent lockdown one caring for the children of vulnerable people and key workers. Rhiannon is also a professional golfer, teaching clients and playing to a professional standard outside of work. Usually we are both super busy, so our first few months in our home were nice and relaxing.
Why a Gleeson home?
The prices of homes by Gleeson were very appealing, we wanted a new build property and had looked at other house builders on the market but wanted to keep our mortgage low. Keeping our mortgage low means that we can enjoy the finer things in life such as holidays, nice clothes, a new puppy and new cars without worrying that our house is costing loads. Our Gleeson home is amazing quality for the price we paid, with other house builders you would pay much more for the level of home we have got.
Why a new build home?
We wanted to be able to move into a home quite easily, without having to spend money on renovations. A new build is a blank canvas and is the best and easiest way to ensure that you won't be lumped with massive upkeep bills. Everything in our beautiful home is brand new, meaning we won't get any nasty surprises with boilers breaking or appliances needing replacing.
How was the home buying process for you?  
Home buying was much simpler than we had expected. We had a meeting with a very helpful mortgage advisor from Meridian Mortgages once we had reserved our home, and within two hours we received our agreement in principle. Meridian were brilliant, they got us a great mortgage deal and some cash back too. I won't lie, the moving day process itself is quite stressful, we just wanted to get the call to say that we could come and collect our keys because we were drowning in moving boxes! However, it all went smoothly and from the moment we unlocked the door and when we walked into our new home we felt on top of the world. The feeling was made even better when Rhiannon got down on one knee and proposed to me! I couldn't believe it, I was the happiest person alive.
What are you enjoying most about being a Gleeson homeowner?
The affordability and the neighbourhood. Our bills are cheap, and we can still afford to enjoy fun activities and nice things. We are only 21 and 23 and have been able to afford our own home and still live our best lives, it's great.  
How has life changed for you since moving into your Gleeson home?  
Since moving into our home we have got engaged! We also have a beautiful 12-week-old Springer Spaniel puppy called Missy. Our little family is coming together nicely, and we feel that we have now fallen in love with each other even more since moving in. The best thing about our home is coming home to each other every day and not having to flit between our parent's homes to see each other. We love our neighbours and have made so many nice new friends on the development. Our home is quite rural, it's located in a quiet village in Derbyshire, but it's far from boring! Many of us on the development are similar ages. We share a lot of interests with our neighours and have spent time going on walks and having BBQ's with them. Now the winter is here, following lockdown two we hope to make many more happy memories with our neighbours. I'd 100% recommend Model Walk to young couples looking to buy their first home. Life couldn't be better for us here.
Thanks to Rhiannon and Lizzie for sharing their home buying journey story. Fancy sharing your Gleeson home buying journey story with us? Just email marketing@mjgleeson.com and you could feature on our blog. Do you fancy joining the Model Walk community? Find your Gleeson home here, what are you waiting for? Own it today.