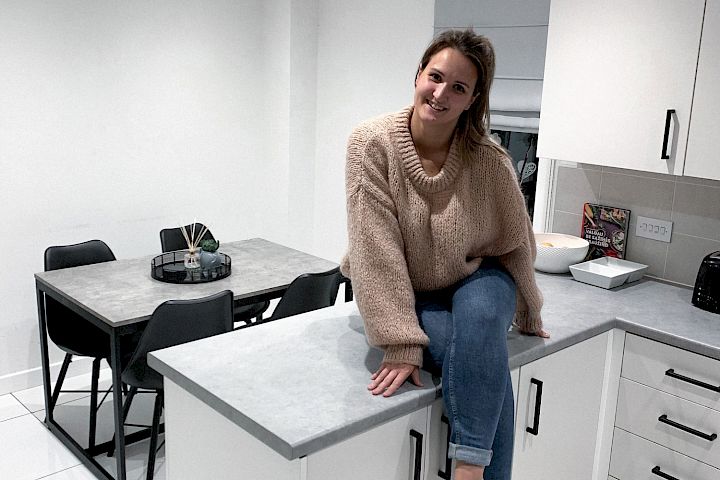 Karolina and her family's home buying journey
Karolina, a probation case worker at HMP prison in Durham and her fiancé, Arminas, a car manufacture worker were devastated when they were evicted from their rental home through absolutely no fault of their own. However, the surprise eviction was a blessing in disguise as it spurred them on to buy their stunning first home.

Purchasing a Tyrone in 2019, Karolina and her family settled in well, with Karolina making their Gleeson home beautiful over time with gorgeous interior pieces. You'll see Karolina's slate grey kitchen with monochrome accents, beautiful pampas grasses and accessories, plus a children's room which any little one would adore, on her Instagram @home_journey_at_no3. Her page is definitely one to follow for all the interior inspo. We caught up with her about her family's home buying journey.
The interview:
Which development do you live on? Highfield Park in Sunderland.
When did you reserve your home? June 2019.
What date did you move in? 22nd November 2019.
Which home type did you buy? A Tyrone – three bedroom semi-detached.
Is this your first home? My fiancé Arminas and I were happily renting together with our two children for five years; however, we were made aware that our landlord had not been paying his mortgage. We were given eight weeks' notice that our rented house was going to be repossessed and we received an eviction notice. This was a real worry for us as with two young children, being made homeless was looking like a scary reality. In that moment we decided, that's it, we are going to purchase our own home, no more renting. So, we bought our first home with Gleeson.
Why a Gleeson home? My friend recommended that we looked at Gleeson, we were so new to buying a home and didn't know where to start. We did look at other house builders to begin with, however we quickly found that Gleeson provided the best value for money and space.
When we visited Highfield Park, something felt right. Our sales executive Jackie was amazing, there were not many plots left when we came to look around, but she was so accommodating. We were quite limited due to our housing situation, but there was a perfect Tyrone available which we reserved straight away. It was absolutely meant for us, it has 3 lovely bedrooms, is south facing and has a garage, ideal for storing outdoor furniture and the kid's bits and bobs.
Why a new build home? A new home was the only option for us, we didn't even consider a secondhand home. We've always loved the look of new builds and find that they are much less problematic than homes that have been built a long time.
How was the home buying process for you? Buying our home was straight forward, we didn't have any complications with our mortgage and moved in just five months after reserving. We always thought that we wouldn't be able to afford a mortgage, but once we spoke with a mortgage advisor we were surprised to see that our new home was much more affordable than we ever thought it would be. My advice definitely would be to go and speak with professional! Even if you don't have your full deposit, there are other options to help you get onto the property ladder. We regret that we hadn't looked at buying a Gleeson home sooner.
How has life changed for you since moving into your Gleeson home? It's a great feeling owning our own home, there's no more restrictions or worrying about how you can and can't decorate. We love our garden and had lots of BBQs in the summer, plus, there's plenty of space for the kids to play. We are originally from Lithuania and have lived in the UK for a number of years in various rented properties, with Arminas spending time living in North London while I was here in the North East for university, however, none of our previous homes compare to our Tyrone. Owning our own home together and raising our family within it is a dream come true. 
Do you have any interior design tips for Gleeson homeowners? Shop at Ikea! Also, keep an eye on the sales, but most important don't rush into buying interior details before you actually move in, as you might like it in the shop but it won't suit at your home. Lastly, always remember Rome wasn't built in a day, it takes time to decorate your house beautifully.
Thanks to Karolina for sharing her family's Gleeson home buying story, it's great to hear such a happy ending. Fancy sharing your Gleeson home buying story with us? Just email marketing@mjgleeson.com and you could feature on our blog. Inspired by Karolina's story? Find your Gleeson home today, with prices from £97,995 and developments located across the North and the Midlands what are you waiting for? Own it today.