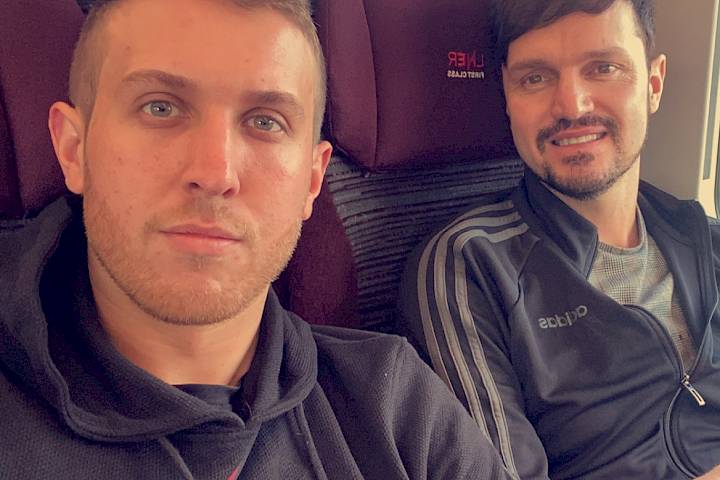 Dan and Jason's homeownership story
Gleeson homeowner Dan (@dansdwelling) has been creating quite a stir on Instagram with his stunning 2 bedroom semi-detached Cork, which was an ex-show home. Totally transforming it, Dan has created the home of his dreams, with beautiful paneling, a gorgeous fireplace and a dressing room to be envied, created using the Ikea Pax range.

Dan moved in just before Christmas 2019, so he's about to celebrate his two year home anniversary, and what a two years it's been! Dan's partner Jason moved in a year ago, and has helped him put the finishing touches.

Last month, Dan was also announced as one of our six new brand ambassadors, and is here to help you  on your homeownership journey with tips and inspiration via his Instagram.

Describing their style as luxe without the bucks, Dan and Jason do everything on a budget. We interviewed Dan to find out more…
The interview:
When did you reserve your home? November 2019
When did you move in? December 2019
Which house type did you buy? 2 bedroom semi-detached Cork
Is this your first home?
Yes! Prior to buying my home I was living with my parents in an annex in their back garden. My Step Dad is a builder, so he had set me up quite a nice room, but I wanted my own independence and needed more space. I felt like I was at the age where I was ready to fly the nest.
I was keen to buy with Gleeson because of the affordability. My cousin also lives on my development and explained to me that her bills were low and her mortgage per month was less than £300, which made me realise that homeownership was much more achievable than I first thought! Now, in my beautiful Gleeson home, my mortgage is only £260 a month, so she was definitely right!
Why did you choose to buy with Gleeson?
Aside from my cousins recommendation, I chose Gleeson because of the affordability and the look and feel of the houses. With Gleeson I knew I could have a low mortgage and not have to sacrifice the joys of been a young adult due to paying bills.
I knew I wanted a new home as I wanted the feeling of having peace of mind that everything was new and wouldn't need replacing. When buying an older property, any issues can be expected but buying new means you encounter far less problems!
Upon visiting the sales centre, I soon found I loved the layout of the Cork. The Sales Executive informed me that in the next six months, the very same show home I had viewed would be going on sale as the development was nearing its end, and I knew it was meant to be!
The fact that my home was an ex-show home has really helped, as it was furnished and ready to move in, I just needed to transform it to my taste.
I also loved how every Gleeson home has a parking space, and for me the location of my development was perfect. My house is based in a prime position, not too far from my parents, and it's on a quiet street away from the main road.
What do you love most about your home?
I love how I have managed to utilise and make the best out of every space. From the cupboard under the stairs to the bulkhead in the bedroom, I've created the perfect space for us; . the layout of the house is perfect for what Jason and I need.
I also love the look of the house from the outside. When I get home from work and pull up the long driveway the house feels very inviting. I was lucky to buy an end plot which was a big selling point when buying the house. Since moving in, I also installed up/down lights on the exterior which shows off the house beautifully at night.
How was the process of buying your home?  
Amazing. My Sales Executive was fantastic, she was so helpful and enthusiastic, and was always happy to give me updates on my home, making it feel like a friendship rather than as though she was selling to me.
My mortgage process was very stress free, the mortgage advisor took control and kept me regularly updated, and my solicitors were just as easy to deal with!
Describe your interior style…
My style is 'luxe without the bucks', I try and do everything on a budget! This is hard sometimes, but it really does leave you with a sense of achievement. Sometimes I do have to spend a little more, but I try and be savvy and think outside the box with sourcing materials and shopping.
I take inspiration from everything, whether it's walking around the shops, watching TV, flicking through Instagram or Pinterest;  I've always got my eyes peeled for home inspiration.
For example, I got the inspiration for my tiles from Next, as I loved the tiles on the walls on the staircases in their stores. The floor to ceiling headboard, was inspired by watching luxury mansions on TV, think Selling Sunset! I do shop all over, but my favourite shop has to be TK Maxx / Home Sense, I generally do have ideas in my head an scour shops until I find that golden nugget of what I want. But I have so many items from Poundland, B&M and Dunelm.
I think your house needs to reflect your personality, some people love a more calming space, some like minimal and some love going crazy, you just need to inject some of yourself.
How has life changed for you since moving into your Gleeson home?
My life has totally changed since moving into my  home, I now have my own independence and get to enjoy making my space homely and decorate however I want, whenever I want. I have a space large enough for me and Jason to be comfortable and call home, and somewhere to entertain and host parties! I also love the community on our development, and we've made so many new friends. I have lovely neighbours either side of me who we often sit out the back and talk too. There's a development Facebook page where every is more than happy to help and look out for each other. Having my cousin on the development  is amazing, I'm forever having her round and she takes in my deliveries.
In a nutshell, the full journey from start until now has been everything I could have wished for. I love the place we call home and Jason and I are both very happy and settled here.
Do you have any tips for anyone looking to move into a Gleeson home?
If you are hesitant about whether you can afford a home, my biggest piece of advice would be to visit the Sales Centre and get financially qualified by a mortgage advisor! With Gleeson you can buy an affordable home that's suited to your needs as a first time buyer. My only regret is not buying sooner.
Fancy sharing your Gleeson home buying story with us? Just email marketing@mjgleeson.com and you could feature on our blog.
Inspired by Dan's story? We have over 70 developments to choose from, so why not find your Gleeson home today?